09.26N; 78.31W

Around the world with the Aqualunies
Jonathan & Gabrielle Lyne
Mon 1 Feb 2010 22:17
Monday, 01/2/10
Making our way slowly North, coming across moe yachts now, not so many head so far south because of all the reefs.
Spent the night at anchored off Isle Tigre. The island consists of a large Kuna village but does have a 'backpackers' accomodation in some ratten huts and a very basic restaurant, there is also some Sea Kyaks there which we have seen people go out in groups. As we arrived yesterday afternoon a dug out canoe came over with the most enormous spider crab in the bottom. So last night we had a shell fish supper of crab and lobster with new potaotoes and salad. Visited the village and had a bracelet done on my wrist in Kuna style, how they get the patterns to match as they twist it around is amazing, also succumbed to a few more molas. I was still unable to get a 'photo of the older ladies with the ring through their noses they just hate being photographed. The lady who sold me the mola for $10 allowed me to photograph her with some of her molas, the needlework is so intricate very aztec/north american indian in design. They used to paint the patterns directly on to their bodies but when they started wearing clothes they did it as embroidery instead. They also wrap strings of tiny beads around their legs and wrists in amazing patterns.
We have now just arrived off Green Island where another dug out canoe came along with a huge Octopus and some more lobsters, couldn't resist. Never cooked such a large Octopus before, according to the cook book you have to traditionally bash it 99 times to tenderize it, the other way is to cook it very very slowly in it's own juces and then slowly casserole it with tomatoes and onions etc. This is the busiest island we have visited so far with the number of yachts in the bay. Jancice, Tony, Fenella and John have gone to the beach to share beer and popcorn with some other guys from an American yacht, when we have finished dealing with all our newly bought shellfish we will join them.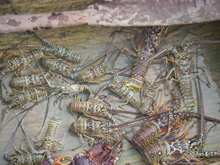 ---