SUWARROW ATOLL

Around the world with the Aqualunies
Jonathan & Gabrielle Lyne
Mon 28 Jun 2010 20:07
Here are the promised photos to go with the last blog I sent. Jonathan enjoyed his 59th Birthday on our sail across from Bora Bora and Donald Hughes had a 61st Birthday celebration on the Atoll crab hunting and then feasting on them that night as part of his Birthday celebration. Have now been exploring Nuie in a rented car, such a different island, it is all coral and raised out of the sea three times so far, will sink under the plate within the next 1,500 years! Lots of chasms, we are on whale watch as the migration has started and a mother and calf are in the bay near our anchorage, lots of sea snakes as well, fortunately their venom is well back so can only cause harm if they get your finger.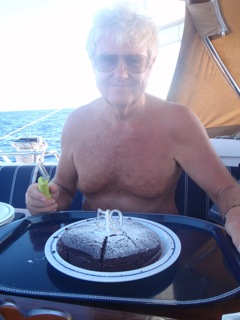 Jonathan & Birthday cake
Freddie and Apii with their catch
Anchorage Island in Suwarrow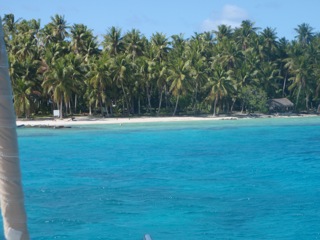 The beach at Anchorage Island
Jonathan, Brian, Nick, Donald, James, Rob & Freddie clearing the fairway for the dingy dock.
Jonathan, Freddie, Brian and Annie making steps.
James showing Donald some rock life
The beach on Anchorage Island
A chart of Suwarrow Atoll Anchorage Muto marked in red.
The Beach on Anchorage Island
Our RCC Burgee and RHKYC burgee at the Surarrow Yacht Club
James Mataa at the Suwarrow Yacht Club
BBQ @ Suwarrow Yacht club with Miss Tippy family
Freddie and Charlie watching Apii BBQ the fish they caught
One of the old water tanks
a hermit crab
Apii digging out a Coconut Crab from under a tree
Apii with Coconut Crabs
Jonathan digging out a Coconut crab
Small coconut crab climbing tree
Coconut crab
dug out by Jonathan
Basket Apii made
Basket with crabs
Aqualuna, Miss Tippy and Compass Rose Crews with crabs
Jonathan carrying crabs
Crabs ready to eat
Jonathan, Gabbie and Donald with Crab feast
James and Apii with crab feast
Jonathan & James in conversation
Donald looking at photos the Miss Tippy family gave them
Donald cutting his Birthday cake
Donald and Jonathan planting a coconut tree
The beach at Sunset with Aqualuna at anchor
Miss Tippy and Aqualuna at anchor
Suwarrow yacht club and Tom Neals house next to it
---