17.44S; 168.18E

Around the world with the Aqualunies
Jonathan & Gabrielle Lyne
Sat 31 Jul 2010 00:29
VANUATU, 30TH JULY, 2010
A horrible sail here, three nights at sea and very rough confused, shipping the odd wave but on the whole Aqualuna remained very dry compared to the smaller yachts in the rally who had a really bad time, with electrics being destroyed by shipped waves into cabins and cushions washed away including dodgers and biminis. The waves were huge and breaking on top, the winds were 25 - 35 knots but worse waves coming on to our quarter berth, Aqualuna was able to lift up and over so never got pooped unlike many of the other yachts.
Vanuatu is lovely, an independent country now celebrating its 30th year of independence from France and England. Lots of Australians sail around here, and the town in comparison to the other Polynesian looks more prosperous. The people are not Polynesian but Melanesian so look very different. During Independence Day everybody was celebrating by turning out in their best dresses, the Australian Governor was here and gave a speech. The main land Chinese gave a gift of several black 4x4 cars for the top government people. 45,000 free lunch boxes were handed out at the party in the park. Fireworks were the order of the day being let off anywhere with guys carrying rockets in their back pockets! We all dressed our yachts overall to celebrate as well.
Tonight is yet another 60th Birthday party so we are all off to celebrate at a very nice French restaurant along the quay.
We have booked to fly down to Tanna Island on Tuesday to walk up to the top of a live volcano, a must see apparently.
More will be written in the next few days.
Vanuatu colours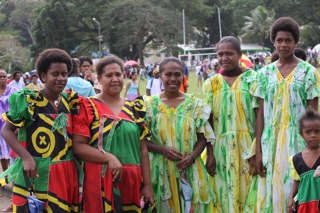 Traditional independence day dress
Banner above fair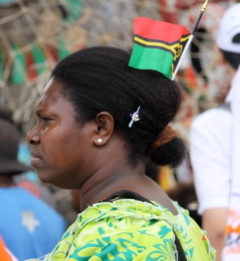 Patriotic lady
Another face in the crowd
Girl with flags
Stalls selling food etc.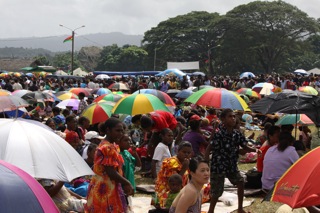 Unbrellas to protect from the sun
A village chief
Childern enjoying a bun
village chief
queing up for the free lunch boxes
Face of Vanutu
Aqualuna's festive flags
---