FIJI, MUSKET COVE

Around the world with the Aqualunies
Jonathan & Gabrielle Lyne
Tue 20 Jul 2010 12:32
20TH JULY, 2010

Before we left Savusavu we found a really great guy who polished our hull and topsides after we had scrubbed the decks, so Aqualuna is looking far more pristine than she had for awhile as we had not been able to wash her off with fresh water.

We took two and half days to get from Savusavu to Musket Cove ducking into a bay for the firts night behind a reef, lots of unmarked reefs around so not wise to sail at night. We were followed in through the reef by 'Merrymaid' a very large traditional yacht, photos below. They had taken pictures of us as we left Savusavu and we took pictures of them. We were hoping to be invited on board to photo swop but they came over to us as the owner was on board and is a recluse and does not entertain which is ashame. The Skipper, a Canadian guy, came over with one of the crew who happened to be a gap year student who had lived in HK for awhile as a young child and went to the same school as Antonia and Malcolm but he is five years younger than they are so no friends in common. The Skipper, Kyle, said they had no electronic navigation and no small charts that is why they followed us! They left early the next morning as the owner wanted to be somewhere quickly, we were rather suprised they left in the dark without proper navigational aids. We had fantastic trade winds for the three days and sailed along very happily at 7 - 8 knots in flat water behind the reefs. Musket cove is a resort with a small marina which the BWR had booked us into to, so we are all relaxing using the resort facilities, such as the spa! They have set up quite a program for us but I don't think we will do it all as we want to go off and explore.

Jonathan is much better but is obviously allergic to what ever bites him as he comes up in hives and his other leg swelled up as well having got the swelling down on his other one. Now after antihistamine and making him keep them up for awhile and where those 'stupid socks' they are much better. The bites have finally healed well and the calf on his leg is no longer hot and swollen or sore to touch. He spent today fitting in the new hot water tank which arrived safely, the other was leaking into the bilges.

Lots of fun and games tomorrow with a canoe race in which there have to be two people and one oar, the person with the oar is blindfolded......should be interesting!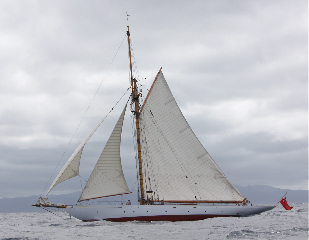 .
Merrymaid taken from Aqualuna Merrymaid taken from Aqualuna Aqualuna taken from Merrymaid Aqualuna taken from Merrymaid
---