21.11S; 149.38E

Around the world with the Aqualunies
Jonathan & Gabrielle Lyne
Wed 16 Nov 2011 01:47
TIME TO HEAD SOUTH.
16th November, 2011
Having spent a couple of days in Hampton Island Marina, doing laundry and general cleaning and restocking Aqualuna we are now slowly heading south.
First we went to Happy Bay for the night off Long Island, it is a resort but a beautiful bay. Almost a full moon that night with clear skys so sat on the aft deck with the lights off just so perfect. The following morning we did a brisk walk around the island before going back to the yacht and then setting sail for Airlie Beach where Jonathan needed to buy himself two new rods as the last two snapped from too much sun and old age.
We had dinner that night at 'Alain's' a very old style French restaurant, we had heard and read that it was good, it wasn't bad but it was very 70's style food and not very exciting and certainly not up to Michelin standards.
Back to the yacht, a strong SE wind blowing, getting back in the dingy was a little wet not helped when the dingy engine decided to stop just before we reached the yacht, so oars out against current and wind.
The next morning Jonathan tried to mend the outboard but in a slopping swell it was impossible so decided to wait until we got to a more sheltered bay.
Two new rods out, looking very smart all we have to do now is catch a fish or two. Back to Sawmill Bay for the afternoon and night, outboard a little better but still gives out now and again.
On Sunday 13th November (Malcolm's 27th Birthday!) we anchored in Mini Hall Bay off Goldsmith Island. We were constantly being buzzed by Marsh Flies a bit like Horse flies and with a vicious bite. apparently when they arrive it is time to start heading south out of the hurricane belt. Had some Belgians on board for a drink, he used to work in Sydney as an engineer but now lives back in Belgium but keeps his yacht over here.
Motor sailed to Brampton Island, really beautiful, lots of reef around it so couldn't anchor in too close. Did a short walk ashore that afternoon, beautiful beach and what was once a lovely resort but now deserted, supposedly for renovation, but that was over a year ago, just one watchman on duty. Lovely beach and snorkelling. Back to the yacht, a full moon, lovely evening. Up early the next day to do an 9k trek around the island. Disturbed quite a few wild Kangaroos, larger than a Wallaby, saw lots of lizards and Goanna's, walked along deserted, beautiful beaches and up hillsides through forest of pine, Eucalyptus, fern and grasses.
Three hours later we got back to the yacht after a good long and very hot walk despite having started at 7.am.
Upped anchor and set off south to Bees Island for the night which is just 15 miles off Mackay, quite a few holiday homes on it and plans for a marina. A few curious turtles popped their heads up as we came in to anchor.
Jonathan thinks he saw a Dugong this morning as he was upping anchor, last time we saw one we swam with it on the Vanuatu Islands.
Now I am typing this in the cockpit as we sail past Mackay in about 15 knots of Easterly winds. Hoping to head to West Bay on Middle Island if we don't make it we will go to Digby Island.
I will put in the postions of all the islands we have visited later so that those who are following the google map can see our track.
We
Cockatoos at the table next to us after the customers had left, they like pizza!
Aqualuna at anchor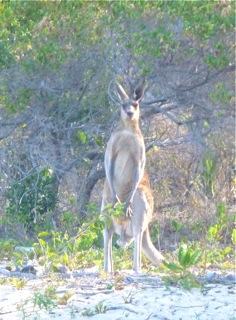 One of the kangaroos we desturbed as we walked through the bush on Brampton Island
Life's a beach Brampton Island
P1000323
Brampton Island showing the walks and reefs surrounding it.
Oyster Bay Brampton Island
Walking through the bush with Hoop Pine trees.
Jonathan on Dingy Bay Beach all to ourselves.
Goanna hoping we don't notice him.
---