We have shade - but now the weather has changed!

Magnetic Attraction
Roger and Margaret Pratt
Sat 7 Sep 2013 09:57
6 Spetember2013 – last day in Vigo
Almost 6pm, and kicking heels until Cesar and Beatrice arrive: all being well with the finished product, at 7. Assuming everything fits as intended, the plan is to move on tomorrow, probably to Barra, a big bay on the north side of the Ria, with a good anchorage and a playa nudista. But the weather has got colder! Roger is wearing long trousers and a sweatshirt and I'm in jeggings and two pullovers! So likely to be fewer nudistas. Or to San Simon, further up the Ria, and very sheltered.
Yesterday it rained, although it was still very hot. In the late afternoon we walked uphill for an hour to the top of the castro that is the oldest part of Vigo. A serious step class! There are excavations of the castro (closed, protected by double wire fences) and 18century forts, all surrounded with lovely gardens and commemorative sculptures, including one to the massacre of republicans by the fascists in the civil war.
The range of trees is a very interesting mix: palms next to cedars, and a fair sprinkling of very mature eucalyptus. The climate seems to support them all. One of the harbour pilots came to talk to Roger yesterday morning. He's seen snow twice.
Vigo is a lovely town. A lot of money is going into refurbishment of historic buildings, and parts of the population at least are still radical – there have been demonstrations and protests in the streets each day, as well as political graffiti.
Life in harbour is very different from when we're out at anchor. The availability of electricity, water and wifi drives priorities. So I've taken the opportunity to get completely up to date with all the washing; and given the boat a comprehensive clean. Radio 4 has been possible for the past couple of days. At present Google Translate is downloading (slowly!) – 45mb of 161mb for the Portuguese dictionary so far; and then the Spanish dictionary to come!
And finally, a couple of fun photos:
Here is the harbour master's desk, with all the stamps..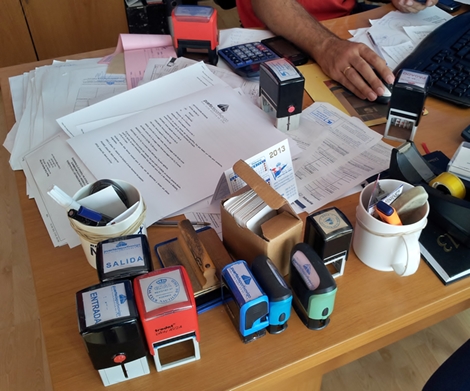 And what is the collective noun for scooters? A wind-up? A Buzz? They're everywhere!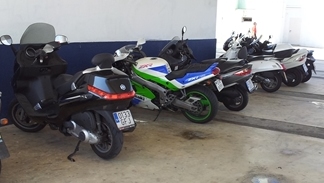 (Much Later!) We finished after 9pm – fortunately Roger had taken the precaution of reinforcing himself with some nachos and dip at 6pm – here is the bimini, installed! All very fine. A pity that the weather doesn't match the execution! Once the wind dies down, Portugal here we come!
---