East Tasinge

Magnetic Attraction
Roger and Margaret Pratt
Mon 23 Jul 2012 18:51
23 July 2012 – at anchor, the Lunkebugten, E Tasinge
54:59.51N
10:38.69E
A second day at anchor. The marina at Rodekoping was full on Sunday evening, so we retraced our steps to this inland sea, protected from all states of wind bar the north. The wind is forecast to blow again for a couple of days – but whilst we're miles from anywhere, it's a secure spot and we're not going anywhere! So it's been a restful day, improved by sunshine, although the wind has been cold. Now, in the evening, there's still not a cloud in the sky, and the wind has disappeared. Maybe summer is about to arrive?
Roger has managed to camp on to a wifi signal – not strong, but enough to allow email access and surfing.
Here are some pictures of the unusual buoyage, as promised. Loo brushes rule – OK?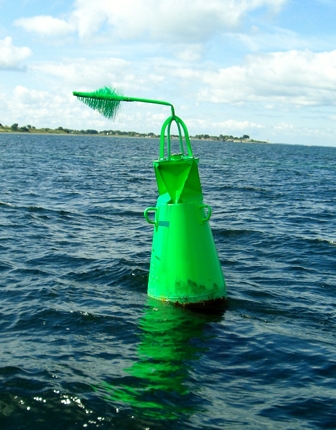 ---