... and on to Portosin

Magnetic Attraction
Roger and Margaret Pratt
Mon 19 Aug 2013 22:02
19 August 2013 – Portosin
42:45.82N
08:56.775W
We came across from Muros yesterday, under jib. A bold move! All of 5 miles, downwind. The forecast was for a period of heavy winds, which came through overnight. There's been a blustery 25 knot North Easterly blowing all day.
The Real Club Nautico de Portosin is generally excellent. We were met by marineros who took the lines. Unfortunately we were directed to a berth that is designed for a much smaller boat: there is a significant overhang. This afternoon Roger saw a couple of men looking at the boat: one was holding a tape measure. We fear the worst in terms of the bill! With the wind coming in the marina is now full. It's good to have village services and, of course the wi-fi. (M needed at WiFi fix.) We've been able to stream radio and also skype the UK.
Yesterday Portosin was having a fiesta – the Festival of Carmen. The Virgin (drab in olive green) was taken out at about 6pm in a fishing boat, surrounded by a flotilla of fishing and pleasure boats. Before she set off, there was a cacophony of sirens, bombas, foghorns, etc. The bombas were launched by hand from the top of the mole. Health and safety rules, which I thought was an EU competence, doesn't apply in any way that one would recognise in the UK. We took pictures from the end of the pontoon.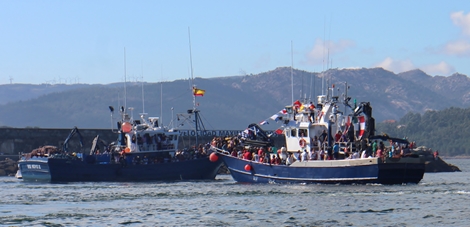 Tony on Diva (bound for Southwold after a circumnavigation) recommended the lobster paella at an undistinguished-looking restaurant in the village: we went with Marcus and Margi from Island Kea (a Taswell 49,) and ate a crab paella for 15 euros each. It was excellent, but we weren't served till midnight (when the fireworks started!) So we weren't back to the boat until 2.30am. A slow start this morning!
---