Sintra

Magnetic Attraction
Roger and Margaret Pratt
Fri 27 Sep 2013 21:02
27 September 2013 – Oeiras
Yesterday morning Henrik and Signe came to collect us by car and we all went to visit Sintra.
It's a hill, overlooking the plain around Lisbon, from the hills going up to Porto to the sea and the R Tagus and Lisbon. About 10 miles from Cascais; a bit further from us. It was like a hill station for the Portuguese in summer and so has a number of palaces, gardens and places to visit.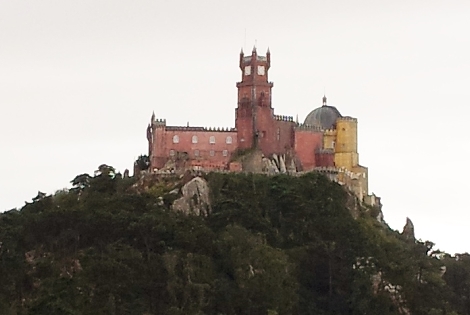 It might have been the weather (windy, overcast and chilly because we're not used to other than bright sun) but it was quite different from anything else we've seen in Portugal. We drove first to the top to visit the Castle of Pena: a Victorian summer palace built by Ferdinand II, and not dissimilar to Osborne House in style.) It's said to be one of the seven wonders of Portugal. It was cold enough that the first stop inside the castle was to but Roger an "Angry Rooster" hoodie – XL was the smallest size.
There was a lot of restoration going on. The work to restore the detailed stucco work was very interesting.
The gardens were more interesting. They were designed to remind the King of his childhood in Thuringia (he was a cousin of the Prince Consort) and were am amazing arboretum of tropical palms and ferns alongside temperate chestnuts, beeches and pines. There was a series of lakes, with water features cascading down into the valley. We agreed that it would have been a lush, cool picnic spot if we'd had the weather we'd be used to.
From Pena we walked to the Moorish castle – a much older structure, less restored. It would have dominated the plains below. Of the two, it was by far the more interesting.
As befits non-UK bureaucracies, there was a conspicuous absence of health and safety concern. We scrambled over the battlements untrammelled by protective rails or barriers of any kind.
The culmination of the day was afternoon tea at Lawrence's Hotel in Sintra: scones, cakes and tea from 4pm in a panelled drawing room that felt as though Bryon had just left! Altogether, a memorable and extraordinary day.
We came back to find we had new neighbours – a French boat who had come down from Corunna, caught the head winds, and needed shelter. I spoke this afternoon to the senior gentleman: he had shredded two sails through being over canvassed. It's been blowing old boots again today -25-30 knots from the SW - and the swell has been breaking over the mole.
No plans to move yet!
---