To Grevelingenmeer

Magnetic Attraction
Roger and Margaret Pratt
Wed 6 Jul 2011 18:52
51:45.515N
3:52.292E
6 July 2011: Magnetic Attraction at anchor off Port Zelande, Grevenlingenmeer
As predicted, the wind changed to the south west and therefore the weather became more iffy. A leisurely start this morning, aided by Radio 4 (O Joy! O Bliss!) and a trip to the little Spar supermarket in the village for fresh bread and meat before setting off at midday. Sad to report that the supermarket did not recognise either credit or debit cards, so the stash of cash is reduced again.
Just as we were about to set off, Roger had a heeby-jeeby about the depths of water in the sluis to get out, and went up to the harbour office to enquire. He did not find the helpful harbour master who speaks excellent English (maybe he was on his lunch-pauze?) but instead was faced by two older people who didn't admit to having any English at all. Fortunately there was a lady with some English who was able to help – and she also drew his attention to the big black cloud approaching. The wind got up. Warp-work and manoeuvring took place to get the boat half-way out of the tight berth. Finally he said: Right, let's go! And we went! Just as the rain started. The shower was heavy and lasted about 30 minutes, before the vis cleared and the sun came out again. There was a scorching reach (under jib alone) across the Oosterschelde and up the Keeten Maastgat to the Grevenlingen Sluis. I reflected that we haven't had the mainsail up in a week! All the way there was a constant stream of barges; some lying extremely low in the water with virtually no freeboard.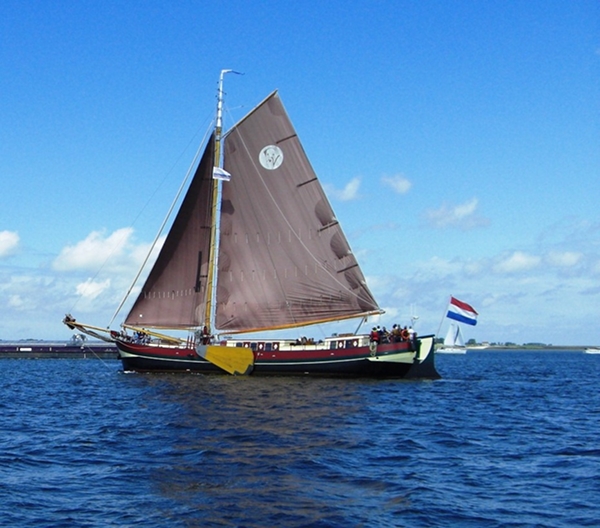 The heavens opened again, with hail, on the entry to the Grevelingen Sluis, but as the lock opened it cleared up again. We had a cracking sail up to the west of the mere (still just under jib) and saw 30 knots. If anything the wind was too strong! and it felt too strong to manoeuvre into what could be a tight marina berth. So, possibly illegally, we've fetched up in the lee of a little headland just short of the marina, and are sitting very snugly in the shelter and bright evening sunshine. Not a cloud in the sky! If the wind drops, we'll go ashore to cycle tomorrow.
Thank you, John and Nina, for encouraging us and for the loan of your chart portfolio!
---