More from Flensburg

Magnetic Attraction
Roger and Margaret Pratt
Thu 2 Aug 2012 19:44
2 August 2012 – Flensburg
This morning the black skies came by and the heavens opened with thunder and lightning. It was a day when it was good to be at a secure mooring with a good internet connection! But the weather cheered up after lunch, and we walked round Flensburg for a couple of hours. The lead target was the Museumshafen, just across from the berth.
What a treat! There is a big collection of old boats: cruising yachts, working boats, and rowing boats. The principal boats have data displays, the majority of which are unfortunately in German only; but the thought is there. There is a small works where boats are maintained and restored. The whole is run as a social enterprise (cost 1euro each to enter.) Here are some pics…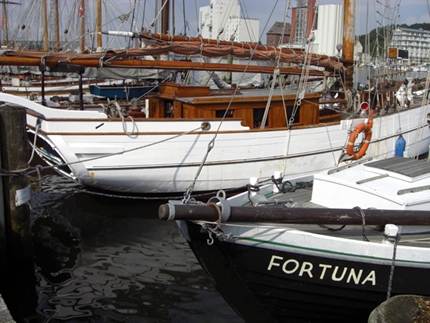 The city has the dubious distinction of not having been bombed, and therefore is well preserved. We followed the route of "interesting sights" as recommended by the tourist info brochure. The most unusual feature is the merchant's courtyards: homes and warehouses built with a warehouse fronting the harbour; a courtyard for processing goods; and a posh house facing the main street.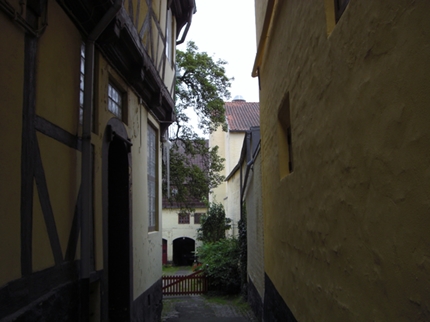 There were a lot of references to the period when the town was Danish, and a lot of the wealth seemed to date from when the Danes were leading commercial and colonial exploration – especially in the w Indies. There were 3 rum warehouses on the list!
The centre is pedestrianized, and there's the usual range of shops. Lots of tables in the street for al fresco drinking and dining, sometimes with heaters to promote comfort. But we found that many are open only for a few hours in the late afternoon; on the harbourside, the bars were closing at 6.15pm!
---