Vilanova 28 july

Magnetic Attraction
Roger and Margaret Pratt
Thu 30 Jul 2009 20:37
Off to Muros tomorrow after 3 nights in Vilanova. The marina is fine, although quirky, but does have the advantage of cheapness - 75eu for 3 nights is the lowest fee we have yet paid. I'm not sure that Roger is very keen, but I like Vilanova a lot. Very much the Spain of the Spanish: I've only found 2 people who are prepared to speak English - and one of them, Otelo the marinero is a Brazilian who met his Spanish wife in London! Of the other, more anon.
Yesterday it was decidely cold - max 22 degrees, with a sharp SW wind. So we bunkered down with the 2 computers and caught up. I wore a pullover! But today it has been back to sunny and warm, and we went cycling to Cambados. Yesterday I had gone into the tourist information office and asked for help from the trainee. She gave me a map of how to get to Cambados, which the pilot says is one of the nicest towns in the Rias Baixas. But she directed me along main roads, so I asked if she had a map of green lanes/cycle routes. One moment please.... no, she had no map, because if they did have such a map people would drive along the lanes!! Oh, how I miss my father and how much he would have supported that statement!
But she did give oral instructions, and we followed green lanes and off-road trails all the way to Cambados. It was a delightful journey, and really enjoyable. Cambados itself is a charming town, celebrating Albarino wines all week - so there were street markets, funfairs and nightly concerts - as well as rows of booths selling wines from the bodegas. Here are 3 pictures. I'm particularly pleased with the detail of the doorway carvings, which I have blown up from the bigger pic. these clever people from abobe!
And here is the detail..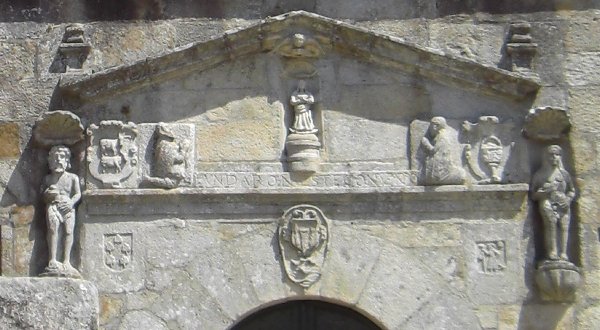 This morning I went to the market and got some small Pimentos de Padron (1.50eu, but a treat) and then on to the Froiz where I needed meat. It's a supermarket where you have to instruct the butcher and they cut what you want..... all a bit testing. So I've got chicken, marinated pork steaks, and mince to allow some changes to be rung. On the way back from Cambados we stopped at what would be called in France a Grand Surface and managed to buy a cured ham to take home. I was also given an ersatz Samian ware dish to accompany it for free - it's a funny thought that the Romans 2000 years ago would have felt at home with both the ham and dish!
Muros tomorrow, where we meet up again with Richard and Wendy.
---