Ayamonte

Magnetic Attraction
Roger and Margaret Pratt
Wed 23 Oct 2013 11:19
21 October 2013 – Ayamonte
37:12.6N
07:24.5W
Back in Spain – just!  Ayamonte is on the eastern shore of the R Guardiana that forms the southern border between Portugal and Spain.  Looking out towards the river I'm looking at Portugal, and we've still got access to the internet via the Vodafone (P) dongle.  So the Portugese courtesy flag is stowed and replaced by the Spanish flag at the crosstrees.
The river has a shallow bar and the entrance to the marina is shallower than expected.  At low water the keel sinks into the mud.  We'll have to choose the moment to get out, towards high tide – and hope that there isn't too big a swell running.  But other than depth, the marina is super – we have a 12m pontoon, and it's wide and steady to walk on.  The harbour master speaks good English and was discerning enough to comment favourably on my limited Spanish phrases.  He even taught me a new one: hasta la proxima! that I think equates to a bientot in French.
 Ayamonte itself is a complete town that is more than just a tourist venue.   A good find, even if there is no wifi.  Here is the Plaza de la laguna, where we had coffee this morning, and a picture of the Ferreteria (ironmongers) – where you can buy everything and we bought a knife for cutting ham and filleting fish for €22.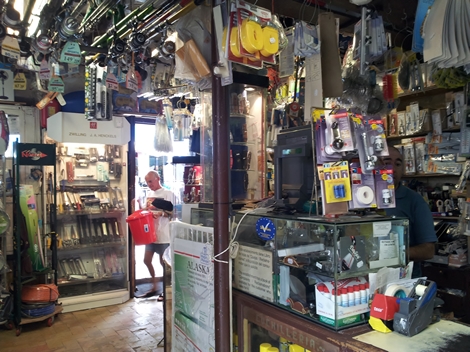 There is a car ferry to take you across to Portugal.  It looks like a fishing boat and is r-ro in an unusual direction!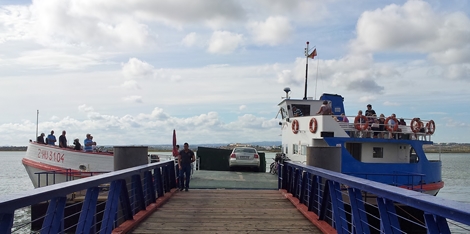 We came because my friend Viv and her husband Noel are here visiting her sister Ali, and Keith, who have a flat on the Isla Canela.  We met them all this morning for coffee, and are to go to visit this evening for supper.  Noel is a chef and is going to give me his recipe for soda bread (I have given him my bicarb and baking powder for the purpose.)  He is very helpful with advice on provisioning and cooking for the crossing.  Ali took us all to the market and to her favourite shops: including a specialist shop in Spanish jamon.
The next low is due to come through tomorrow and there will be rain all day.  The harbour master believes that we'll be able to escape on Wednesday, and I guess we'll either anchor in Faro or go on to Vilamoura to sit out Thursday's storm.  But there's a shallow bar over the entrance and the tide isn't convenient for leaving in daylight….  Watch this space!
---