Quarantine No 2, but first another fire!

Mystic of Holyhead (successor to Lynn Rival)
Rachel and Paul Chandler
Fri 22 May 2020 15:17
12:02.21N 61:45.43W

During the last two weeks we've allowed ourselves to become  hopeful of getting to Grenada before the worst of the hurricane season, despite their Government enforcing a very strict lockdown.  The marine business association (MAYAG) is well organised; they devised a plan (Grenada Lima) and yacht owners were invited to register interest.  Last week Government approval was announced for the scheme to allow yachts to enter under controlled conditions, including quarantine at St George's, the capital.  With maybe 600 yachts - from all over the Caribbean - registered we didn't expect to be invited immediately.

As luck would have it they decided to invite yachts sheltering in the nearest islands first.  An email arrived last Sunday morning giving us just one day to reserve a space and submit forms regarding health and boat details in order to arrive in this week's slot.  We jumped at the chance and hastily made preparations for both leaving Clifton and undergoing another 14 days' quarantine.

Monday and Tuesday were a hectic round of laundry, shopping and saying our goodbyes (Tiger for the mooring, Sheena for fruit and veg, the proprietor of the Yummy Stuff bakery, the friendly staff at the Big Ship supermarket - purveyor of beer and chocolate, and several street sellers).  On Tuesday morning we trekked to the airport to persuade customs and immigration to clear us out for Grenada.   Although there have been far fewer flights during the last month, they have restarted scheduled flights (of the island hopper 6 seaters) from St Vincent so the staff were getting ready for action.  No masks were worn, but we did notice a new perspex screen at the immigration desk.  There was much scrutiny of our Grenada Lima reservation and telephone calls made but an hour later we had the necessary clearance forms and stamps.

At dusk we were sitting on deck, preparing for a pre-dawn start on Wednesday morning.  A ferry was at the jetty obscuring our view of the town centre.  We heard a double explosion and saw smoke rising, from the far side of the ferry.  Soon we saw flames coming from behind the ferry and heard another explosion, suggesting the catastrophe was probably at the fuel station. 



Petrol tanks ablaze, with the occasional boom of further explosions (possibly propane bottles)

We could not see or hear much, especially as it was getting dark.  It must have been worrying for the crew on board the ferry but they didn't appear panicked.  With all the restaurants closed after dark the town is not busy at night and all the lights went off at the seafront properties making it eerily quiet despite the fire.  We could hear the fire truck make it's way from the airport to the town and eventually the flames died down. After an hour or so a Coastguard RIB appeared, from the 'mainland' (as the Grenadiners call St Vincent), blue lights flashing.

The following morning we were up at 5am and set off for Grenada.  Looking back there wasn't much to be seen in the early morning light (and we hoped it hadn't been as bad as it looked). 

As luck would have it a tropical wave was forecast to pass over us as we made our way 40 miles south to St George's.  These north-south pressure discontinuities, similar to troughs, move westward across the tropics (and sometimes develop into hurricanes), bringing cloudy conditions and briefly interupting the steady trade wind pattern.

Anticipating lighter winds we decided to fly the genaker.  It hadn't been out of the bag this season and Paul was pleased to get it hoisted without too much ado.  However, we were not moving very fast and when getting the main up the genaker fell in the water.  Fortunately it wasn't too difficult to pull the sail back on board and discover that the fitting at the head had broken (Chinese stainless steel!).  The sock was still attached to the halyard so we were able to bring it down and make a temporary fix to hoist the genaker again.

After that we had a pleasant reach most of the way, passing Carriacou and giving Kick em Jenny (an underwater volcano) a wide berth before hitting more variable winds off the east coast of Grenada.  We avoided the rain showers and were intrigued by the unusual cloud combinations formed by the tropical wave, still carrying Sahara dust.   About 5 miles off St George's we finally hit the wind shadow and motored the rest of the way.



Tropical wave clouds, with Sahara dust, over Carriacou

At St George's we docked temporarily at the prestigious Port Louis Marina superyacht berth, helped by two marina staff who managed to be very pleasant while wearing face masks.  Ministry of Health officials were nearby to take our temperatures and remind us of the rules.  We then found a spot in the quarantine anchorage, which runs north-south along the coast between St George's and the famous Grand Anse beach.  John on "Cloud Nine", who we got to know in Clifton, was already there and we anchored nearby.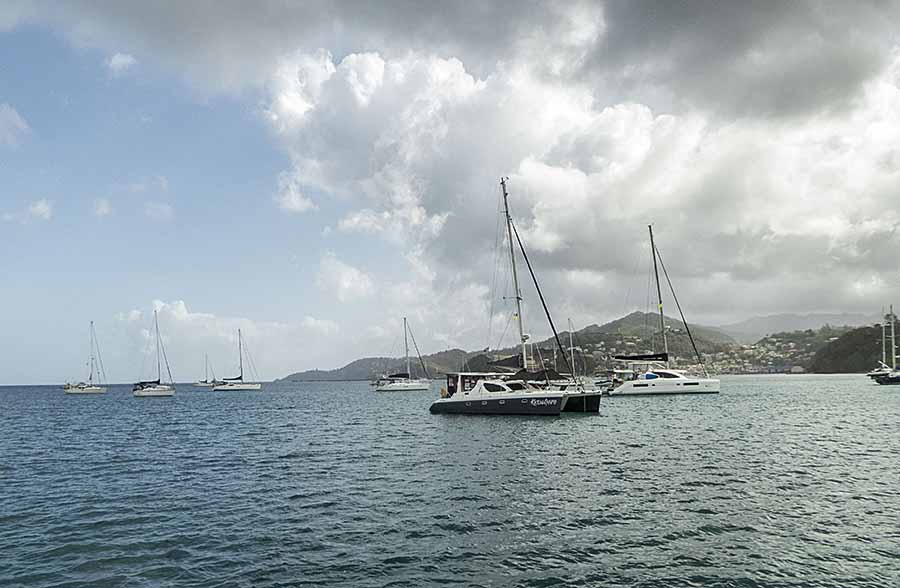 A peaceful Quarantine anchorage - coastguard patrols by day and night to ensure no fraternising!

We're now settling in for another 14 days on board.  We've not anchored on this side of Grenada before and the weather has been quite stormy but so far the anchorage is more comfortable than at Clifton.  On our first day the coastguard visited at least twice to check on quarantined boats.  There are perhaps 20 here in the first wave.  More are expected next week but for the time being it seems quiet.  We also have seen two cruise ships dock, presumably bringing home crew who have been stranded for the last two months.  (There are still many working seafarers stranded around the world having lost their jobs and desperate to get home.)

PS  Local media reports tell us that the fuel station in Clifton was destroyed, also some neighbouring properties.  Sadly, the fuel station owner and two young people are in hospital with burns.      

        

     
  

  

---