Natal

Mystic of Holyhead (successor to Lynn Rival)
Rachel and Paul Chandler
Sat 12 Sep 2015 13:41
05:45.722S 035:12.26W



Farewell to our Brasilian friends at Paraiba Yacht Club - Commodore Bernardo next to Rachel

From Jacare to Fernando de Noronha is about 250 miles and with southeasterly winds would be a fast reach, if not for the 1.5 knot cross current which forced us to be close-hauled for much of the way.  Even so we made it in about 55 hours, the dramatic island visible from over 15 miles in the late afternoon sun.  On approach we were greeted by more and more seabirds, including flocks of black noddies and the occasional pair of tropic birds, swooping and fluttering above and around us.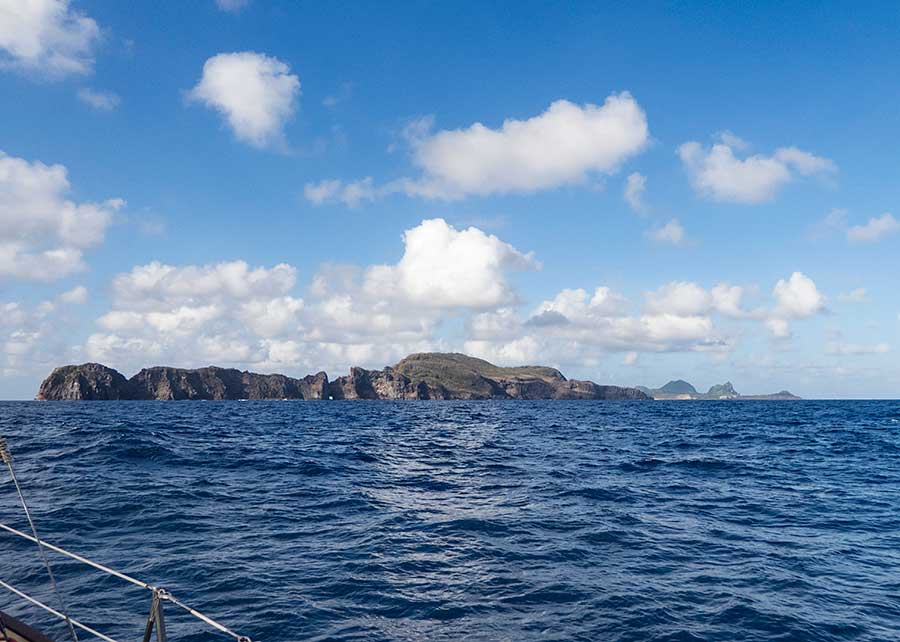 Approaching Fernando de Noronha, depth still close to 5,000 metres!

We anchored for our first night off a beach 2 miles west of the main harbour.  The water is incredibly clear so even in the evening light we could see the bottom, 7 metres down.  Crowds were gathering on some nearby rocks to watch the sunset.  Fernando de Noronha is the only place in Brazil where the sun can be seen setting over the ocean and, being close to the equator (less than 4 degrees south), it happens very quickly.



The coast from 'Pico' to 'Dois Irmaos' (two brothers)

The following day we motored to the main anchorage and found a large sailing yacht there with a defaced blue ensign and "UK services sailing school" written on the side.  Later in the afternoon we had a VHF call from the yacht, called Adventure, and were invited on board for supper. 

Adventure is a 72 foot steel Challenge yacht and, along with another similar yacht, is on a 13-leg voyage around the world.  Services personnel sign up for a leg as part of their annual quota of adventurous training.  Of course, the captain, mate and watch-keepers are experienced sailors but the rest may have had as little as just one day's sail training.

We had a very pleasant evening meeting the crew and being quizzed about our kidnap.  For them the stop at Fernando de Noronha was  unscheduled so they sailed off in the middle of the night, having ferried us back to Lynn Rival with presents of Snickers bars, Pringles and Earl Grey tea (not to mention a couple of Pot Noodles!).  We were lucky to have met them.

Since leaving Jacare Rachel has been suffering from laryngitis so we put off going ashore for a day, being content to rest up, sometimes entertained by spinner dolphins swimming around the bay and showing off their vertical-launch-double-spin-splash routine as well as the various tripper boats (supposed to keep 100m from the dolphins but motoring through the middle of the school), some with snorkellers being dragged behind on long ropes (what fun!).

We also had a visit from the Policia Federal (two women in shorts and tee shirts, with the federal shield/badge of authority), who had hitched a ride on a local fishing boat (having no vessel of their own).  They thought we had just arrived in Brazil and, being Friday, were keen to complete our formalities before the weekend.  As we already had stamps in our passports they justified their trip by completing an entry/exit form.

We went ashore in hope of hiring a buggy to tour the island.  First we had to visit the "port authority".  All visitors to the island have to pay a daily fee of 51 Riais (about £9) but visiting vessels at anchor are also asked to pay a daily tax of 192 Riais (about £33) for absolutely no services (no moorings, no showers or other facilities).  Our Brazilian cruising friends at Paraiba told us the anchoring tax has no legal basis and we should not pay, advising us not to go to the port office.  The problem for us was how to pay the (legal) visitors' tax but not the anchoring tax.  At the port office we were presented with a bill for two day's anchoring so we questioned the tax, pointing out that we had only come ashore for one day.  While in front of the official we phoned our friends; perhaps this prompted him to consult the "boss" and we were allowed to pay for just one day - indicating that it is a negotiable "tax".



The harbour - Lynn Rival at centre

Could we find a buggy for hire on this island blessed with thousands of them?  No.  We spent an hour wandering around visiting various agencies, guided by a kind local who took pity on us, but no one was prepared to hire us one for the day.  Instead we took the bus, which cost us nothing (being idoso - elderly) and ran from the harbour to the south east of the island, visiting all the main settlements on the way.

The island is pleasant but the main attraction is the coastline: the beaches, snorkelling and dive sites.  Most of the development is low rise and the number of tourists is limited so - compared to other parts of Brazil - it's a very quiet and laid-back place.  For cruisers the best option is to anchor off one of the beaches away from the harbour (and on the limited part of the coastline which is outside the Marine Park) and not go ashore, though the swell can be off-putting much of the year.



Volcanic origins evident on the south-east coast

After another day at anchor we were ready to return to the mainland and our last port of call in Brazil, Natal.  With moderate east-southeasterly winds and no hindrance from the current it was a pleasant sail, covering 208 miles in 38 hours.  The entrance at Natal is very straight-forward and we were soon inside the river, looking for a place to anchor off the yacht club, which is conveniently placed, downstream of the port and city. 



Approaching Natal, yacht club ahead, about 1 mile upstream from the rivermouth

The anchorage is quite deep (12 metres) but the shelter and holding is good so we're comfortable.  Although not far from the port, we've yet to see any big ship movements apart from a small naval vessel entering.  (Stop press - a large container ship entered early this morning, with a powerfull toot as she passed a French yacht at anchor well into the fairway!)   Quite a few fishermen come and go, a small tripper catamaran plys up and down the river from time to time but otherwise all is quiet despite a large bridge crossing the river close by.  Immediately onshore from us is a military base so we hear what sounds like square-bashing going on from time to time, but the shoreline is covered in mangroves and more often we hear the sounds of birds.  And, Natal has a reputation for being hot all year round and the temperature now ranges from 25 to 30 degrees but the constant wind provides a certain amount of respite. 

The Yacht Club is very efficient and is obviously used to dealing with foreign yachts visiting Natal as their first or last port of call.  The secretary called up the authorities to establish that we only need to visit them when we are ready to leave.  In the meantime we took a bus into the centre to have a look around.  From all we've read about Natal we weren't expecting much but it's pleasant and quite tidy, with a few old buildings to admire.  The downtown shopping area is still a thriving mix of streets, pedestrianised areas and market stall-filled alleyways.  And, if you're looking for something, there's a street full of shops selling it somewhere.  All you have to do is find the right street.


Natal: Memorial to Luis da Camara Cascudo (an authority on Brazilian culture)
---