Passing thoughts

Mystic of Holyhead (successor to Lynn Rival)
Rachel and Paul Chandler
Sun 24 Mar 2013 15:14
We're still finding it hard to believe we're here, on the edge of a vast new (to us) continent. And, slowly acclimatising to the tropical heat - with the aid of a large fan!

Looking back on our 18 day voyage here, it wasn't bad. At last we were sailing in warm weather gear: t-shirts and shorts, with sweatshirts at night. In the early days of continual sleep deprivation, not having to struggle in and out of oilies when coming and going on/off watch makes a difference.

It was a pity about the gennaker falling into the water. We always seem to have such events on ocean passages. Our ancient spinnaker disintegrated in the Arabian Sea. Our new gennaker fell down in the middle of our Indian Ocean crossing when the halyard chafed through. This time we were watching the halyard closely and adjusting it a bit every day, but it was the masthead block that failed - and it was a brand new one! Fortunately we were able to continue making good speed using the genoa and when the seas calmed down a bit Paul went up the mast to fit a new block. Rachel failed to take a pic - see previous blogs of Paul up mast - but he still has bruises to prove it.

We had very little company apart from birds. On the second day we had a large pod of dolphins playing with us for a couple of hours around sunset. We saw a few ships early on, including a number that didn't show up on AIS, but they were generally quite far away. Once we reached the ITCZ (Inter tropical convergence zone, AKA doldrums) we didn't see any other vessels for over a week. You'll also note no mention of fish. We had quite a few bites but only succeeded in losing our lures.



I wonder which bit of the regs he couldn't read - not a murmer on AIS

The approach of the ITCZ was spectacular and we had 24 hours of storms all around us with thunder, lightning, gusty variable winds and showers. Then we had a miserable day of drizzle. It was very claustrophobic with the hatches shut and having to keep watch crouched under the sprayhood to avoid getting soaked. By this time we were getting swell from the SE and the jerky motion was also very wearing. But, the good thing was that the boat got a thorough and much-needed freshwater wash. The weather goddess was not pleased with us and she carefully moved the ITCZ southward, keeping pace with us as we tried to escape it. We covered over 7 degrees of latitude (480 miles for you landlubbers) this way.

For our follower who queried the lack of pics en passage here we go . . . (the rest of you may skip the next bit)


We're in the doldrums
. . . . . . and I think it's going to rain

. . . again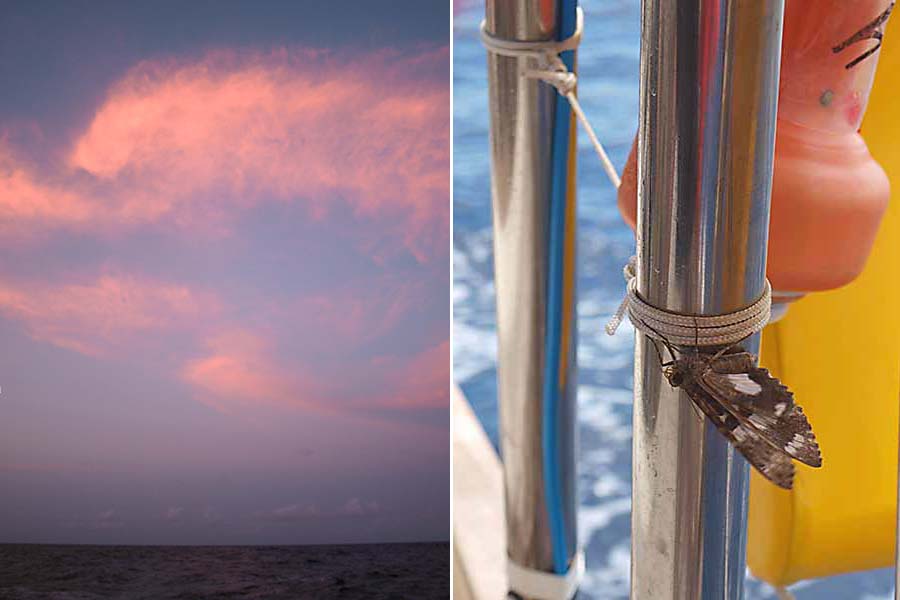 Does this count as 'Red sky at night'? We must be getting close to land - this hitch hiker needed a rest

When we crossed the equator (still in the doldrums) we were just a few weeks short of 4 years since our first time, in the Indian Ocean. (We prefer not to remember the second time we crossed it going north from the Seychelles to Somalia under pirate control.)

Once we got into the SE trades we settled down, comfortably reaching under main and genoa, with the Brazil current helping us, counting down the days to landfall, but not sure what the wind would do to us once we closed in the coast. It became more variable and, coupled with the fact that we needed a high tide to enter the bay at Ribeira where we were heading for, meant that we were not sure exactly when we'd arrive until close in. Approaching Salvador the seas were thick with jumping fish but we had no more tackle and - much as we love fresh fish - had lost the will...

One night we could see a glow on the horizon about 60 miles away - the city lights of Salvador. In the morning we could make out the high rise buildings - time to start thinking about interacting with the world again - in Portuguese!



Oh no! It's East Croydon again - we must have taken a wrong turning.

In order to reach our preferred destination, a small bay on the northern outskirts of the city, we had to pass the main port area and cross a sand bar. Being Sunday afternoon we had to dodge a dinghy race in the bay, speed boats coming back from the islands crossing us at all angles, ferries and tripper boats galore. There was little time to admire the view but once we approached the marina we were hailed by friendly staff who soon had us safely berthed. Unable to find an ATM for local money we settled for beers and supper (tinned) on board before catching up on our sleep. After so long doing 4 hours on and 4 hours off, those first 8 hours of sleep were pure bliss.



Lynn Rival in Marina Pier Salvador, complete with washing lines in use!

Armed with advice (and a few Reais for the bus) from Sandoval, the marina manager, and a good lunch at the restaurant paid for by credit card, we took the bus into the city. After walking up and down the port a few times we managed to locate the immigration office and get our entry stamps. Next stop was Customs where we got a piece of paper for importing the boat. All was going well until we turned up at the Capitania (Captain of Ports) building, in the Naval area. We'd been warned to wear a proper shirt and long trousers but hadn't expected to be turned away for wearing sandals! Tired and fed up we went in search of an ATM but try as we might - and we tried quite a few - the machines wouldn't give us any money. Eventually we exchanged some sterling so at least we could afford supper.



The Capitania has a pleasant office, as befits a high ranking jobsworth . . .



. . . and from the exercise yard we could look up to the original colonial administrative centre

The next day we went back to the Captain of Ports building and this time they didn't even look at the trainers we were wearing. Inside there were a number of visitors wearing sandals. We must have had a particularly officious guard the previous day. After filling in some forms, we soon received our piece of paper to say we had 'cleared in' to Salvador. Although the official process is quite cumbersome, at least there are no charges.



Looking back down on the port area; the slave market (Mercado modelo) and Commercio district on the right

Onward and upward to the old city where we viewed some of the sights before tackling some of the banks in the Commercio district, which is a mix of old (derelict) and new, high-rise, buildings. Being Santander customers we went into one of their branches and asked for help but were referred on to Banco do Brasil. Eventually Paul managed to get some money out of a Banco do Brasil machine. Phew!


Palacio Rio Branco - the state governor's house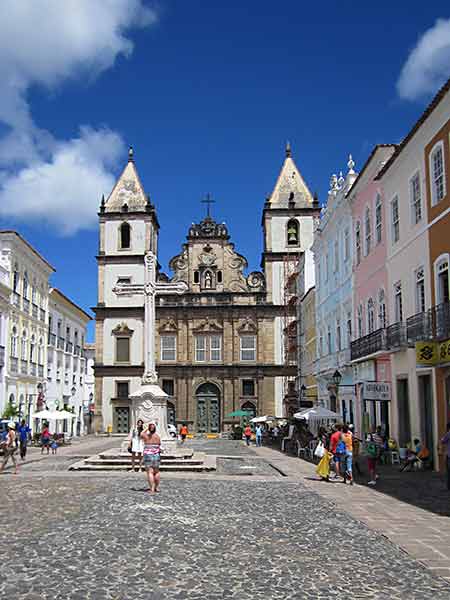 The church of Sao Francisco (all the gold is inside!)

. . . and finally (tourism-wise) the most photographed street in the state of Bahia, the picturesque Pelhourinho area

Next priority was a big fan to ventilate the boat while we have the luxury of shore power. Eventually we found a large shop selling everything from toys to pressure cookers, including large fans. When we stood at the checkout a passing member of staff indicated that Paul should go to the information desk. They demanded his documents and then looked perplexed, speaking in Portuguese, leaving us unsure what was going on. We grabbed back Paul's passport and started to leave but the clever young woman at the information desk opened up Google Translate on her pc and typed in an explanation. Customers have to be registered to make purchases. Soon the manageress came along and agreed to oversee our purchase so all was well in the end.

We promised ourselves a break from sight-seeing and a bit of 'catch-up time' for a couple of weeks so that is what we're doing. Thankfully, there are no major items to sort out but since leaving Dartmouth we've covered over 5,500 miles and there are always small things to fix, improve and maintain, apart from catching up on correspondence. We're in a nice place and few people speak any English so we've every incentive to learn Portuguese. The marina is more like a yacht club with a pontoon and the bar-restaurant is very good. At lunchtime they produce a buffet, charged by the kilo. The food is very tasty with lots of meat and fish, and the fresh tropical fruit juices are divine. The surrounding area is mostly residential, with numerous boating facilities to the north and a long beach to the west. Tripper boats come and go, blaring loud music as they pass - reminiscent of Panjim - but the nights are peaceful. In the evening the local eating hub, consisting of three or four pizzarias and even more ice cream parlours, is very popular. The pizzas are very rich - cheesy - and the ice creams very moreish so there are a lot of overweight people here.
---