Atlantic crossing E-W No 2

Mystic of Holyhead (successor to Lynn Rival)
Rachel and Paul Chandler
Sat 16 Mar 2019 21:01
16:24.64N 061:32.03W


We spent a month in Mindelo.  The marina is well run and, being the only one in the Cape Verdes, a hub for cruisers heading either south or west as well as a base for local charter boats.  We were happy to watch the comings and goings while we got ourselves ready, fending off various requests from would-be crew members.  Wouldn't it be nice to have an extra pair of eyes for watch-keeping?  But if a few days out you find you can't stand the person you can hardly ask them to leave in the middle of the ocean.

Mindelo is much the same as it was 6 years ago.  The town spreads over a large area and has some pleasant (almost) leafy areas.  The buildings downtown are often quite scruffy but the streets are kept tidy.  The markets are excellent for both fish and fresh produce grown on nearby Santo Antao island.  Women of all ages walk along the streets carrying large loads of produce on their heads.  Apparently the local government is trying to clamp down on the street hawkers so sometimes you have to seach them out in the back streets.  It's usually a case of if you see it, buy it.  The best ripe bananas and papaya are often in a big plastic bowl on top of a woman's head or maybe being wheeled in a barrow down the main street (when the police are having their tea break).

A big downside to the Cape Verdes at this time of year is the Sahara dust, which frequently goes way off the scale in terms of European air quality standards.  Not only does everything get covered in brown dust but it's very hard on the lungs and sore throats are the least of your worries.  Of course the local people take it in their stride and it didn't appear to affect their Carnival preparations.  Not only were the shops full of bright fabrics and glittery trimmings of all descriptions but most evenings we would hear singing and dance practice all around the bay.  It was tempting to linger, but the Caribbean beckoned.


When the forecast looked good we set off, motoring for a bit to get past the wind shadow of Sao Antao.  Soon we were in the trade winds, which held steady for almost two weeks.  On our third day Paul caught a small dolphin fish, just in time as we'd finished our "3-day stew" (which we always cook in advance of a long passage).  It kept us fed for two days and we had high hopes of catching more.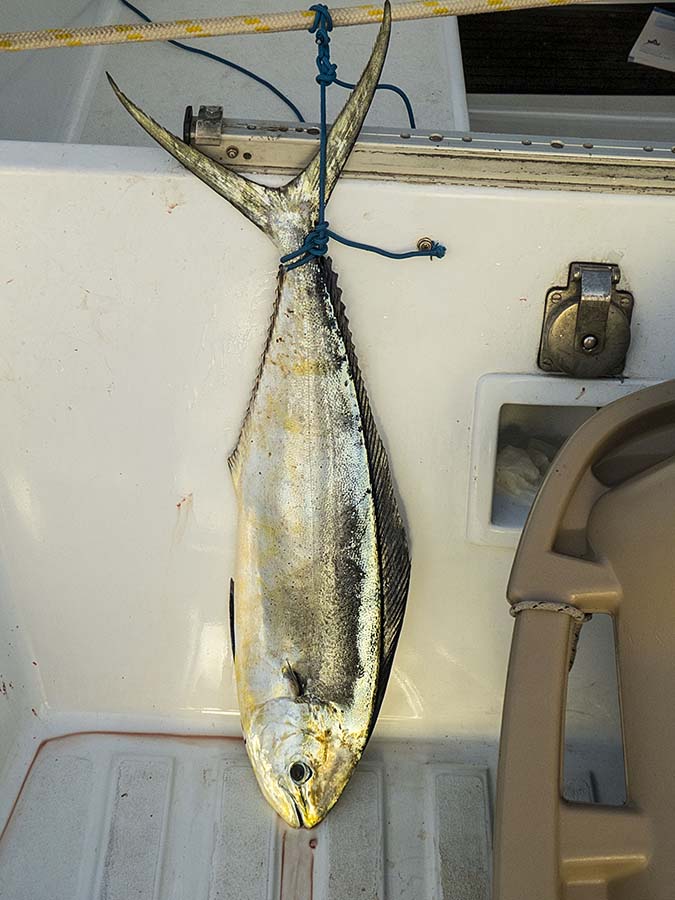 Mahi-mahi (dolphin fish) for supper, twice.  Sadly our only catch on this passage

After about a week we saw another yacht but it was the only vessel we encountered in two whole weeks.  Sometimes we'd see seabirds - boobies, terns and the occasional tropic bird - but nothing else.  Every night we would be bombarded by flying fish that presumably didn't see is in their way.  Some were large enough to eat but by the time we found them on deck they didn't look appetising.  We still had vacuum-packed fresh beef in the bottom of the fridge so were not that desperate.



We had been doing about 140 miles per day but after 12 days the wind dropped and so we hoisted the gennaker.  All continued well until on day 15 the halliard broke and we had to recover the gennaker from the sea.  Usually such events happen in the middle of the night so this time we were lucky.  By then we were only 100 miles from our destination so we unfurled the genoa and carried on, albeit more slowly. 


That evening we saw the lights of La Desirade, a small island off the east coast of Guadeloupe.  In the morning we could make out the low-lying coastline of Grand Terre (the eastern wing of the butterfly that is Guadeloupe).  As we sailed around the northern tip of Grand Terre, we saw what looked like an uncharted rock ahead.  Then it appeared to be a sail going up and down.  Maybe a windsurfer?  Finally we realised it was a whale, using it's flipper to thrash the water.  Presumably it was feeding and as we sailed by it took no notice of us.
About our size!
The coastline is mostly mangrove covered, the sea turquoise blue and the waves roar over the inshore reefs.  There are few beaches so not a lot of activity, just a handful of fishermen bobbing around in small boats.  As we approached our destination, Port Louis, we could see a lovely beach, then the little town and harbour.  To the south is the Grand Cul-de-Sac Marin, a wildlife park with just a few remote  anchorages and no fishing allowed.


An unspoilt fishing village - Port Louis, Guadeloupe



There was just one cruising boat anchored off Port Louis so we had no problem finding space to practice anchoring.  In the last 6 months of being aboard Mystic this would be our first time at dropping the hook.  In just 3 metres depth and a sandy bottom it wasn't a big challenge!

It's difficult to describe the excitement and relief of completing a long passage and overwhelming joy of dropping anchor in such a beautiful spot.  We've had a busy and eventful 2 years since deciding to switch boats.  Now we're looking forward to some gentle cruising, visiting some of our favourite spots in the Lesser Antilles, and exploring some new ones while honing up our anchoring technique.

After a refreshing swim and quick supper an early night was called for.  It is difficult to shake off the habit of getting up after 6 hours to go on watch but the gentle motion of a secure anchorage is always restful.  The comings and goings of the fishermen before dawn were not a problem.

In the morning we launched the dinghy and ventured into the harbour, where we landed at a jetty of sailing boats that looked permanently moored, some in a bad state.  Most of the other jetties contained small fishing boats and a few dive boats but there was little sign of activity mid-morning on a Wednesday.  As we walked up the jetty we disturbed a gang of brown pelicans patiently waiting for a fish.  Frigate birds hovered overhead waiting to steal any catch. 

We walked into town and passed a shop or two but saw no cafes and few people.  The only places with any activity were the post office and even more so the betting shop.  Just around the corner we found the Customs building where friendly officials took our papers and completed the necessary forms to clear us in.  Afterwards we walked to the north end of town and found where most of the people were - on the beach.

The following day we had a visit in the afternoon from a Customs launch with three armed men aboard.  After checking our papers they informed us they were coming aboard to check our personal belongings.  They duly searched the boat for half an hour and left us with a form saying we'd been searched and they had found nothing.  We have no idea what they were looking for.
 

Mystic at anchor off Port Louis
---