La Paloma

Mystic of Holyhead (successor to Lynn Rival)
Rachel and Paul Chandler
Fri 25 Oct 2013 14:43
34:39.239S 054:08.603W



Our first signs of human life in Uruguay - the settlement at Cabo Polonio - beyond roads and power

Leaving Cabo Polonio on Saturday morning some of the seals came to say goodbye, swimming in our wake for a while.


A Fur seal coming up for air, but first to belch!



"Are you ready? Then follow me," said our escort

The winds were light so we motored gently down the coast - just 24 miles - to the port of La Paloma.


The Atlantic coast of Uruguay is mostly beach, frequented only by hardy surfers for nine months of the year

And good for fishing: this one had a delicate subtle flavour - anyone recognise the marque?

Contrary to the situation in Brazil where the Port Authorities are generally not interested in the movement of yachts, the Uruguayan ports expect to be called in advance and given detailed information about any approaching vessel. Having established contact we were then given the option of picking up a swinging mooring or going bows-to the quay. We opted for the former and had already got the dinghy blown up in case we had problems picking up a buoy. In fact we managed to hook a line on using our special boat-hook fitting, bought years ago at a boat jumble and hardly ever used. It just goes to show how all these bits and pieces come in handy from time to time! We then rowed ashore to see the authorities but it was low tide and couldn't find a ladder to climb up the side of the quay. We ended up in the naval base by mistake and got told off for not wearing life-jackets!



Gently swinging on the mooring at La Paloma - spot the missing item!

After collecting our life-jackets we had another go at getting ashore at the yacht quay and managed to clamber up onto the jetty. No wonder we needed our life-jackets on! By then the port authority (Hidrographia) were closed for the weekend so we were directed to the nearby Prefectura (coastguard) office by the port security guards. We were quickly dealt with: photocopies of ships papers and passports taken, then entry/exit form half completed ready for our return visit (with evidence of payment of bills) just before we leave.

On Sunday we took a walk into town - a nice stroll along the beach - and found the tourist information office open. We were told there was no ATM in town so wondered how we would survive the day without a celebratory beer in one of the bars. In fact there is a bank with a working ATM so we soon had some Pesos to spend. The town is pretty quiet at this time of year. We'd read that La Paloma only gets really busy during high season - the lady running the laundry confirmed that there were six busy weeks in December and January. Even so, there were a few bars, shops and restaurants open on a Sunday. The skies had been overcast all day and when we returned to the boat it was raining.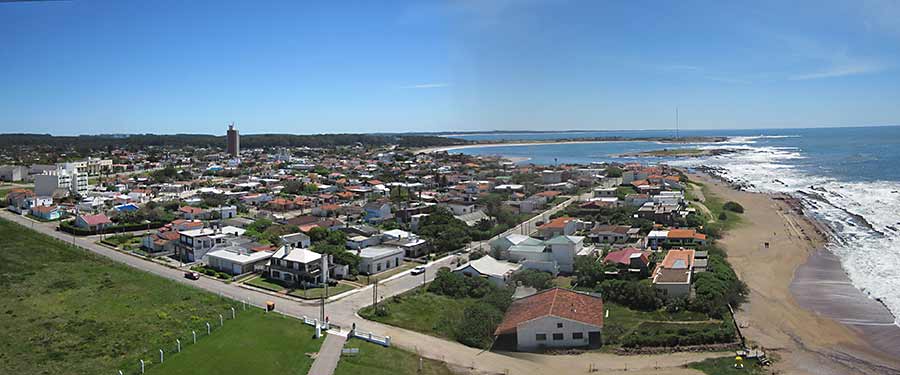 La Paloma from the lighthouse - the harbour is beyond the big bay which was apparently the old 'harbour'

Looking south west from the lighthouse - rental properties behind the beach await their 6 week season

One of the security guards had warned us that we would need to move to the quay because our boat was too big for the mooring. He was right. During the rain the wind was going round the clock and when in the northwest we were hitting the (vacant) mooring astern.

On Monday morning we contacted the Hidrographia to request permission to move. It was duly granted. By then the wind had set in from the south and we didn't manage to hook the stern buoy successfully on approach. Some of the port security men tried to help with the bow lines but didn't know what they were doing. After much activity in the dinghy while hanging on to the next door boat we eventually got sorted. Afterwards we went to the Hidrographia office to check-in, involving another round of photocopies but not much else. There is no immigration office here so it seems we'll be illegal immigrants until we get to our next port. No one seems to mind.



LR at the yacht jetty, between the Navy and the fishing fleet - and the cellphone signal should be strong!

The winds are generally from the south at the moment so we will have to wait a few days before continuing on to Pirpiapolis where we will start researching our options for replacing the boom. The south winds bring cold air and on Monday night the temperature went down to 13 deg C - a bit cold for us without any heating.



Looking south west from the harbour breakwater - no sailing today!

Having been in Brazil for so long we were well set up for communications: friends helped us get local PAYG SIM cards for both mobile phone and internet connection. We were not sure what the situation was in Uruguay, and we had read that cellphones must be registered with customs on entry. So on Tuesday we called into the local Movistar shop - none too hopeful - and were pleasantly surprised to have it all sorted in about 10 minutes. Perhaps now is the time to explain that even before leaving Brazil we had started learning Spanish and trying to forget the Portuguese we had learned. Many of the common words are similar, but with different pronunciation, and some of the words are completely different, but people here seem to understand anyway. Increasingly we had found in southern Brazil that people would ask us if we understood Spanish when we couldn't understand their Portuguese. Here people seem to be used to communicating in a mixture of Spanish, Portuguese and a little English.

La Paloma continues to be as quiet, if not quieter, than on Sunday. It's a sleepy place, mostly low rise buildings with just one tower block. Most of the houses are seaside bungalows, some like those built in the 1950s in England, but the architecture is very diverse. Many have thatched roofs, others are chalet style and some have steeply-sided roofs, like old Madeiran cottages. More recent houses are sometimes flat-roofed and very modern. However, they are all small, not like the Dallas style houses on Ilha da Santa Catarina!



No hills so the bikes only have one gear - we must be thankful that it's forward!

We hired bikes - real boneshakers - to get around town, and then decided to see if we could get to nearby Laguna da Rocha where there is supposed to be spectacular birdlife. We reckoned on it being an easy 10km ride because the terrain is flat around here. Little did we realise that there are indeed some hills to be climbed on the way.



Whose idea was this?

When we got to the lagoon we were so far away from the black-necked swans and flamingos that it was all a bit disappointing. Perhaps we should have been content with the interesting birdlife in the port area.



We forgot to take the monocular.

We returned via the beach, which meant pushing the bikes through numerous sand dunes and when we got back to the Port we were thoroughly exhausted.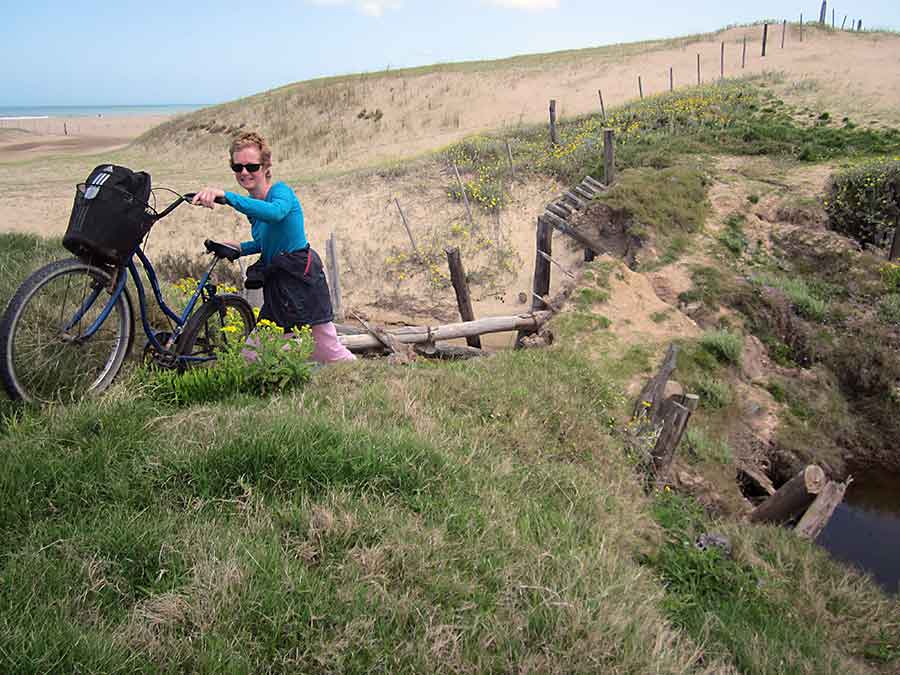 A different route back - never mind gears, we needed four wheel drive!
---