Up again, even higher

Mystic of Holyhead (successor to Lynn Rival)
Rachel and Paul Chandler
Wed 15 Oct 2014 16:16
There must be a special rule for those who live on the sea - if you see a hill, go to the top!  We arrived at the site on our second day in time to sign in for the Cerro Machu Picchu trail (although cerro means hill it is usually called Machu Picchu Mountain).  This is not the hill seen in the postcard photos of the site - which is called Wayna Picchu and is so popular that entrance is even more restricted (and expensive). 



If we had realised that this was Cerro Machu Picchu before we started . . .

Our guide book promised a 2-hour climb with more spectacular views and fewer people.  What we didn't realise is that the top of Cerro Machu Picchu is at 3082 metres, 680 metres above the main site!  Sensibly Lynda chose instead to spend another day looking around the main site, with a guide to keep her company.  It was a hard walk up - taking us over 3 hours  - climbing countless Inca staircases, but the views were wonderful.  By the time we got down again we didn't have the legs to do anything else!


Eyes up for a rest - but one must concentrate on the steps while climbing (
and even more so when going down)
It was worth pausing from time to time for the view
Just a few more (flights of) steps?
Quite a sight/site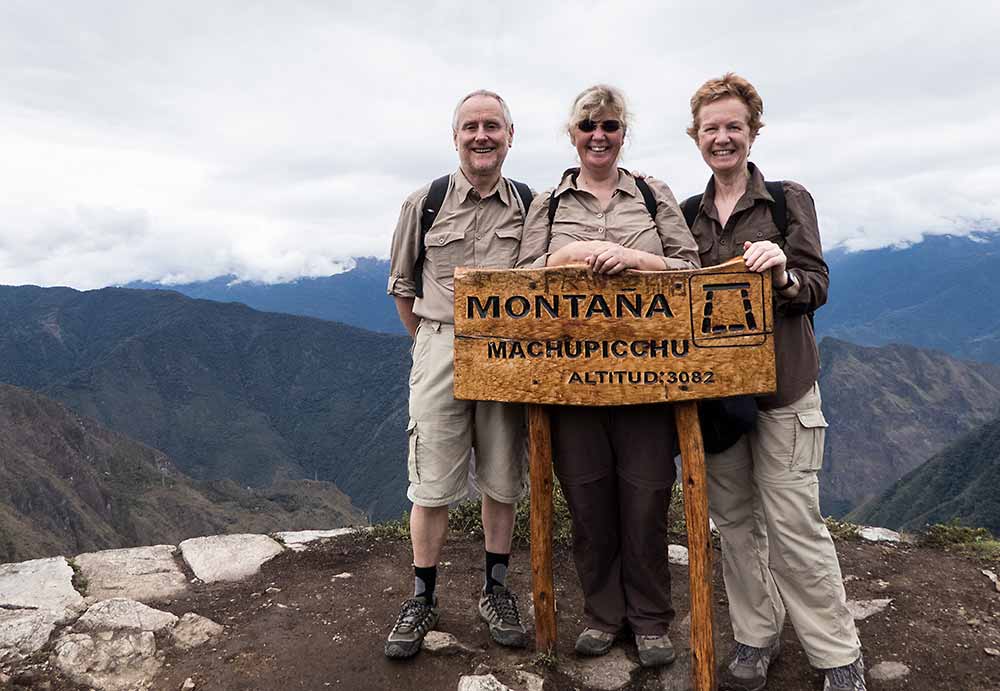 We made it!  And as a reward they call it montana rather than cerro here.



Looking down on Machu Picchu - the little hill behind the ruins is Wayna Picchu



Looking north-east into the valley, Machu Picchu is just out of sight to the left, the snow topped Andes beyond

While waiting for the afternoon train to leave Aguas Calientes we had lunch of empanadas at a cafe overlooking the one and only square.  The food was good but when the bill came the owner had added on a 25% "service charge" which - with persistence - and denmands for the (statutory) complaints book - we got reduced to 10%.   By then we'd had enough of Aguas Calientes. Our train journey - this time all the way to Cuzco - was over 4 hours long, climbing all the way. 



From the train - the colour striations in the sky are from our polarising filter and the double glazed window

We had a comfortable time but by halfway it was dark so we missed the scenery from Ollantaytambo onwards.  At Cuzco the station is outside the city in a nondescript area called Poroy.  We were off the train ahead of the crowds and walked outside to find the street full of coaches.  A taxi driver approached us and we agreed a price.  He then lead us out into the dingy streets.  We followed with some trepidation and got into his car but all was well and we eventually got to our destination in the San Blas district of Cuzco.


---