Crossing continental borders

Mystic of Holyhead (successor to Lynn Rival)
Rachel and Paul Chandler
Mon 12 Nov 2007 14:35
29:03.72N 32:38.24E

All the rally yachts ended up in Port Tawfiq/Suez after 2 days. A second yacht was damaged when their pilot hit a buoy in broad daylight! We did not allow either of our pilots to steer Lynn Rival knowing that if anything happened we would be responsible.

We ended up spending 10 days in the "Yacht and Rowing Club" at Port Tawfiq. We both had sore throats/mild colds for much of the time so were not feeling our best. When not doing more distant sight-seeing, we would usually go into Suez town, about 2km away, to explore and shop. It's not a particularly easy town to find your way around in but once we discovered the various markets and shops we were surprised by how much was available. The markets for meat, fish and vegetables were excellent, and open every day including Friday. Everything is out in the open and the hygiene regulations are not what we are used to in Europe but everything is fresh. The Egyptians have yet to discover cling film and plastic packaging in a big way. Also, some of the supermarkets were surprisingly well stocked with European and Turkish brands. Generally prices are much lower than in Europe, which is not surprising since the average Egyptian wage is about £30 a month. Even in the open markets, prices are often marked, but as a foreigner you can expect to be asked to pay a bit more or buy more than you want. It's essential to have a lot of small change so that you can limit your outlay!



Downtown Cairo

We spent a day on an organised tour to Cairo and the Pyramids with a number of the other rally participants and 2 minders from the tourist police. We started with a quick visit to the Citadel, which is not very exciting and has ghastly views overlooking the slums and smog of Cairo.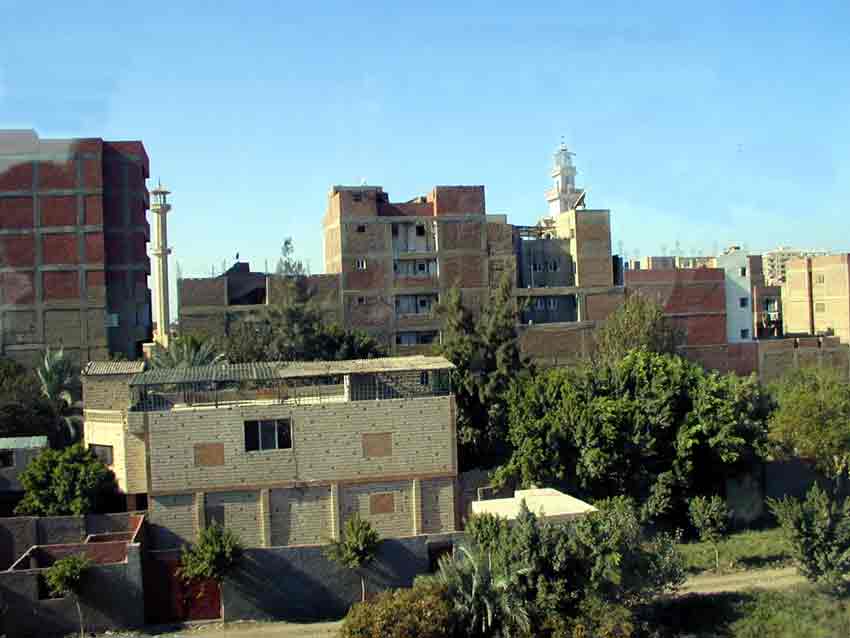 Some of the greener slums

We were then taken to the Egyptian Antiquities Museum in the centre of Cairo where we jostled to get in along with dozens of other coachloads of visitors. Once through the security check we made our way to the section containing the treasures of Tutankhamen. We spent an hour packed shoulder-to-shoulder with other visitors, shuffling around the various exhibits, before coming out for air. Lunch on a river boat was a respite before getting back on the coach and on to the great Pyramids.



The Sphinx and 2 of the 3 great pyramids of Giza

Once there Paul probably did the right thing by opting to crawl through the underground passages. Rachel stayed above ground, fending off the touts selling the usual tack and camel rides, while attempting to take photos. Our next treat was shopping in a sanitized "bazaar" (the real souk was presumably deemed unsuitable) before returning to the Pyramids for a Son et Lumiere experience. Never having been to one before we're not sure whether they are meant to be naff, but this one was.



Pyramid No 1 at night

Put off by the tour to Cairo, few people signed up for the organised day-trip to St Catherine's Monstery in the Sinai heights so it was cancelled. Not having been in the desert for over 20 years we decided to go it alone, and also stay overnight. We turned up at the bus station in Suez to find the daily bus was full, but managed to negotiate our way onto one of the minibuses that cater for overspill. The trip took 5 hours, including a stop half way. After taking the tunnel under the canal, the road follows the east coast of the Gulf of Suez before turning inland into the mountains. The mountains are quite stark, but streaked with different coloured layers, and no doubt of great interest to geologists.

On arrival the minibus driver helpfully took us to one of the "bedouin" camping grounds, telling us that the hotels were all very expensive. The bedouins don't expect you to rough it and we stayed in a small hut with a passable bathroom, including hot water. The bill, including a small omlette for breakfast, came to less than £6.



Our bedouin camp (the sleeping huts are not shown):

In the night we didn't climb Mount Sinai to do the tourist thing and see the sunrise from the top but in the morning we did walk a couple of kilometres to the Monastery and joined the crowds arriving by coach. Once we'd battled our way inside we quickly saw the uninteresting descendant of the burning bush and other must-sees before finding the museum. Costing about £2 to enter it seemed unpopular with most visitors but was for us the highlight. The monastery was founded in the 4th century AD and has a collection of manuscripts second only to that in the Vatican. Only a fraction of the treasures, icons and manuscripts were on view but were beautifully presented. We don't normally get excited by such things but these were exceptional and made the whole trip worthwhile.

Our trip back to Suez was another experience. Our friendly minibus driver from the day before came to collect us after we'd been to St Catherine's. After driving us around the area for a short while he announced that there were no other passengers so we'd have to pay about £70 to get back to Suez, over 7 times what we'd paid for the trip out. We negotiated him down to just under £30 on the basis that there would be no other customers and we'd have a fast trip back to Suez. However, our clever driver made a lot of detours and soon found more passengers. His grin was increasing as more got on board, think he was making a killing out of us. When we eventually got back to Suez we had a big row over the price and the driver's grin changed to a miserable scowl when we settled on just under £20 for our fare. Unfortunately taxi drivers are the same the world over when it comes to ripping off tourists. The majority of Egyptian people you meet are friendly and courteous, and not all expect a tip for telling you something you might already know (or didn't want to know).

When we arrived in Port Said 2 weeks ago, it was not only our first visit to Egypt but also our first time in Africa. Our guide book suggests that the Sinai is in Asia so we may have crossed continental borders again. Our atlas suggests that Sinai is in Africa and that Asia starts at the Israeli border, so maybe we stayed in Africa after all.

We left Port Tawfiq on Saturday (10th November) after stocking up for 2 weeks' sailing. Although we will be visiting many anchorages in the Gulf of Suez before we reach our next marina destination at Hurghada, we will rarely be allowed ashore. Egypt is generally not geared up to independent travel and away from the beach resorts the coast is patrolled by the military. In some places going ashore is not a good idea because away from the beaches there may be landmines! It's a pity not to be able to visit some of the villages if only to buy fresh produce but it will be good practice for when we cruise further south in the Red Sea where there is nothing ashore to buy. This morning we are having our first experiment at baking Lynn Rival bread.

Since leaving we've had two good day's sailing down the Gulf of Suez, anchoring one night on the east side and now on the west side at a place called Mersa Thelemet. The wind is generally from the north so we've been running with the wind behind us. The only problem is the shipping lanes in the middle, which are either busy with ships or fishing trawlers. However, when we run out of fresh meat we should be able to buy fish if our own efforts at trawling are unsuccessful.

We're staying another night at Mersa Thelemet, hoping to be able to go swimming to scrub the bottom. While in the canal we picked up a lot of weed, which is slowing us down by about a knot. The only problem is that the wind is blowing quite strongly at the moment so it feels too cold to swim! For the last few days the wind had been quite strong in the day and the temperature has only reached about 25 deg C, lower yesterday when we had a lot of cloud. The nights have been quite cold and we've been having to wear sweatshirts. The days are also now shorter, getting dark at 5pm so we are going to bed earlier and trying to get up earlier with moderate success so far.


---