Wrinkly backpacking in Argentina - 7

Mystic of Holyhead (successor to Lynn Rival)
Rachel and Paul Chandler
Tue 21 Jan 2014 16:53

Now we are getting closer - to Cachi

It was raining when we reached Cachi - a remote little town serving as a hub to even more remote hamlets in the Valles Calchaquies. We were perhaps lucky the rain didn't come earlier as we'd already had to negotiate some fast running streams along the way. It's easy to imagine how a thunderstorm can quickly make a road impassable in these parts. We'd booked a hotel but were wondering whether we'd find anywhere nice to have dinner, being New Year's Eve. There were a couple of restaurants to choose from and we had very pleasant meal in one but what we remember was the wine. We asked for a local wine and splashed out: £10 for a bottle of Miraluna - a delicious "single vineyard" Malbec.




On New Year's Day we set off up the valley not sure what we'd find. Sure enough most of the bodegas were closed. But even on a cloudy day the scenery is fabulous so we didn't mind, bouncing along the rough tracks enjoying the views of the countryside and distant mountains. When we eventually found the Miraluna bodega, our luck was in. Not only was it open but the manager spoke English. With only 4 hectares of vines, they produce about 7,000 bottles, using the best equipment to produce a quality wine: an expensive hobby for the owner. We had another bottle of Miraluna that evening, knowing we're unlikely ever to drink it again.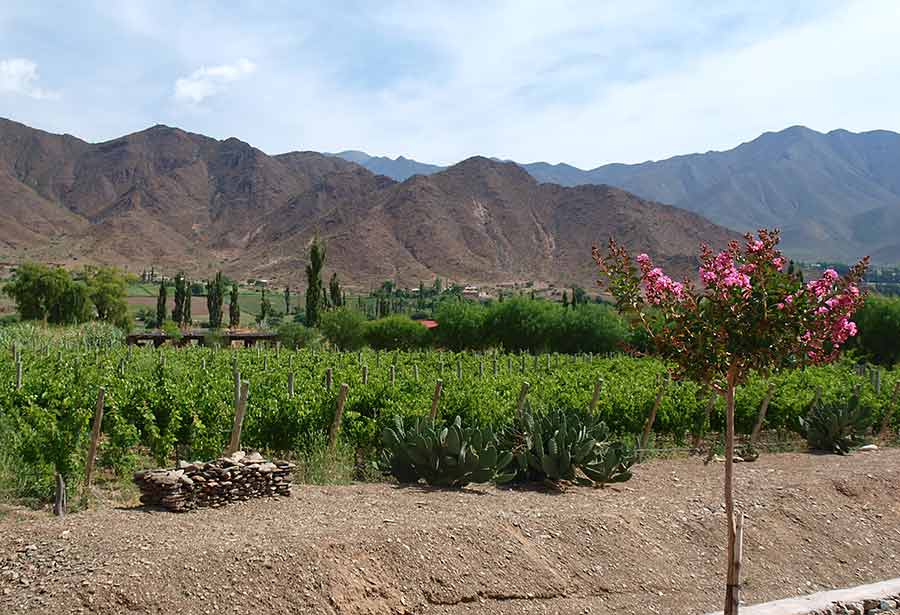 the Miraluna vineyard - altitude 2571m - it only takes half a day to pick all the grapes



and the wine is made in here



That's it really! French oak, Portuguese cork and highly stressed Argentine vines, processed with love

From Cachi back to Salta is another fantastic drive, part of it on paved road, with amazing scenery.



Into the multi coloured hills north of Cachi

Not far from Cachi we passed through Payogasta, a small village which has the highest vineyards in the world, at over 3,000 metres. Further on the road opens out into a wide valley filled with cacti and this stretch is called "Recta de Tin Tin". It was originally an Inca route. "Recta" means straight and "Tin Tin" refers to the nearby mountains, not the cartoon character.



Recta de Tin Tin - tales are told that if you're out after dark the cordon cacti will follow you!

We crossed a pass and moved into totally different scenery.



A prayer stop - the descent to come is known as 'the bishop's road'

On the descent the road is unpaved and very rough at the tight bends, where it crosses water courses. We were happy to be going downhill as it's much easier on both driver and passenger.


Only the first few km of the bishop's road are sealed

and we're still in the Parque Nacional de Cordon

All too soon we were back in Salta and it was time to hand our - by now very dusty - car back. It had taken quite a hammering on the ripio roads so it's no wonder that hire cars are expensive here! While in Salta, we still had a couple of things to "tick off". One was a visit to the Museo de Arqueologia de Alta Montana, where they have the mummified bodies of 3 Inca children sacrificed on a nearby mountain, discovered in 1999. The museum was very busy so not such a great experience - much like a special exhibition at the National Gallery on a summer Sunday. The other was a Pena night out. We're not really into folk music - especially staged performances for tourists - but we thought we should give it a try. The food was good, the tap dancing was mediocre, but the band (see photo in earlier blog) was great. Two of the singers had such outstanding voices it would not have mattered what they sung. We even bought the CD!

The next stage of our travels took us southwest, through the provinces of Tucaman and Catamarca and into the province of La Rioja. We travelled on the night bus and arrived in the capital, also called La Rioja, in the morning. Apart from having to watch a terrible film and not being given pillows or blankets it was a smooth trip so we arrived in good spirits.

La Rioja is a small, attractive city but on a Sunday is more or less deserted and the one-and-only museum was closed. The temperature was in the high 30s so everyone was probably out in the nearest river or mountains trying to cool down. We were happy to rest up in our air-conditioned hotel and wait for our onward connection the following day - a local bus to the border with the next province, San Juan. The 2 hour journey there was quite dreary by Argentine standards, through scrub with the occasional cactus to add interest. Just across the border is the Valle Fertil, which is a bit more interesting but nothing special. After another hour we were at our destination, the small town of San Agustin, a local hub.



They're very proud of it, but really there's only one attraction - the one with the teeth hiding behind the rock

The reason for diverting to this out of the way place was so we could visit the nearby (a mere 80kms away) Parque Provinicial Ischigualasto, also referred to as the Valley of the Moon. It's a desert valley with many unusual rock formations and dinosaur remains from over 200 million years ago that have emerged as a result of tectonic activity, water and wind erosion. The oldest carnivorous dinosaur in the world (sadly deceased) was found there not so long ago. Visits around the park are only allowed by vehicle in a convoy, with a guide, so we went on a minibus tour. The guide spoke at length in rapid Spanish so we didn't understand a word. Unlike other places we've visited in Argentina there was no signage (usually in Spanish and English) to tell us what we were looking at. It was a disappointing 3 hours - and the large convoy detracted from the "out of this world" experience - though we did enjoy seeing some guanacos and a desert fox along the route. The museum showing the fossil remains was a bit better, with good signage in Spanish but having paid double the entrance fee (foreigners pay considerably more in most tourist venues here) we expected more.


Water and more recent wind erosion have created unusual rock formations - many given silly names


Does this look like a moonscape? Ignore the greenery!


'Submarine' - but perhaps not from this angle
this could be the moonscape
The guanacos know the timetable and pose majestically
Not just any old boulders - these were formed by conglomeration of denser material within sandstone at depth
Another product of erosion

Perhaps from this angle it's a submarine?

The next day San Agustin was busy. The Dakar rally was passing through. We'd found the only cafe open for a snack before our mid-day bus and soon it was packed. We were warned our onward bus to the capital of the province, San Juan, might be delayed but in fact we had a comfortable 4 hour journey there (through more sparse, sometimes desolate, landscape).

We hadn't thought about it before but the whole of northwest Argentina is an earthquake zone so the lack of high rise buildings in most towns is probably as much to do with that as the fact that there's plenty of land. San Juan was badly hit in 1894 and again in 1944 so the buildings are modern but it's still a very nice place to visit. We will always remember it with fondness because it was the first place in Argentina where our hotel served bacon and eggs for breakfast. (Look at any hotel review website and you will find complaint after complaint about Argentine hotel breakfasts - which are often just a cup of stewed coffee and stale sweet pastries.)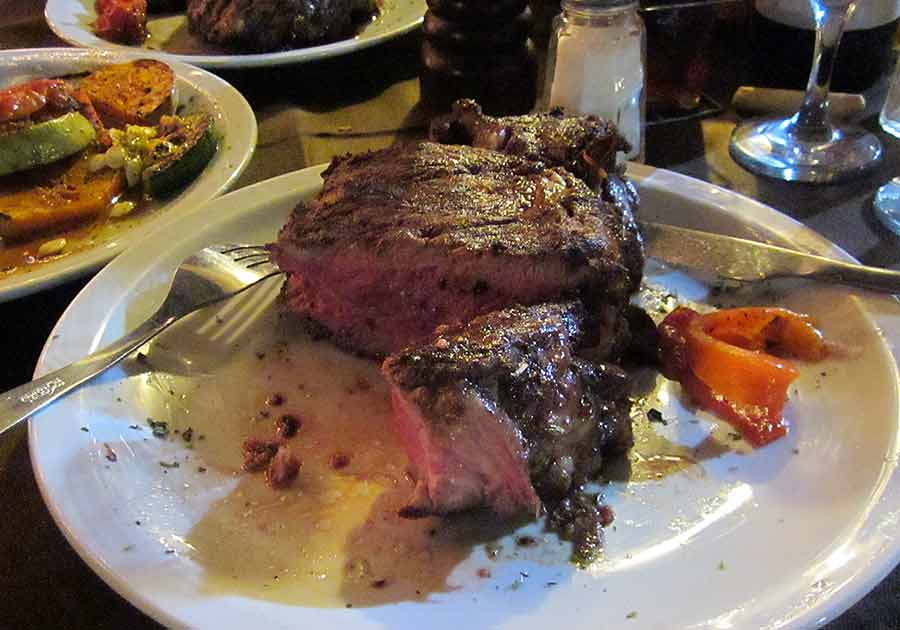 Never mind the breakfast - they do know how to rear, butcher and cook steak

Another highlight of our visit to San Juan was a visit to the Graffigna wine museum. There's not only the original equipment but lots of old photos and film footage showing how the business grew after Santiago Graffigna came from Italy to start the winery in 1870. We turned up unannounced and were pleasantly surprised to be given a tour in English and wine-tasting for no charge.



Graffigna Museo de Vino - steam engines made in England!

From San Juan we took the bus south to Mendoza - a 3 hour trip passing through more scrub but also lots of vineyards.

Our first impressions of Mendoza were of a big, bustling city with lots of traffic and tourists. It's a remarkable place, built in the semi-desert, with tree-lined streets and numerous leafy squares, the year round water supply piped from snow melt in the nearby Andes. While dodging the traffic you have to be careful not to fall into the deep drainage/irrigation channels but there is good shopping for wines, olive oil, chocolate, hiking and mountaineering gear. Wine and mountain scenery are the not-to-be-missed attractions here, so after booking a Sunday wine-tasting tour to include lunch, we set about hiring a car to explore the foothills of the Andes.

Our wine tour took us (eight punters with an English speaking guide) to the Uco valley - the newest of Mendoza's three vineyard areas although some of the vineyards there are more than 50 years old.



Not so high here, about 1200m, and the main problem is hail - many vines are protected by substantial netting

We started off in a small, family-owned bodega, called La Azul, where we were given an enthusiastic explanation of the wines we were tasting, with generous servings. Next we visited a medium-sized and very slick enterprise, Andeluna, owned by Mr Lays (of Lays potato crisps). Here we got to see a large number of gleaming stainless steel vats and French oak barrels before wine-tasting in a vast bar/lounge area worthy of an upmarket hotel. Again the servings were surprisingly large and some of our fellow tourists, having downed everything that was put in front of them, were beginning to feel the worse for wear.

Finally we went to the massive Salentein bodega - owned by a Dutchman - where no expense has been spared to create something from nothing. It's as much an architectural statement cum art gallery than a working bodega. Still they do produce quality wines and we enjoyed our 'gourmet' lunch - steak and ice cream! - with wines to match.



Who suspected the Dutch of having such reverence for wine? Part of the Salentein underground production/storage area

Still to come - our trip to the hills.






























---