Wrinkly backpacking in Argentina (and Paraguay) - 3

Mystic of Holyhead (successor to Lynn Rival)
Rachel and Paul Chandler
Mon 16 Dec 2013 17:38
Our next destination was Posadas, southwest of Puerto Iguazu, down the Parana river. We took the long-distance bus - and made the mistake of not checking the arrival time. We were on a slow coach (taking 7 hours instead of 5, visiting lots of places on the way) but at least it was a comfortable ride on mostly straight roads through gently rolling, often wooded, countryside.

While staying in Posadas we made a day trip to Paraguay to visit the ruins of Jesuit missions at Trinidad and Jesus de Tavarangue. To get there we took a local bus across the Parana river to the Paraguayan town of Encarnacion. These buses are quite an experience. Hawkers get on and off selling everything from Chipacitos (delicious little savoury buns) to snake oil so you never want for anything. Crossing each border we all had to get off and have our ID checked, filing through the immigration office and back onto a bus. The buses don't always wait so everyone has to take all their bags/shopping on and off in the process. It's quite chaotic and a lot of elbowing goes on at busy times (in contrast to the normal courteous behaviour we are used to on buses).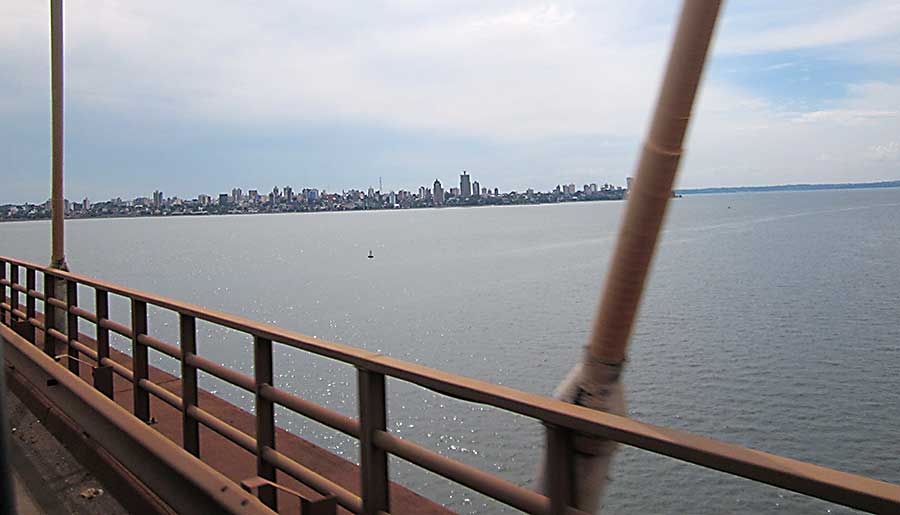 Looking back across the Parana towards Argentina - the navigation channel is close to Paraguay here.

Switching bus at Encarnacion terminal was another challenge. After a bit of negotiation we managed to get some local currency (Guaranis) and onto a bus passing through Trinidad. Being obvious gringos we were surrounded by hawkers until the bus departed but it was all very good-humoured (and we did buy some socks). Once dropped off at the track to the Trinidad ruins we were more or less on our own.

It was the middle of a hot, windless day. There's little shade and the tourist info was minimal. We wandered around for a while then decided it was time to move on to the next site - 12 km away - by taxi. But, we'd miscalculated how much local currency we'd need and didn't have enough! No one would accept anything but Guaranis. We sat down by the road hoping a shared taxi or bus would come along. Sure enough, word got round, and a battered old car turned up, it's driver offering us an affordable lift there and back.

The site at Jesus de Tavarangue was more inviting, set in nicer parkland and with better information about the ruins - though we were disappointed not to be allowed to climb the tower to see the views.



Well preserved details at the Jesuit missions in Paraguay, but so they should be - they aren't very old.

Back in Posadas we tried to arrange a trip to the Esteros de Ibera (Ibera wetlands) but the hotel we wanted did not have room straight away. Plan B was to explore the "impenetrable" Chaco region in a hire car. so we continued following the Parana (by bus) to Corrientes and Resistencia. On the way we passed through floodplains and wetlands, seeing a lot of birdlife - as well as cattle and horses - along the roadside: herons and egrets, large and small, abound; hawks and buzzards keep watch from the taller fence posts.

At Corrientes bus station we tried, without success, to hire a car. Our Spanish isn't up to negotiating for such things over the phone! We continued by taxi to nearby Resistencia where we'd booked into a town-centre hotel. With help from the hotel staff we eventually managed to get a car and our first stop was the provincial tourist office. Here we were given information about visiting the Parque Nacional Chaco, 120km to the northwest, including local accommodation options.

We set off, anticipating some interesting hiking. Much of the drive there is along surfaced road and then it's a well consolidated dirt track so nothing difficult. The landscape is flat (alluvial lowland) but with enough variation in vegetation, wildlife and settlements not to be boring - or seem isolated. When we arrived at the village close to the Park we were told there was no accommodation available. Another 5 kms later at the entrance to the Park we were greeted by the warden who told us that most of the trails were closed - inaccessible due to the heavy rains. When we got out of the car the air was thick with mosquitos. Covered with DEET we walked around the only trail that was open, fighting off the mozzies. Suffice to say we didn't stay long and returned to Resistencia with quite a few stowaways who continued to bite us until we handed the car back.



We made it - but only just. A disappointingly short trail, but we got wet feet and saw several million mosquitos!

Unlike Posadas and Corrientes, Resistencia doesn't have a "costanera" (river-frontage) overlooking the Parana so a popular place for an outing is nearby Isla Cerrito, 52km upriver. We drove there for a pleasant excursion - and found lots of holiday homes waiting for the summer season to start - and then back and over the river to Corrientes where there are nice riverside restaurants.



Catching supper, off the Isla de Cerrito, upstream from Resistencia . . .



. . . and fishermen dodging the current on the Corrientes side of the River Parana

We made several short visits to Corrientes, mostly en route to the bus terminal. Attractive in a way, but for once the phrase 'so laid back it's almost horizontal' seems appropriate. It probably hasn't changed much since Graham Greene set 'The Honorary Consul' there.


All streets lead to the river in sleepy Corrientes



It was a quiet Sunday afternoon . . .



. . . so we admired some of the extensive carved murals



But on Monday they started to paint the town pink

The highlight of our visit to Resistencia was the city itself. In contrast to Corrientes it's a lively place, with not a lot of outstanding architecture modern or colonial, but plenty of good restaurants and ice creameries. The big draw is the sculptures that adorn the streets and in an open-air museum. We were advised by the tourist office to go on the free City Tour - and turned up at the appointed hour to find that we had a minibus and guide all to ourselves. Our guide spoke no English and knew we understood little Spanish. Undeterred he provided a commentary in rapid Spanish, stopping from time to time to say "entienden?" to which we'd respond "solo un poco" (meaning about 1 word in 100). Nevertheless we had a great time. The only small glitch was when we passed the Malvinas memorial - which every town has - and our guide asked where we were from. A brief, embarrassed silence followed our response, but no animosity.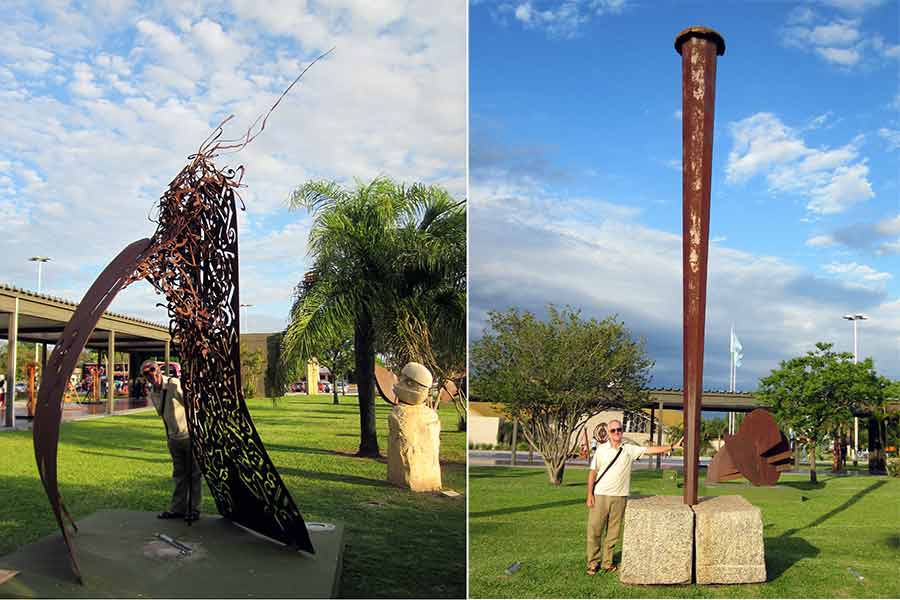 Paul 'enjoying' the sculptures - rusty steel, stone and hardwood provide the raw material for several hundred around town




---