A new sailing year begins with anti-fouling
Christmas and New Year in England were a wash-out as Paul succumbed to one of the 'flu bugs that was doing the rounds. We had lots to do clearing out the flat, getting it ready for rental so delayed our return to India until the end of January, putting up with the cold weather and gloomy economic climate. We did manage to go to the Boat Show but sadly missed Tony's 60th birthday party. Will we ever be invited again?

As ever we came back to Cochin laden down with spare parts for the boat and other cruising essentials difficult to obtain in this part of the world. We also brought back a few things for the two other remaining rally yachts here (Reckless and Alero). While away there have been a lot of comings and goings in the anchorage, particularly with yachts visiting on their way towards the Red Sea, and Lo is now leading another rally, returning to Turkey. We are the only yacht at the boatyard, so we take the ferry over to the anchorage from time to time for company. There are always interesting people to meet there, some with valuable experience of the Indian Ocean to share with us.



Waiting for the ferry to Vypeen (delivery of spares to Reckless)

Since getting back we have settled into a routine of getting up early and spending the morning working in the boatyard, getting Lynn Rival ready for launching. The bottom needs anti-fouling and the topsides need polishing. It always takes much longer than we expect. We are also adding a boot topping stripe, as weed growth along the waterline has become a problem now that we are out of the (sterile) Mediterranean. We are also taking the opportunity to overhaul the seacocks, having found that a number of the bolts holding them had reached the end of their useful lives and were at breaking point.



Bazaar Road - HSE not invited!

By mid-afternoon we are exhausted and retire to our room in a Fort Cochin "tourist home" that is owned by the sister of Paul's dentist. We have been staying there since hauling out and are made feel very welcome, especially as we managed to track down and bring back from the UK an elusive spare part for their 28-year old Kenwood Chef. Paul's dentistry has been a great success, though one of the crowns fell out and cracked so is now being replaced under guarantee.



Bazaar Road - entrance to boatyard on the right

Cochin is much the same as we left it. The temperature is a little cooler and the mosquitoes are in full force. Most evenings we have power cuts, which can be inconvenient at times. Apparently Kerala relies on hydropower and the rainfall was low last monsoon so they are rationing the supply. Another little quirk is the licensing law which requires all licensed premises to close on the 1st of the month. Even the unlicensed places, which serve beer in teapots, decline to do so on that day.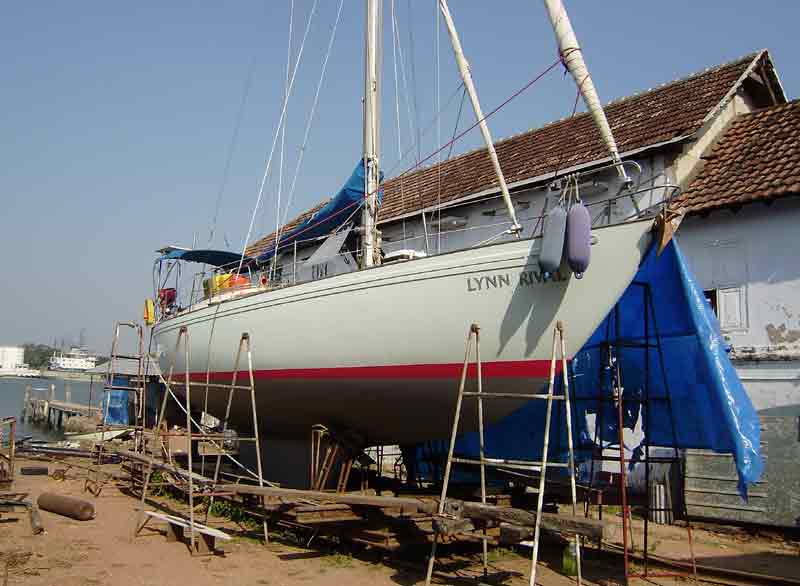 We did agree on scarlet for the boot-toppping didn't we?

We are looking forward to launching and moving back on board, hopefully early next week when John, the boatyard owner, gets back from a sailing trip to Goa.


---