still in Washington

Mystic of Holyhead (successor to Lynn Rival)
Rachel and Paul Chandler
Tue 1 Oct 2019 22:22
For Paul's birthday we crossed Hood Sound again and took the back roads to Fort Flagler on Marrowstone Island, then walked around the headland, along the beach and back through the woods.  Although not quite the Pacific ocean, we enjoyed the bracing sea air and views of the San Juan islands before driving back to Poulsbo for lunch.  Poulsbo was our nearest town, a quaint place with Nordic origins and good choice of bars and restaurants, including The Slippery Pig brewery where Paul could sip a local IPA and use the wifi (there was none in our Airbnb and we were struggling without it).



Looking north across the sound from Marrowstone Island

We had a spare day in our schedule so we headed to Mount Rainier National Park, southeast of Seattle.  At 14,411 feet and covered in glaciers, Mount Rainier dominates the skyline on a clear day.  The only problem was it was snowing so we couldn't see much at the top.  The road was ok so we drove on through the park and contented ourselves with a walk along Box Canyon and then the Grove of the Patriarchs, with it's huge 1,000-year-old douglas fir and western red cedar trees.


Approaching Mount Rainier
There it is, I think.
Damp and cold at the Visitor Centre (sorry, Center); where is the mountain?
Small but perfectly formed - Box Canyon is 180 feet deep here

The Grove of Patriarchs - an island grove of old growth fir and cedar trees

Disappointed by the weather we stayed overnight just outside the park in anticipation of a long drive east the next day.  But in the morning the skies were clear so we doubled back into the park for a short hike and splendid views of the mountain.


Today's geology lesson
Lo and behold - the summit!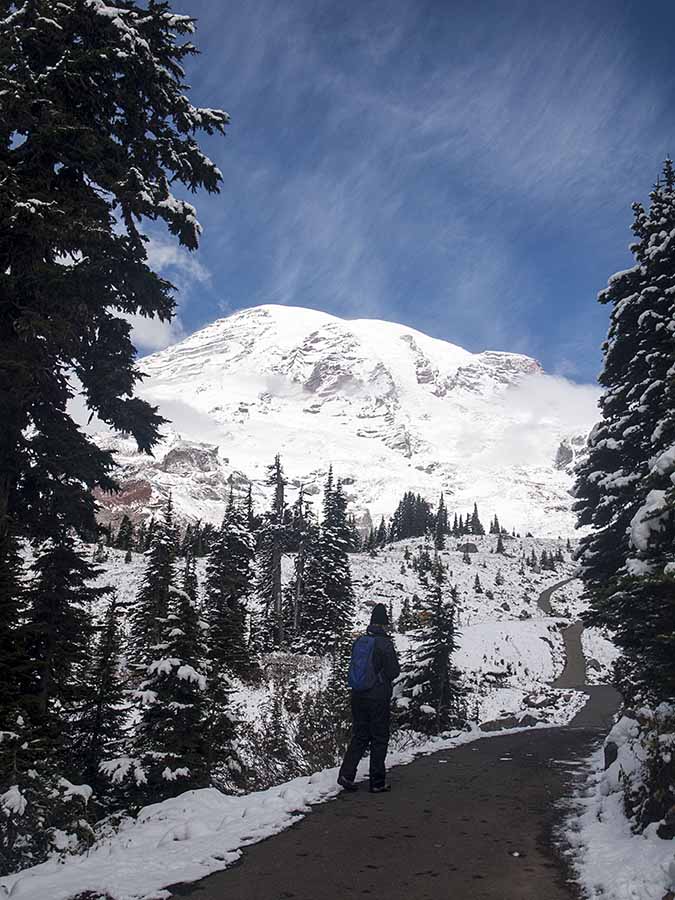 This is what is called a moderate trail hereabouts (actually there's quite an altitude gain)

Heading east from Mount Rainier through the White Pass the scenery is pretty as far as a town called Naches.  We stopped there for a late brunch at a diner called the Drift Inn.  From there it was a long slog through countryside that's often quite bleak with just a few fertile valleys and settlements where irrigation allows large-scale horticulture including hop growing. 



On the road (to Paul's relief, no traffic cops to enforce the speed limit)

Once across the Colombia river we continued through similar terrain until we reached the eastbound Interstate at Ritzville.  It was getting dark so we were happy to stop there for the night.  It was a good job we were tired because trains on the main east-west railway rumble through all night long, sounding their horns (strictly in accordance with recent 'elf an' safety legislation!).


Ritzville - a railroad town and a railroad museum, with pride of place for a caboose
Downtown Ritzville


---