Wrinkly backpacking in Argentina - 6

Mystic of Holyhead (successor to Lynn Rival)
Rachel and Paul Chandler
Sun 19 Jan 2014 18:17
From Salinas Grandes to the Quebrada de Humahuaca we had to climb up to another pass at around 4000 metres and then wind our way downhill through increasingly spectacular scenery. Quebrada means "ravine" and there are plenty of them in northwest Argentina but the wide valley running north and south of the town of Humahuaca with its multiple gorges, colourful and dramatic rock formations, as well as pre-hispanic culture is a big crowd puller. First stop for us was the little town of Purmamarca, which has some of the most colourful mountains and, as a result, is overwhelmed by tourism.


Purmamarca is noted for the colours of the surrounding hills

Genuine ethnic products? . . . . . . but our Brazilian sunhats are fine - snapped by an American tourist at the viewpoint

We continued on to Tilcara, and found a posada to stay at for a couple of nights. Down to under 2,500m (still higher than Ben Nevis and Snowdon combined!) we felt a lot better.

The dusty town of Tilcara is not impressive at first sight. Almost all the buildings are low rise and built of adobe (mud) brick. Some of the roads are cobbled but most are just dirt. The wind picks up the dust and is a pain for us contact lens wearers! But the people are friendly and welcoming. Agriculture is their mainstay but tourism is increasingly important. Boutique hotels and restaurants catering to tourist tastes abound. We even found a restaurant serving llama kebabs that had some flavour. There's a hilltop pucara (fortress village) built in pre-hispanic times to ward off invaders, including the Incas, but finally succumbing to the Spanish. Parts of the ruined site have been reconstructed but it's much more interesting to wander around the rubble, and enjoy the commanding views of the valley, wondering what it was like to live there.


Overlooking road and river, the pucara has llama pens below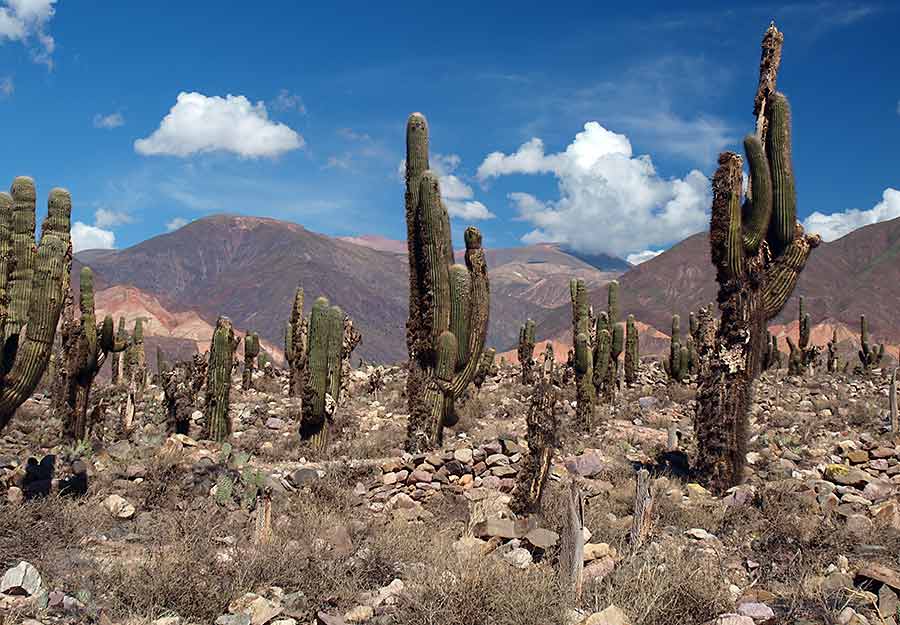 and is defended by cactus fields

We drove north for a brief excursion back into the tropics - the furthest north we've been since Ubatuba. The road is good but busy with traffic to and from Bolivia. Further up the valley, the traditional market town of Humahuaca is very attractive (apart from anything else, less dusty) and not so touristy.



Humahuaca has an incongruous modern monument to the fighters for independence . . .



. . . as well as an old centre (with friendly police) . . . . . . and yet more cordon cacti

We diverted onto a climbing ripio road in search of another ruined pucara but couldn't find it. Our trusty "Guia Turistica Argentina" - an excellent publication produced by the Automobile Club of Argentina - had let us down. Or maybe it was our Spanish...

Returning to Tilcara in the late afternoon we went to another local sight, called the "devil's throat" (he gets everywhere). It's a narrow ravine with a walk up a riverbed to a waterfall. The devil's thoat bit is very exciting with a steep, narrow pathway and no handrails - definitely not for the faint-hearted or vertigo-prone. (Gavin - who we often think of at such places - would have been paralysed.) Flip-flops - the favoured footwear of many visitors when visiting such places - are decidedly hazardous.



Looking down the ravine - no pics of the waterfall (done those) or the climb down (too frightening)

The next stage of our Grand Tour was the wine-growing area southwest of Salta - the Valles Calchaquies. We drove directly to the town of Cafayate from Tilcara - about 370 km. Our route took us on a fast, paved road south to the provincial capital, (San Salvador de) Jujuy, first through splendid mountain scenery, then winding our way down to fertile plains. From Jujuy we continued on what we thought was a main road to Salta - called La Cornisa - but it's actually a narrow, winding road that wends it's way through tree-covered mountains (and although slow made a nice change on a hot day). Eventually emerging from the trees just north of Salta we found ourselves driving down another wide, gravelly river valley. Being a hot Sunday afternoon, the river bed was full of parked cars and people sitting under tents and sunshades, or bathing in the shallow muddy river. So far from the seaside, this is as good as it gets, with not much natural shade other than the ubiquitous willow trees. Although close to the tropics, palms are rare.

After a stop for lunch we drove on, straight through the almost-deserted city of Salta and into the fertile Lerma valley, where the streets are lined with pretty pink flowering trees and tobacco seems to be the dominant crop. Then everything changes as the road winds through the Quebrada de las Conchas with yet more fascinating rock formations and colours. We stopped to visit a couple of the sign-posted features where you can walk through a crack in the cliff and/or scramble over rocks to admire more rocks. There are no facilities but with a good road nearby lots of people visit and graffiti is a big problem. Presumably some tourists always have a can of spray paint handy?



The 'amphitheatre' (tourists like the names) . . . . . . with only one way out

Continuing on for another 50 km or so the road opens out into the wide valley, with the promise of vineyards and the town of Cafayate.



Those don't look like vines, but we must be getting close

Before coming here we knew little about the wines of Argentina, except that Mendoza is a hub. What makes the vineyards and wines of the Salta region remarkable is that they are not only the highest altitude but also the lowest latitude production in the world. These extremes result in a climate that produces very flavoursome, high alcohol wines. The dominant white wine, using the Torrentes grape, is unique to Argentina. It has a distinctive fruity, floral flavour which Rachel likes, but Paul prefers the Malbec!

Not many of the bodegas in Cafayate were open to visitors during Christmas week so we had a gentle introduction to wine-tasting there. First we visited the big Etchart winery (producing 6 million bottles a year) and did a tour and tasting in Spanish. We understood enough to get a good introduction. The vineyards and winery are immaculate and the wines are very drinkable.



The immaculate Etchart bodega

But more fun was our visit to the little family-run bodega of Salvador Figueroa, producing just 5000 bottles a year from a few hectares. The bodega is a small shed and the owner is very welcoming - used to speaking slow Spanish to foreigners - and Paul thought the two wines were excellent (Rachel was driving.)

Cafayate is only at 1500 metres altitude so next we wanted to investigate the really high altitude vineyards around the town of Cachi. At this point we once again joined Ruta 40 - which I've now discovered has nothing to do with Motorcycle Diaries but at over 5000 km long is seen as a challenge by motorcyclists - heading north, with another exciting quebrada on the way.


The road to Cachi is a dusty route but the views for the daring are fantastic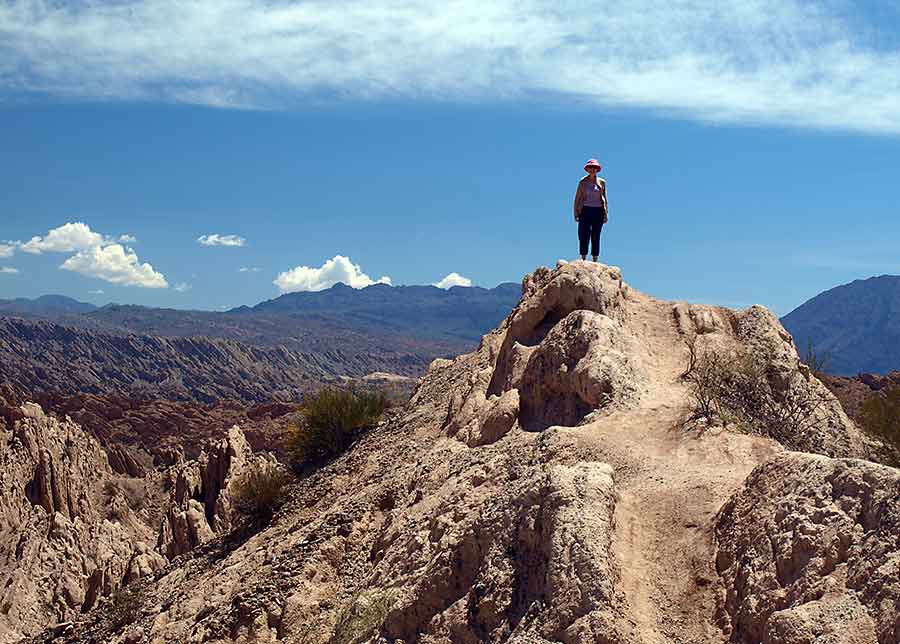 . . . and of the daring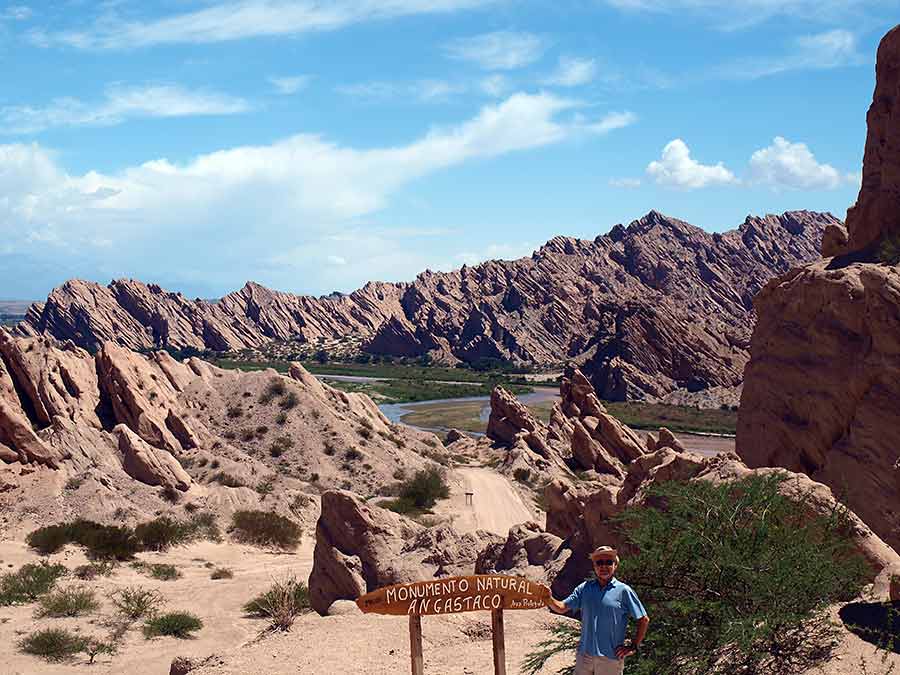 Not quite sure what the sign refers to - it looks like mountains to me



Going up - vineyards at about 2000 metres



Are we nearly there yet? Well actually no - it's still over 600km to the Bolivian border where Ruta 40 ends

---