Normal service resumed

Mystic of Holyhead (successor to Lynn Rival)
Rachel and Paul Chandler
Fri 5 Jun 2009 15:10
We're back on board after over a month away. Dartmouth is a lovely place to be in the early summer and we spent most of our time there. Paul's father is now a lot better and will be celebrating his 98th birthday this weekend.

It took us almost 2 days to get back to the Seychelles because we missed our connection in Dubai. We turned down the offer of an onward flight via Johannesburg (which would have involved an extra 7 hours in the air), and flew via Doha. The last time we were there was in 1984.



Lynn Rival on Gerard's pontoon

Lynn Rival was where Rachel had left her, tied up to a pontoon in a small backwater south of Port Victoria. We stayed there until Thursday, acclimatising and getting organised. At this time of year, the SE trade winds set in and the so-called "dry season" begins. So far we've had a lot of rain, which slowed us down a bit.

It certainly takes a few days to re-tune to the delights of cruising life after a trip away. Is it the disturbed nights wondering about strange noises off, or dragging anchors, when lying hot and sweaty in your bunk? Or cooking in a cramped galley, drinking long-life milk and discovering weevils in the stores or other nasties on board? Or, remembering not to put paper down the loo, not to mention all the other problems the ship's engineer-cum-electrician-cum-plumber has to sort out?



The harbour entrance is somewhat narrowed by NATO

Arriving back at the old port we had to pass three warships at the entrance, one French, one American and one Canadian. No doubt they are here to deal with the pirates. We also understand that the problem has gone away with the arrival of the SE winds. The seas around the Seychelles are now too rough for the pirates to operate in. Most of the yachts that had been held up here have now left but no more are arriving so the harbour is quite empty.

Today is a public holiday, Liberation Day, from what we don't know. Independence Day to look forward to next week, so much flag waving to be done.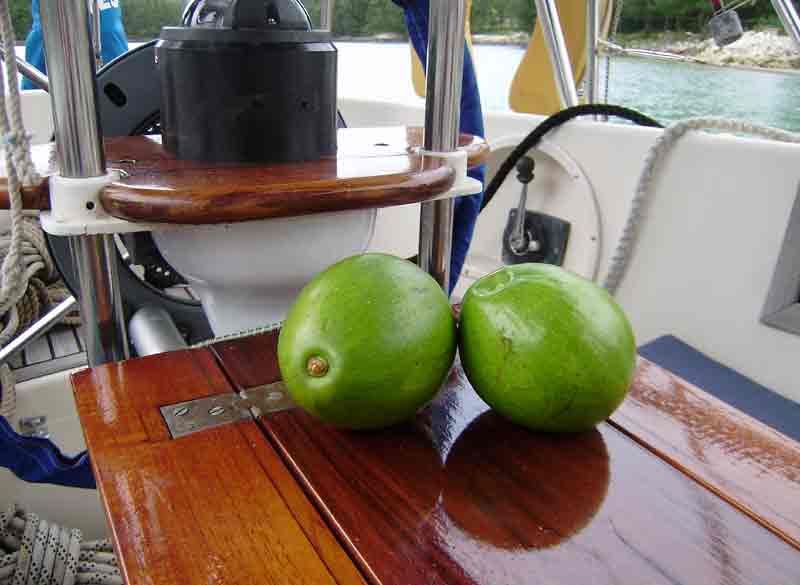 From the yard watchman's garden

---