Bitten by Ilhabela

Mystic of Holyhead (successor to Lynn Rival)
Rachel and Paul Chandler
Wed 20 May 2015 14:20
23:32.161S 045:03.797W

The fishermen and their families on Ilha Montao do Trigo live a precarious life.  There is no beach so they pull their boats up onto the shore over tree trunks that are tied onto the rocks.  The small village has existed for over 400 years and, being 6 miles from the mainland, it must have been hard before they acquired outboard motors.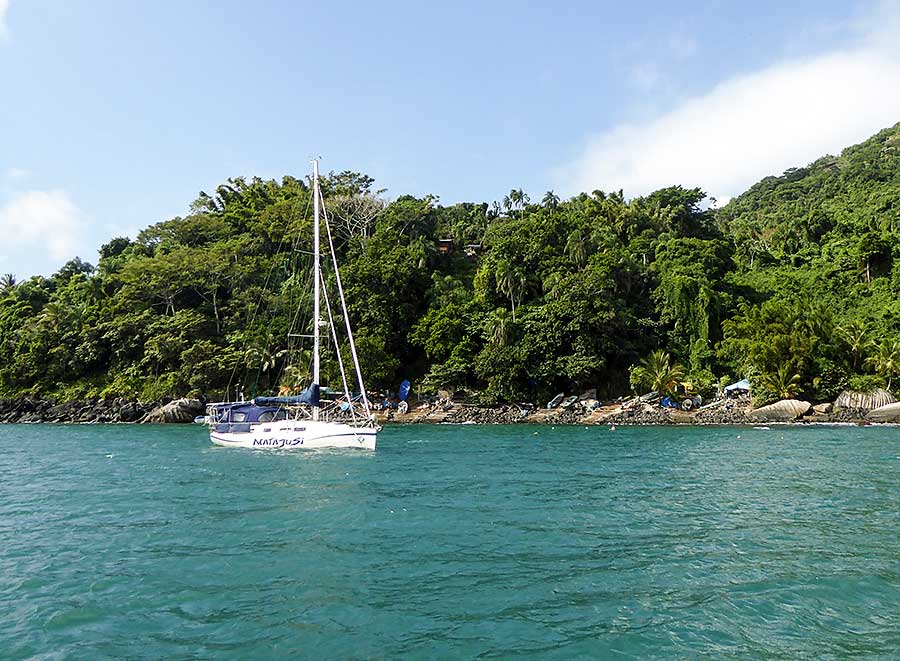 Silvio's yacht, Matajusi, on her mooring at Ilha Montao de Trigo

At the weekend Silvio arranged for one of the fishermen to take us to the mainland to meet up in the resort of Juquei where he has a beach house.  This part of the Sao Paulo coastline is developed with holiday homes where the coast is flat but with the rainforest covered mountains just behind and the many untouched headlands it's still very beautiful.    Silvio and Lilian spent 6 years sailing around the world in Matajusi so have lots of interesting stories to tell of their sailing experiences and the places they visited.

The anchorage at Ilha Montao do Trigo was quite 'rock 'n rolly' so when a southerly wind was forecast we were happy to set sail for Ilha de Sao Sebastiao (aka Ilhabela).  Ilhabela is the largest offshore island in Brazil, most of which is a protected nature reserve.  It's also a major sailing centre, having challenging wind conditions around the island.  In 2013 we came down the channel between the island and mainland, staying at one of the yacht clubs there and exploring the more developed west coast.  This time we decided to go around the outside of the island, to see the remote eastern coast where there are many pretty bays with beaches.  Only the largest is accessible by track from the west side; the others can only be reached by boat. 



One of Ilhabela's many waterfalls, a typical sight on the east (ocean) side of the island

We anchored at Saco do Eustaquio, a deep bay with just a few fishing houses ashore and a (closed) bar.  It's an idyllic spot, though probably busy in high season and weekends.  Soon after anchoring a fisherman approached us and offered us some of his catch.  He explained that in the strong southerly winds we were having he couldn't get them to the fish market.  They were frigate mackerel so probably not very valuable but we were more than happy to have enough fresh fish to feed us for a couple of days.  The fisherman also kindly offered us one of his moorings but having already dug in our anchor we stayed where we were.



Saco do Eustaquio, Ilhabela, looking south over the isthmus

As we travel along this beautiful coastline with it's numerous beach-lined bays, linked by rocky headlands washed by breaking waves, and the backdrop of the Serra do Mar covered in Atlantic Rainforest, it's easy to imagine staying here forever.  It does rain quite a lot but that doesn't matter as it's warm rain.  The only thing we'll be glad to leave behind are the small biting insects: borrachudos and others.  Even anchored off they reach the boat so t-shirts and shorts are out; DEET and long trousers are in.  The first thing you feel is a small pin-prick.  By then it's too late and a week of swelling and itching ensues.  In 2013 we didn't have so much of a problem, perhaps because it was then Spring, rather than Autumn.


There's a reason it's so green - Ilhabela in the rain!       

After a couple of days being bitten at Saco do Eustaquio it was time to move on, even though there was no wind.  We'll probably not get decent sailing winds now until past Rio and north of Cabo Frio - this large bight of the ocean is relatively windless.  Although the southerlies had gone the south-easterly swell - coming from the deep south Atlantic - was annoying.  We motored to the north of the island, checking out the many bays along the coast but nowhere could we find shelter from the swell - and the cloudy weather didn't encourage us to linger.  We then headed across to the mainland, to Tabatinga bay, but the swell turned out to be even worse.  In desperation we went along the coast to another bay called Mar Virado where, despite the name (meaning Upset Sea!) we found a calm anchorage just before dark.  With no road and just a small fishing community ashore, and another closed bar, we spent a peaceful 2 nights at anchor there.



Booby trap! Our fishing hour was disrupted by the competition - he really didn't want to let go

We were then very close to Ubatuba where Tio Spinelli lives so we arranged to meet him in Saco do Ribera, a very sheltered bay near Ubatuba where most locals keep their boats either in one of the marinas or on a mooring.  Many, like Tio, have a private mooring and they have an association which runs a water taxi service for them.  Tio teaches both sailing and diving and knows almost everyone in the bay so was able to arrange  for us to borrow a mooring.  As we approached he came to greet us in his boat Soneca (meaning "Catnap"). 



Well met! Tio aboard Soneca escorts us into Saco da Ribeira

We were soon tied up and ashore with Tio driving us to his house with our laundry and to have supper.  It was great to catch up with him and Cecilia again.  He's a very experience sailor and longs to go bluewater cruising but finds it hard to say goodbye to his family and cast off his mooring lines.   


Tio and visitors; behind us is the mooring area for the many local proper (sailing) yachts

Ubatuba is also a major surfing centre, with miles of fine beaches like this

At last we have a forecast for a week of fine weather.  The winds are light so there's no point is going anywhere distant. Last time we were in Ubatuba it rained most of the time so now it was nice to look around in the sunshine and take our time filling up with fuel, water and provisions.  However after 3 nights of being on a secure mooring in a well-sheltered anchorage surrounded by other boats we were ready to move on to somewhere less crowded.  We are now anchored at nearby Ilha Anchieta.  We visited here in 2013 and, despite being close to Ubatuba, we have the whole bay to ourselves.
---