Jacare

Mystic of Holyhead (successor to Lynn Rival)
Rachel and Paul Chandler
Mon 31 Aug 2015 18:07
07:02.28S 034:51.35W

We left Recife on the afternoon tide and sailed overnight to the port of Cabedelo.  The wind was a steady southeasterly, Force 5, with not much swell and we made good progress with just the genoa.  At Cabedelo we entered the river Paraiba and motored 6 miles upstream to the village of Jacare ahead of the strengthening ebb tide.

Our friends Mara and Helio in Bracuhy had given us an introduction to Bernardo, the Commodore of the Iate Clube da Paraiba.  It wasn't easy to identify the club as there are many jetties along the Jacare riverfront, but we found it by a process of elimination, most of the others being named.  It was still early morning when we tied up to the end of the yacht club jetty so we had a snooze before making contact with anyone.  Then along came Pedro, a club member who speaks English, who made contact with Bernardo for us.



The river at Jacare, at high tide, looking towards the French marina

Jacare is a complete contrast to Recife.  It's a relatively quiet small village, though the port of Cabedelo and city of Joao Pessoa are not far away.  Over the last 30 years it has grown into an international cruising hub: Brian, an Englishman, started a boatyard in 1985, then Phillipe, a Frenchman, opened up a small marina, there's also a German-run boatyard and a couple of local facilities, including the yacht club (which was closed down for a while but has now re-opened).



Iate Clube da Paraiba

Jacare is connected to Cabedelo (to the north) and Joao Pessoa (to the south) by a train service.  Cabedelo has few attractions other than the beaches but Joao Pessoa has some interesting historic buildings though it's no rival for Recife and Olinda.



The Masonic Lodge in Joao Pessoa

Nearby Cabo Branco is the easternmost point of continental Brazil.  People like to come and see the sunrise there.  They also like to watch the sunset at Jacare which is very beautiful (though not as dramatic as the sunsets we experienced in the River Plate).  Just up river of the yacht club is an area that has been developed for the sunset tourists with shops, bars and restaurants to complement noisy cruise catamarans (actually Heath-Robinson rafts!) plying up and down the river.  Every sunset they play Ravel's Bolero at high volume, with a local saxophonist being rowed around in an open boat while he (apparently) plays the tune in unison.  The whole point of Bolero is lost, as it is at full volume throughout (and there are no ice skaters). The bars and restaurants used to continue very noisily into the small hours but not long ago - after many warnings - the local council sent in the military and the restaurants were dismantled!

Although now is not the busiest time of year we soon met a lot of people.  The newly re-opened yacht club welcomes cruisers at anchor to use it's facilities free so it's very popular.  Bernardo and his wife Beta - who speak no English - are often here with family and friends so we have been putting our 'social' Portuguese to the test.  Nicholas at the French marina cooks lovely food - a change from Brazilian fare - and we're practising our excruciating French on him in preparation for visiting French Guiana.  Brian has been telling us all there is to know about Jacare over the last 40 years.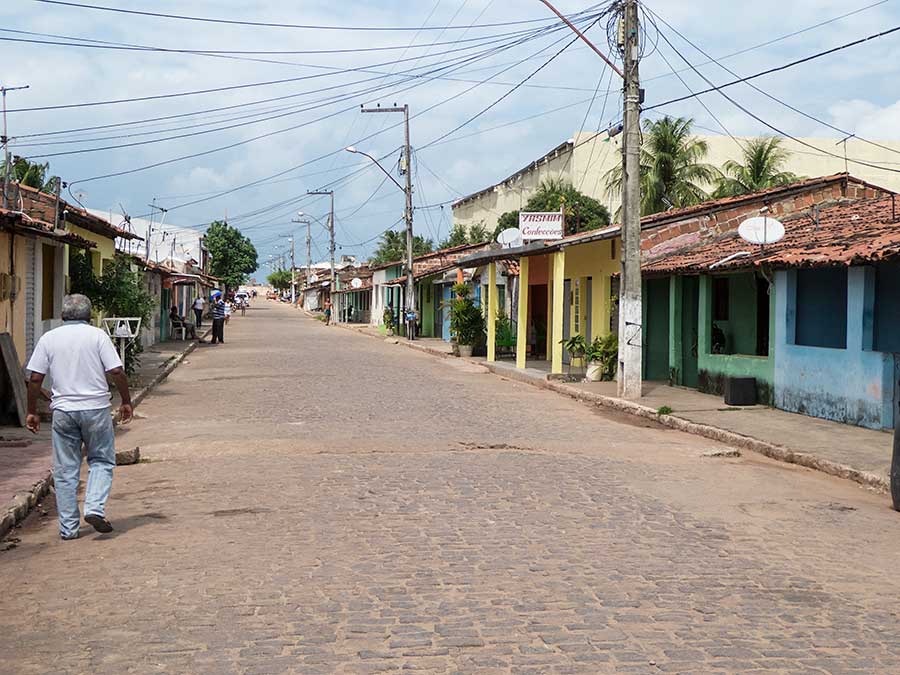 Main street, Jacare village (the only street, but it does boast a railway station at the inland end of the road)

Bernardo asked us if we'd be prepared to give a talk about our Somali experience so we said yes, expecting a small gathering of yacht club members.  In a matter of days he rustled up an auditorium and an audience of about 130, including the Port Captain!  We'd not given a proper talk for over 3 years so were a bit rusty but it went down well, with Pamela, Brian's daughter, doing the translation.  It's a pity we no longer have any books on board to sell.

It's easy to understand why some cruisers come here for a week and end up staying a month - or, in Brian's case, 40 years.  But, for us it's time to move on.  Before we leave Brazil we have one more highlight to visit - the island of Fernando de Noronha.
---