Seychelles cruising

Mystic of Holyhead (successor to Lynn Rival)
Rachel and Paul Chandler
Fri 3 Apr 2009 15:42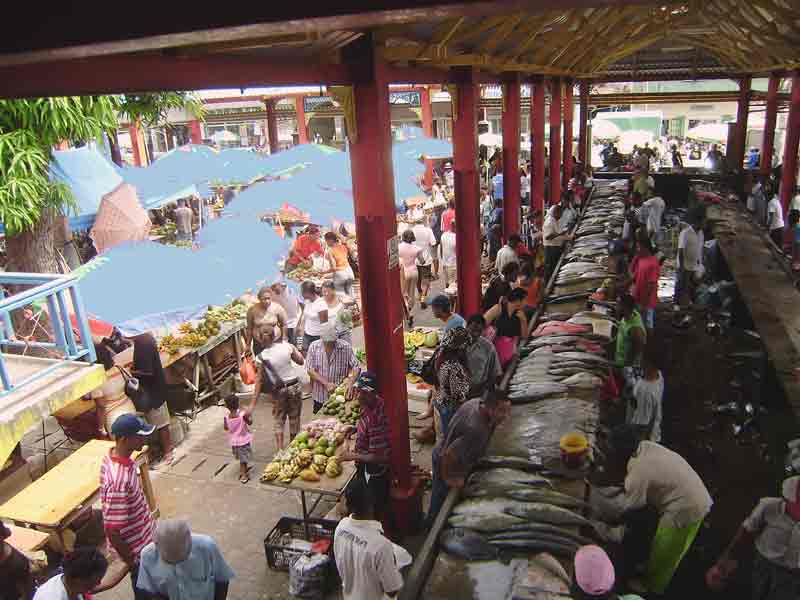 The daily market in Port Victoria

Woke just after midnight with rain pouring through the hatches. The windscoop funnels it in nicely. Everything got soaked. Sudden rain storms are frequent here. Made mental note to stow everything below before we go to bed and shut the hatches when we leave the boat!



The North point of Mahe

During our week of catching up in Port Victoria we hired a car and did a tour of the main island, Mahe. It's only about 20 miles long and the roads are good so it doesn't take long. The island is very pretty and so, so clean. The tourist facilities are very low key: no Coca Cola signs, no Macdonalds, etc.



One of those tourist brochure islets

We checked out the new marina facilities south of Port Victoria. They are expensive but much better than anything else on offer in Indian Ocean. We're happy with the anchorage in the old port for the time being. It does get a bit smelly at times when the local fish processing factory is in full swing. And at the weekends local discos and other activities are noisy but the advantage is that we're close to the town and the yacht club facilities.



The busiest tourist beach on Mahe - Beau Vallon

Paul managed to get the windlass working again so on Wednesday we weighed anchor and left for a tour of Mahe island over Easter. We spent the last two nights anchored in Beauvallon Bay, the main tourist resort on Mahe, on the NW coast. It has a lovely long beach but apart from a few dive boats and annoying jet-skis there were very few people about. Perhaps it is still early in the season, and the global recession is biting.



And a more peaceful anchorage - Port Launay

Unfortunately the wind moved around to the west, making the anchorage uncomfortable for our second night. We are now in a more protected bay, to the south, called port Launay.


I wonder if it will rain tonight?

---