Dodging the rain

Mystic of Holyhead (successor to Lynn Rival)
Rachel and Paul Chandler
Sun 2 Aug 2009 14:27
We've spent the last ten days or so trying to do some more cruising but returning to Victoria during rainy spells.



So we went to see an 11 month old baby giant tortoise

Our first stop was Moyenne Island, just three miles east of Victoria, situated in the St Anne marine national park. The island was bought in the 1960s by a Yorkshireman, Brendan Grimshaw. He lives there, more or less alone, having cleared the scub, introduced many new trees, including rare species of trees and created a sanctuary for giant tortoises and birds. Fortunately, Brendan welcomes visitors. It's a special place to go, to walk around the island enjoying the views and the wildlife. Afterwards we went snorkelling on the reef just off Moyenne, finding lots of friendly fish and some coral re-growth.



The race is on for the middle aged! (giant tortoises have the same life span as we do)

After a rolly night on a mooring at Moyenne (anchoring is forbidden in the marine parks) we headed northeast, 25 miles, to La Digue. With the gennaker flying we made good speed and got there by early afternoon. We decided to anchor off rather than go into the little harbour, which is busy with the inter-island cat-ferries and other local craft. It was quite rolly for our first night (sleeping with our lee-cloths in place to stop falling out of our berths) but we were determined to spend the next day on La Digue.



South east of La Digue - swimming is dangerous in the SE trades season

There are only minor roads and few motor vehicles (ambulance, trucks and a couple of taxis) on La Digue so as soon as we got ashore we were approached by one of the many bicycle hire touts on the island. Fixed up with wheels we set off exploring, as far as the roads would take us. La Digue is the fourth largest of the Seychelles islands, about 3 miles long and 2 wide. It's probably the most touristy of the islands, for good reason. Charming and very friendly is probably the best description. The beaches on the east coast are very beautiful and wild (strong currents mean that swimming is dangerous when the southeasterlies are blowing). On the west side there's an extensive nature reserve and coconut plantation, fringed by sandy beaches and reefs offering good snorkelling.



Mass transit La Digue style

After a day exploring La Digue we took advantage of light winds to move to an anchorage off the northwest coast where the snorkelling was reputed to be good. We had a bit of a problem finding a spot to anchor where we wouldn't damage the coral but it was worth it. We're getting used to seeing Eagle rays jumping in the harbour at Victoria and here we were swimming with them, and seeing the occasional turtle as well as many different reef fish of all shapes, colours and sizes. As we found elsewhere, there are signs that coral is recovering from the "bleaching" that occurred in many parts of the Indian Ocean in 1998, but very slowly.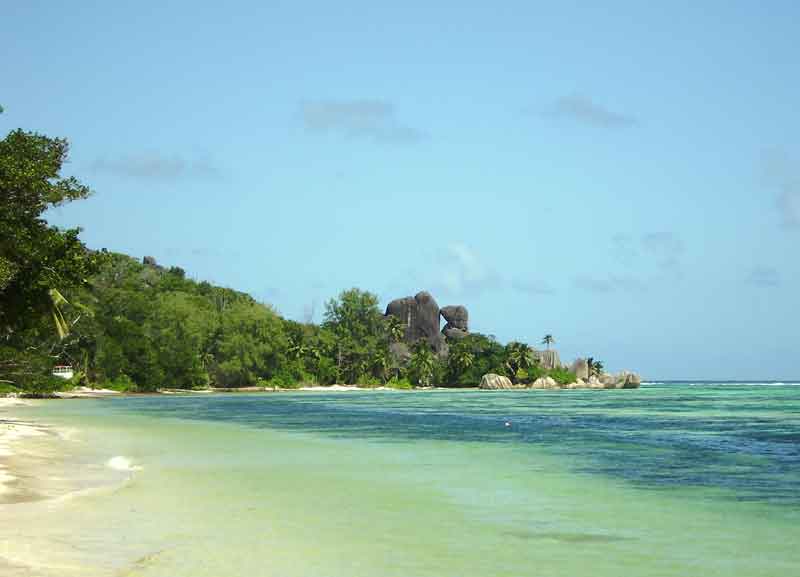 Typical La Digue beach

A forecast of prolonged rain sent us on a wet but fast sail back to Victoria for a few days. Staying in an island anchorage in wet, overcast conditions is no fun, but the harbour has it's downsides, including fast weed growth on the propellor and inlets (which get overwhelmed in barnacles). After a few days we set off again, this time for the west coast of Mahe. Previously we'd been here when the northwesterly winds were blowing so our anchoring opportunities were limited. This time we were able to visit Bay Ternay, another designated marine park, popular with glass-bottom and dive boats. We've discovered why some of the fish are so friendly. When the glass-bottomed boats come in they feed them to bring as many as possible to the surface!

It rained but such is our newly-found enthusiasm for marine life exploration that we still went snorkelling and encountered schools of squid, among other things. We saw lots of interesting sponges, as well as coral growing well over a wide area. Apparently whale sharks visit that particular bay as part of their annual migration but we didn't see any!

More rain brought us back to Victoria. Another good sail for most of the way. Our next attempt to leave, on Sunday morning, was thwarted by a broken starter motor. Rachel is looking for a new Chief Engineer. It looks as if we'll be in Victoria now until the end of this week, at which time we'll be laying up for a visit back to the UK.





---