Peru: so much to tell . . .

Mystic of Holyhead (successor to Lynn Rival)
Rachel and Paul Chandler
Mon 6 Oct 2014 20:49
Finally, the time came to pack up all we'd accumulated and leave our cosy cabana in El Ensueno.  We shoehorned everything into the boat and drove to Colonia where we handed back our hire car.  Down to just a cabin-sized wheelie bag and backpack each we walked onto the afternoon ferry for Buenos Aires, looking forward to an Argentine steak and wine supper.

The weather was fine and we had a lovely evening, getting up in good time the following morning.  From our hotel it was just a short distance to the airport bus terminal so we decided to walk.  Big mistake.  On a Saturday morning the streets are quiet and there are baddies about.  In just a few minutes our backpacks were stolen.  Dismayed, but relieved we still had passports and some money, we tried to get a police report.  The tourist police decided we need to go to the Prefectura (port police), who pondered for a bit then said we'd have to go to another police station.  As time was passing they agreed we could finish the process later and we went to the airport and caught our flight to Lima.

We'd lost all our printouts of boarding passes, tickets and accommodation bookings (as well as cellphones, laptop, camera and spectacles, etc) but had no problems getting on to our flight when we explained what had happened.   Fortunately we remembered the address of the apartment we'd booked for the first four nights in Lima and were happy to find it, late at night and feeling exhausted.

Lima is a big city and first impressions are not great as the drive into the centre goes through some rundown areas.  The main tourist accommodation area of Miraflores is a different matter - modern and thriving, with a wide range of shops, cafes and restaurants to suit all tastes and pockets.


The cliffs of Miraflores, looking south

 . . . and north.  That's our first sight of the Pacific Ocean

Our first few days were spent cancelling lost plastic and SIM cards, changing passwords and making sure we could get access to cash and the info we'd lost.  We made friends with our local cafe owner who pointed us in the direction of Hiraoka, a store which sells all manner of electronic stuff at reasonable prices.  Our first purchases were a new cellphone and tablet.  Having felt naked without them we were soon back in touch with the world and recovering our sense of humour.  One sticking point was our tickets for Machu Picchu which we'd bought online after the (last-but-one) computer backup which we had on a USB stick (the latest backup now entertaining a thief!).  We didn't have the reference number and couldn't get through to the helpline.  By this time there were no tickets left for the dates we wanted.  Our holiday would be ruined!  Our cafe friends came to our aid, ringing around to find another contact number and we were able to recover our original booking.

By the time Helen and Lynda arrived - 4 days later - we were well organised, having been able to replace most things and even ordered up new spectacles for Rachel.  We'd found the upmarket LarcoMar shopping centre with it's numerous cafes and restaurants where you can sit on the clifftops looking out over the Pacific ocean.  We've never seen the Pacific before so that was very exciting.  We'd also fallen in love with the Vivanda supermarket with its amazing array of tropical fruits and vegetables, cheeses, meats, wines, breads and more - far better than anything we'd seen elsewhere in Latin America, even Sao Paulo.



The Larcomar shopping - and eating - centre

We moved into a penthouse apartment when H & L arrived, a short distance from the LarcoMar centre.  With three bedrooms, a living room and kitchen it was large but it also had a sun room, gym, jacuzzi and terrace upstairs!  On our first day together we took a taxi to the Museum of the Nation in the San Luis district, hoping to get an overview of Peruvian history.  Unfortuately the main exhibition was closed for refurbishment but we did see the Yuyanapaq (Quechua for 'to remember'), a harrowing exhibition of photographs from Peru's Internal Conflict in the late 20th century (remember the "Shining Path" guerillas?).  It's a stark reminder of how bad things were only a short while ago.


Well maintained timber balconies abound in central Lima

The historical centre of Lima

In need of a pick-me-up we took a taxi - distances are large in sprawling Lima - to the historical centre where the traffic was so bad that we got out and walked the last 500m to the main square, admiring many post-colonial buildings along the way, some undergoing refurbishment.  The main square is pretty - even under the cloud that prevails in Lima during the winter - with many interesting buildings to visit.  We opted for the nearby House of Gastronomia with good displays of horticultural and culinary developments over the ages and later the Monastery of San Francisco which has a wonderful library and some very claustrophobic catacombs filled with human bones stacked by type rather than body.


Historical meaning mostly from the conquistadores in this context
The governor wasn't short of a room!



At least they don't have to wear bearskins; but they don't move either

Lima is renowned for it's cuisine and it was time to treat ourselves at a nice restaurant.  In the middle of Miraflores there's an archaeological site called Huaca Pucllana, an adobe (mud brick) temple dating back to 400 AD, which is overlooked by a conviently-located restaurant serving Peruvian food, including such delights as beef heart, guinea pig and alpaca.  How nice to be able to admire ancient culture while dining!  Everything was beautifully prepared and presented.

About 30 minutes' drive south of Lima is an archaeological site called Pachacamac, another temple complex, this time dating back to 100 AD.  We wanted to see it but not on a tour so negotiated with a taxi driver to take us there and back.  When we arrived it was obvious we needed a guide to show us around the large site but we didn't have room in the taxi for an extra person.  Solution?  Our driver was happy for one of us to drive his car around the site while he waited at the entrance!  It was an interesting site, overlooking the (mostly arid) coastal plain.  It is a reminder of how old and diverse Peruvian history is.  Although the Incas used the site, it had been first developed over 1000 years earlier.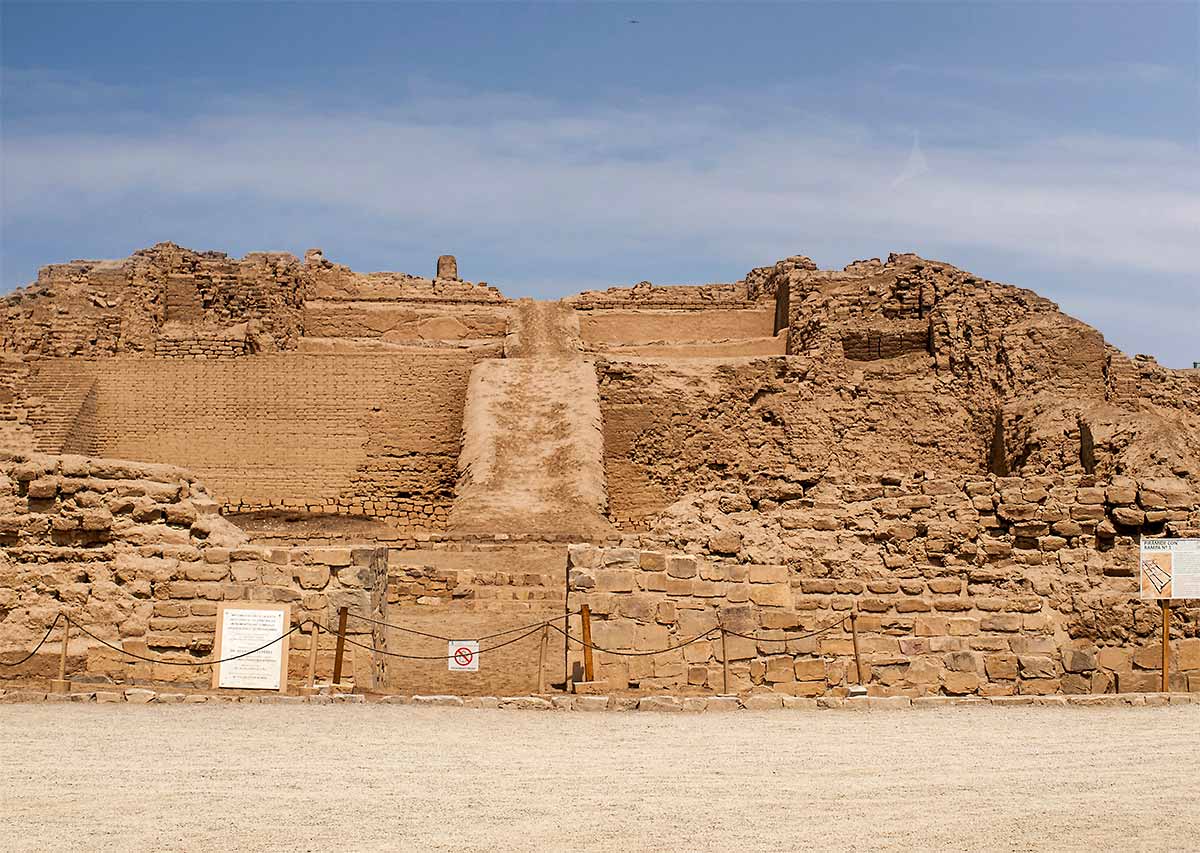 Our first Inca walls, at Pachacamac



Moistening the red murals, strictly in accordance with UN guidelines

After a hard day's exploring we treated ourselves to supper at a fish restaurant, enjoying some tasty ceviche, the famous Peruvian marinated fish dish.  We also began a holiday-long attachment to the national drink, Pisco Sour.  Pisco is a grape-brandy and the "sour" bit is lime juice, whisked egg white and a dash of this or that. 

We had one more day in Lima before heading for the Andes so we took a taxi to the Pueblo Libre district - a pleasant, residential area home to the National Anthropology, Archaeology & History museum in Plaza Simon Bolivar.  We'd seen a few examples of pottery at the small museum in Pachacamac but here we began to realise how vast a collection of fascinating pottery and textiles has been uncovered in Peru, not just from the Inca era but also representing much earlier cultures, such as from Pucaras where crouched mummies were wrapped up in multiple and colourful shrouds before being placed in caves.



Don't foul the pavements outside this museum - 380 Soles is about $100

In need of refreshment we ventured into a nearby establishment only to find it was a brewery, so we had a degustation of 6 tasty beers, accompanied by a plate of causitas, little mounds of potato puree stuffed with different flavours such as crab, chicken, onions, etc.



The fabulous four explore! - after breakfast on the cliffs - us with Helen, Paul's niece, and cousin Lynda

Having prepared ourselves as best we could it was time to head inland and uphill ...  
 



  


   

 

---