Kerala cruising

Mystic of Holyhead (successor to Lynn Rival)
Rachel and Paul Chandler
Sat 8 Nov 2008 14:47
On our second night at Palolem we rowed ashore and had supper at one of the beach shacks. The cuisine was not as good as in Panjim but the ambiance was definitely superior. At sunset, Indian and European tourists alike were enjoying a walk along the shore in the cool of the evening.

While at anchor we were visited by numerous British tourists, paddling around in canoes and asking us how long it had taken to get there (from the UK!). Over supper we were apporached by a couple who are professional skipper and crew on a 110ft yacht based in Majorca. They were very interested in our adventures and had also spent some time in Lefkas so we reminisced about our times there.

>From Palolem we set off for a 114 mile trip to Malpe, a fishing harbour at the mouth of a river on the Karnataka coast. We didn't have much wind, just land and sea breezes, so motor-sailed much of the way. The relative calm was no bad thing as we keep finding little problems to fix, especially with various electrical connections that have corroded. And at night we were kept busy dodging the endless fishing boats trawling off the coast.

At Malpe we anchored outside the river, rather than go too close to the busy fishing harbour. We were soon joined by Jean-Louis and Denise on Alero. They had left Panjim a day before us and we had overtaken them in the night. It was a lovely spot, apart from a strong smell of dead fish in the evenings. The fishermen were very friendly and gave Denise a big load of prawns so she invited us over for a scrumptious supper.



Coconut Island, off Malpe

We left Malpe early on Wednesday morning for another long sail. Again the winds were light so we motorsailed often. We tried fishing but were worried by a group of sea eagles taking a keen interest in our lure. In the end we got a cuttlefish from a passing fisherman in exchange for cold drinks and biscuits. Again we had a busy night dodging fishing boats; at one point Paul was re-directed around some invisible nets by a fisherman, shouting and flashing his lights at us. They display an array of lights, including flashing red, green and blue ones, and it's hard to work out what's going on at times, but generally their nets are not long.

We made good progress, sailing for about 35 hours, covering 150 miles, stopping yesterday evening at Ellatur. We tried to go inside the fishing harbour as it has a new breakwater enclosing a large space, but the depths were not sufficient for us to stay away from the comings and goings of the fishing fleet. Instead we anchored just outside and were visited by lots of curious fishermen. Later a crowd of onlookers gathered on the nearby breakwater to watch us eat our fish supper on deck (such is the fascination in people from foreign parts and their expensive-looking boat). Our fish supper was home-caught this time: Paul had managed to catch a fish of the bonito family, with delicate light meat.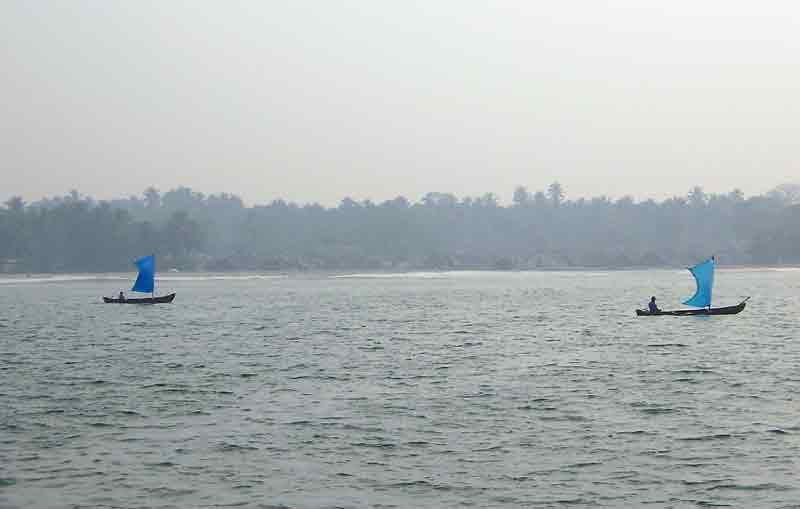 The fishing fleet leaves Ellatur, just after dawn

It was a hot and sticky night so we didn't sleep as well as we should and we were woken up at dawn by a crowd (collective noun?) of crows, who delighted in roosting on deck for the purpose of their morning shit. It was a murky morning and small fishing boats with little sails were setting off down the coast in the morning breeze so we decided to follow them and visit Beypore, just 11 miles away.


Beypore - part of the fishing fleet in repose


---