Corned beef and more carnaval

Mystic of Holyhead (successor to Lynn Rival)
Rachel and Paul Chandler
Thu 26 Feb 2015 21:29
We really enjoyed our visit to Montevideo.  Even in high summer it's a very relaxed place, being a relatively small city and not densely populated.  People are friendly and it's easy to find someone who speaks English if you need help.

Before leaving Uruguay we wanted to see a bit more of the country so we hired a car and drove about 4 hours north-west through the gentle, rolling countryside as far as the town of Paysandu on the Rio Uruguay.  Nearer the river we drove through vast eucalyptus forests planted in the late 20th century and which are now being harvested to feed a new paper factory nearby.  Paysandu didn't look particularly inviting so we crossed over the river into Argentina and to the pretty riverside town of Colon.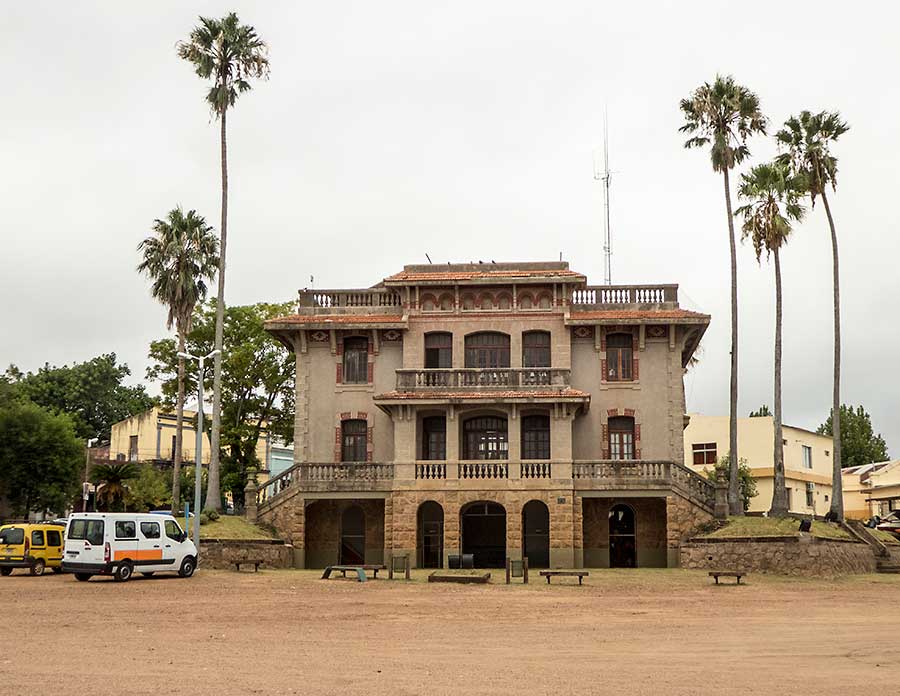 Although 215km up river, Colon has an impressive Customs House, now tourist information office

Many of the settlements along the river developed in the 19th century as a result of the meat (beef) trade with first sailing ships then steamships navigating up the river to facilitate it.  Evidence of this industrial heritage is everywhere: disused railway lines, warehouses, etc.  Some towns have been successful in reclaiming these areas with pleasant riverside walks and beaches.  Away from the towns the littoral region has wetlands that are a haven for wildlife.  It used to be populated by the elegant Yatay palm but commercial plantations have now taken over much of the area.


The old steamer jetty is no more
. . .


. . .  but there is a small harbour with a handful of real sailing yachts . . .



. . . but the dredger appears to have sunk on our hotel beach

Colon is not big but is a relaxing place to spend a day or two by the river.  It's very popular with local (Argentine and Uruguayan) holiday-makers, with a good selection of restaurants, cafes and shops.  We could easily have stayed longer but after a couple of nights we drove down the Argentine side of the river as far as the town of Gualeguaychu.



A double renovation project in Colon (you may have to pop over to Uruguay for parts for the car)

Apart from being a mouthful to pronounce (the emphasis is on the final u), Gualeguaychu is another riverside town with an industrial past that has reinvented itself.  It is one of the places to see carnaval in Argentina and weekly (Saturday night) parades continue until the end of February, beyond the usual cut-off of Shrove Tuesday.  Here the parade takes place in a purpose built "corsodromo".  Being a Friday we drove straight to the venue and bought tickets for the following evening.

Gualeguaychu has a lovely restored riverside (costanera) and extensive parkland so is popular with holiday-makers.  During the high season and on carnaval days it's very busy.  We couldn't find a hotel there so we drove over the river, back into Uruguay, to stay near the town of Fray Bentos.  Fortunately the process of crossing the river here is now straightforward and quick but it hasn't always been so.  About 10 years ago the Uruguayans built a massive new paper factory near Fray Bentos.  People on the Argentine side were not happy and for many years they blockaded the crossing in protest, stopping all traffic.



Part of the waterfront at Gualeguaychu. The banner is a protest against the Uruguayan pulp mill, Botnia

Finding our hotel was a bit difficult.  There was a bike race going on in and around Fray Bentos and every way we turned roads were being closed in front of us.  We weren't lost but we had to take a circuitous route.  The hotel was pretty basic - and more expensive than central Montevideo - with no restaurants nearby so that evening we drove into the centre of Fray Bentos, looking for somewhere to eat.  There was not much choice but we happened across a newly re-opened steakhouse where the food was great and we treated ourselves to a bottle of quality red wine made from Tannat grapes (which were introduced to this part of Uruguay in the late 19th century and thrives here).

Fray Bentos is of course synonymous - at least to the (older) British - with corned beef.  The original factory making it here - El Anglo - had its heyday from the late 19th to the mid 20th century and closed down in 1979.


The equivalent of 1,900 cattle in OXO cubes and corned beef etc was exported from this wharf every day   

Apart from creating a museum in the packing area, much remains intact, not just the factory complex but the staff housing and associated facilites: schools, hospital, sports grounds, etc.  The English-speaking guide was on holiday when we visited and after looking around the museum and being shown the machine room housing generators and compressors (left just as it was, grimy and dusty and an asbestos nightmare!) and the office, we were unsure what would happen next.


The two big ammonia compressors - the workers worried about pipe leaks, no one mentioned asbestos!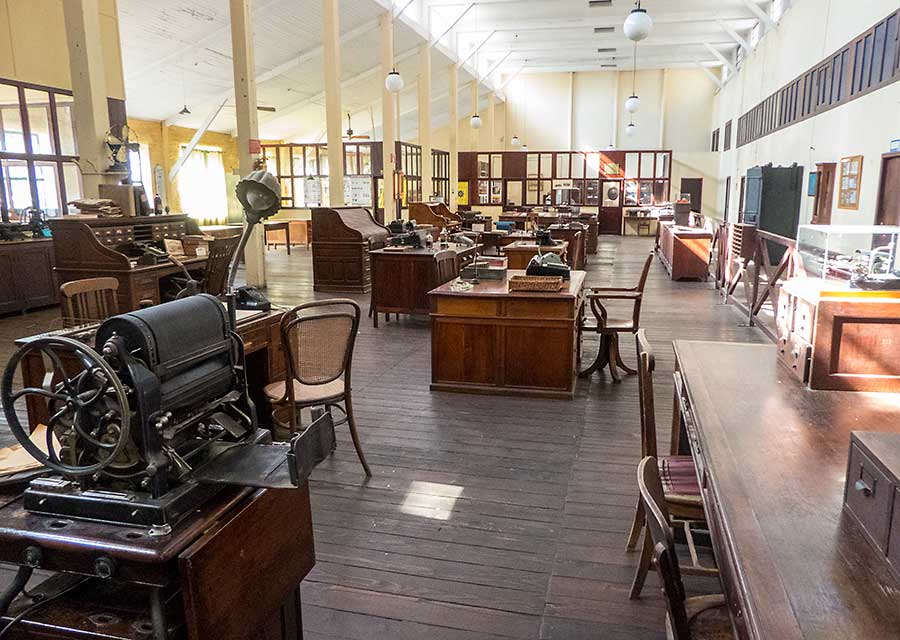 With all that English and Scottish plant you need a fully British staffed office, complete with nice compact 'copier'

We found ourselves being interviewed by a local TV station - the museum will soon have its 10 year anniversary so they were making a documentary - and then we were looked after by Sebastien, a photographer who's grandfather worked at the factory.  He showed us around various installations including the abbatoir, where he pointed out a small office for the resident rabbi (who presumably supervised the slaughtering and butchering for kosher corned beef).  We couldn't go into the massive cold store because it's currently infested by hornets and visitors have been stung!  He did take us to the (relatively small) processing area where the original product - OXO beef extract - was made and to the boss's house, which has lovely gardens planted with specimen trees from around the world.


The gravity powered abattoir - the cows walked up a ramp but their carcases rolled downhill towards the cold store

A house suitable for the (British) factory boss (but I bet he didn't eat corned beef)

After siesta, back over the river to Argentina for more carnaval . . .



---