Sight-seeing in Kerala

Mystic of Holyhead (successor to Lynn Rival)
Rachel and Paul Chandler
Wed 26 Nov 2008 13:05
Lynda's visit was a good excuse to do some inland sight-seeing. We had been hoping for cooler temperatures but the northeast monsoon winds have yet to arrive so it's still mostly hot and humid (and hard to get enthusiastic for doing anything energetic).



The intrepid explorers

We went to a wildlife sanctuary at Tholpetty in the Wayanad district (the north-east) of Kerala. The journey there was certainly interesting, at first driving along the coast, passing through an endless succession of busy towns and villages, reminding us of how populous India is. We were driven in a 4x4, but still the 350km journey was hard-going because of the chaotic driving conditions on Indian roads. Trucks, buses, cars, auto-rickshaws, motorbikes and pedal cycles all compete for the best stretch of road, avoiding the potholes, cows, goats and occasional dog or pig. Pedestrians don't stand a chance.



Bath time is bliss

To break the journey we stopped to see some captive elephants that were trained for use in Hindu ceremonies.



Tea picking

Along the coast we crossed many river mouths and sometimes backwaters lined with chinese fishing nets. Inland the ubiquitous coconut palm is increasingly displaced by plantations of banana palms and paddy fields. As we climbed up towards the Western Ghats we came across large tea plantations and later fields of coffee bushes. Kerala is a very fertile part of India.



Termite mound (from a safe distance!)

We stayed in a guesthouse close to the wildlife sanctuary and were taken on a number of jeep safaris in search of wild animals. Our hosts were determined we would see some elephant and succeeded on our second round of the trail within the sanctuary enclosure. We also saw lots of deer, monkeys and a few bison but no tigers!


I wonder what they're looking at?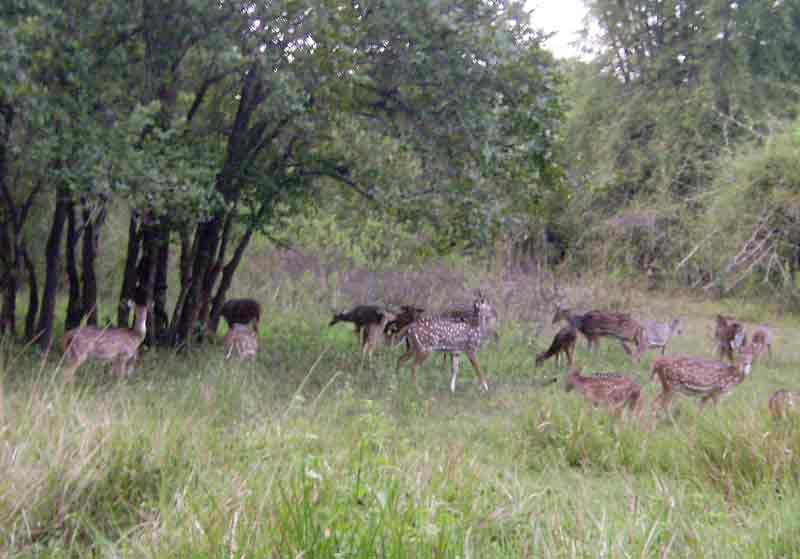 Bambi and friends



Not too close to this chap!

Another day we went on a cruise in the famous Kerala backwaters, south of Cochin. It's a pleasant way to spend a day, first on a rice barge gently motoring between the islands, later in a wooden canoe, being propelled along narrow man-made canals by pole. We were shown how they collect palm juice (sap), which can either be used for medicinal purposes or left to ferment, making toddy. We also saw coir rope making.


Typical scene in the broader backwaters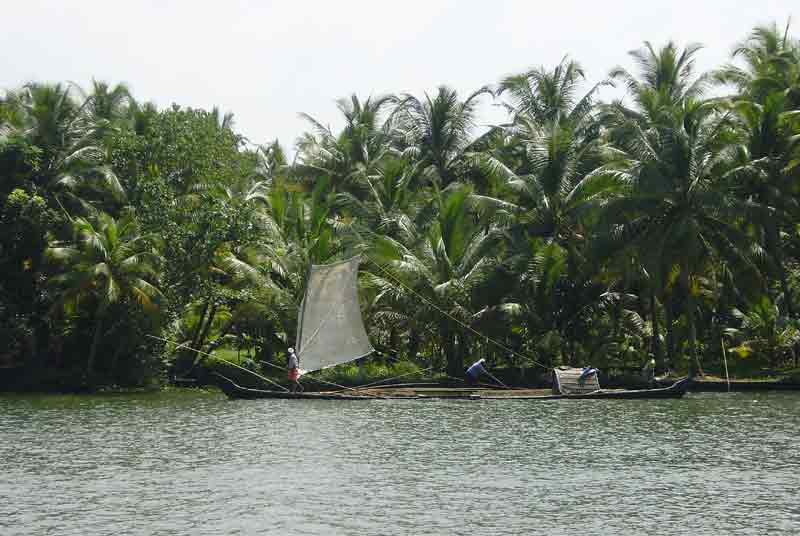 Sailing canoe is the commercial vehicle of choice



The narrow backwaters



Local resident

A highlight for Lynda was to see a performance of Kerala Kathakali, where a story taken from Hindu mythology is acted out in mime. The make-up and costumes are splendid. We saw "The killing of Baka" which was a good choice as we didn't have to work too hard to guess what was going on.

Greater Cochin covers a large area and we are still finding our way around. Although a little English is spoken and understood by most people, it's not always easy to communicate. It's cheaper to eat out in the local restaurants but we're not always sure what's available or what we'll be getting when ordering. Some days we go out to a tea house for chai (milky and sweet) and snacks of freshly made "buns" that can be sweet or savoury and made from all kinds of things, including potato, rice and tapioca. By trial and error we are getting to know which ones we like. Main meals come with large helpings of rice or parota (buttery, flaky, flat bread). Curries are mainly fish, chicken or mutton but beef and pork are also available. It helps if you like coconut as it is used in many dishes.

Getting a beer with your meal in Kerala is another thing. Although alcohol is available, not many restaurants or cafes have licences. To get around this problem some of the tourist hotels serve beer in teapots and mugs.

Back at the boatyard excitement is mounting over the impending arrival of the Volvo Ocean Race. We will have a good view of the pontoons where the racing yachts will be berthed. We met one of the support crew today who thinks the yachts could start arriving this weekend.

Gavin will be here on Saturday so we may have a chance to see some of the Volvo yachts arriving before we set off for some cruising with him.



---