Saint Laurent du Maroni

Mystic of Holyhead (successor to Lynn Rival)
Rachel and Paul Chandler
Fri 2 Oct 2015 16:24
05:30.41N 054:01.98W

Time for a recap of our passage here.
Checking out of Natal wasn't too difficult but it took up a morning.

 

We had to hike out of town to visit the Policia Federal – a 30 mins taxi ride.

 

At first we were treated with suspicion - perhaps because they don't deal with many cruisers who've extended their visas to 180 days - but eventually we got the necessary exit stamps in our passports.

 

Next was Customs, who made us wait a long time because the "right man" wasn't around.

 

There was talk of an inspection but once the "right man" appeared he was full of apologies, quickly stamped our forms and wished us a good trip.

 

Perhaps the talk of an inspection was done to gauge our reaction and we shouldn't complain if Customs are a bit heavy-handed: while in Recife we saw a Dutch registered cruising yacht that had been impounded, apparently stuffed to the gunnels with cocaine.
It was after 11am when we approached the Port Captain's office and the guard on duty tried to send us away because their public opening hours had finished for the day.

 

We stood our ground and were soon let in to have our papers sorted by a very pleasant official.
We left the following morning, with the tide helping us out across the bumpy bar and then a brisk Force 5 southeasterly took us around the northeast tip of Brazil, through the inshore passage at Cabo Sao Roque, before sunset.

 

From then on we stayed about 100 miles offshore, making the most of the wind and current, sailing goose-winged.

 

We were making over 6 knots so although rolling around a bit we were happy.

 

Occasionally we'd get a rogue wave dump water in the cockpit.

 

Although the average temperature was rising as we approached the equator, these unplanned cold showers were not appreciated.

 

Once Rachel got drenched through the centre hatch while asleep, causing a serious sense of humour loss for some hours.
Fishermen returning to shore on a traditional lateen sailed Jangada
(sorry about pic quality - it was a long way away!)
In the first few days we had regular sightings of coastal shipping but as we got closer to the Amazon we had little to divert us.

 

King Neptune must have been sleeping when we crossed the equator: being Lynn Rival's fourth time he can't have been interested in saying hello.

 

The water then changed from a deep sea blue to a muddy brown.

 

Up to this point we'd had no luck with fishing.

  W

e'd had a few bites and lost some gear: ones that were too big and got clean away.

 

We were wondering what we might catch in the Amazon water: perhaps a crocodile or a big log?

 

In fact Paul landed a lovely Albacore (long-fin tuna) which was enough for two suppers.
By then we were hoping to get to Guyane (which we know as French Guiana) and the anchorage at Iles du Salut before dark after 8 days at sea.

 

The wind dropped and we struggled along using the gennaker.

 

As luck would have it we arrived at dusk and with a half moon glowing in the night sky visibility was good.

 

We had covered 1300 miles, at an average speed of almost 6.5 knots - amazingly fast for us.
The Iles du Salut are 3 small tropical islands off the coast of French Guiana which include the infamous Devil's Island prison of Papillon fame.

 

Onshore is the modern town of Kourou, home to the European Space Agency.

 

We anchored off Ile Saint Joseph where the shelter is good though the best spots are taken up by mooring buoys used by tourist catamarans during the daytime.

 

After a good night's sleep we decided to move over to Ile Royale because we were anchored too close to one of the catamarans that had arrived in the morning.

 

However the anchorage at Ile Royale is affected by the swell and not very comfortable.

 

While there a coastguard launch came and went.

 

We thought maybe they'd come and check our papers but they didn't.

 

In the evening we headed for the Maroni River, another 100 miles to the northwest, on the border with Surinam.

Iles du Salut - Ile Royale, Ile St Joseph (on the right) and Ile du Diable (behind)

The wind was lighter than we'd hoped so we arrived at the mouth of the Maroni River late for the following morning's flood tide.

 

We were heading for Saint Laurent, a town 20 miles upriver.

 

The river entrance is a bit tricky, with shallows to be avoided and a shipping channel marked by irregular buoys.

 

We made it past the first bar but decided to stop at an anchorage just a short distance inside the river to wait for the following day's flood tide.

 

If we'd tried to go much further we would have risked battling against the ebb tide before we reached Saint Laurent.
Once inside the river we saw six cruising yachts at anchor.

 

We were not surprised because we knew that a rally from Trinidad was due here any day.

 

Davide, who has recently set up a small marina at Saint Laurent, organises a rally to bring cruisers here from Trinidad every September.

 

To our surprise there were 4 British-registered yachts on the rally, two of whom were Cruising Association and another Ocean Cruising Club members.

 

We quickly hoisted our house flags and prepared for visitors (filled the fridge with beer).
Davide invited us to join in a rally event hosted by the local Amerindian village, Awala Yalimapo, with food, music and dancing all laid on, so we delayed our journey upstream and went ashore for an afternoon's entertainment.

 




'Palan Bono' - the band at Awala Yalimapo
Finally we motorsailed upriver on Monday, enjoying the experience of sailing into the jungle.

 

Much of the river traffic is Surinamese:

 

fishermen in long, narrow boats (pirogues) who lay their nets across the river and don't seem to worry about the risk of them getting caught in our propellor.

 

On reaching Saint Laurent we picked up one of the new Marina SLM moorings and were welcomed onshore by a group of French-speaking cruisers.


The anchorage at Saint Laurent, with the old ferry acting as a sort of planter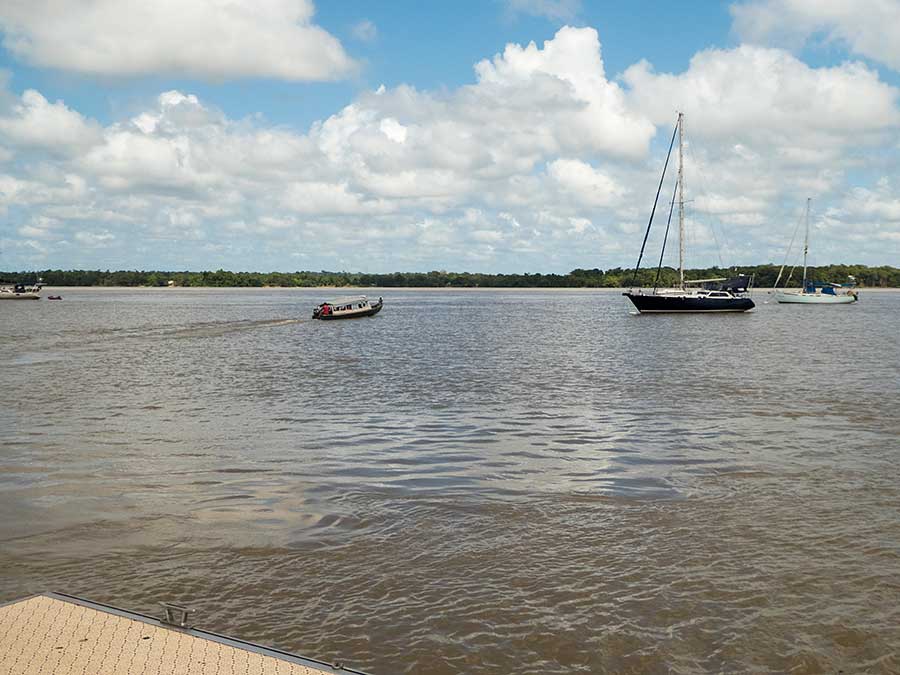 An illegal progue ferry to Suriname passing through the marina mooring area

Monday was Paul's birthday so a priority was to get directions for a bank (to stock up on Euros) and a good restaurant.

 

Saint Laurent is big enough to have plenty of choice - even on a Monday evening - so we were not disappointed.

 

Although we're still struggling to remember our limited French, we've not found it difficult to get by.

 

Quite a few people here speak some English.

 

Perhaps because of being on the border with Surinam and with many different ethnic groups living here, including Asian refugees, people are not fazed by language differences.

  

Banque de la Guyane

Saint Laurent is a town with a grim past.

 

It was built in the 1850s as a prison town, with an inmate population of 70,000, – of which 100 of the worst, mostly political prisoners, were sent to Devil's Island  – until that function ceased in 1946.

 

The architecture is attractive, using timber, stone and brickwork, with corrugated iron roofing.

 

The town is mostly low rise with wide streets and would be pleasant to wander around if it were not for the tropical heat.  It could certainly do with more shady trees.

 

We had a wander around while looking for the Customs office to do our check-in but were soon struggling.

 

Later in the day Davide drove us to both Customs and immigration.

 

Thankfully the process of checking-in here is very straight-forward and quick.


The wednesday/saturday market - welcome back to the world of herbs and spices
. . .
. . .
as well as a large variety of fruits - familiar and not so familiar!

Sunset over Suriname

Our plan is to enjoy the croissants here for another few days and then continue on to Trinidad and Tobago.
---