Back to Blighty

Mystic of Holyhead (successor to Lynn Rival)
Rachel and Paul Chandler
Tue 10 Jun 2008 18:01
We flew back to UK on 2nd June, only just in time to get the car back on the road and us down to Dartmouth for Paul's father's 97th birthday celebrations. The trip back, via Colombo in Sri Lanka, was very comfortable despite taking almost 24 hours door-to-door. Colombo airport is very modern and the 3 hour wait there passed quickly. During the onward flight to Heathrow it was fascinating to get a birds eye view (transmitted from a camera underneath the plane) of southern India, Oman, Iran and Turkey before the reaching cloudy Europe.

We left behind the true liveaboards on the Rally: Tim & Chris on Reckless and Jerry and Cas on Mandarina. Most of the others, including us, will be spending much of the monsoon period either in their home countries or elsewhere. The last two weeks before leaving were hard going. The heat and humidity made the work of cleaning and packing up very tiring. We de-camped to an air-conditioned hotel so that at least we were able to sleep at nights!



Day off: watching the Optimist Championship races

One of the chores we wanted to do before leaving was to give the sails a good wash. With the help of Ernesto, who runs the aptly-named Vasco da Gama club (a very pleasant bar in town used as a meeting point by rally participants), we managed to get access to a suitable area. We spent a fruitful morning at the Quarterdeck restaurant which has a large paved function area where we could lay out the sails to wash them and then use their large stock of plastic chairs to 'hang' them out to dry.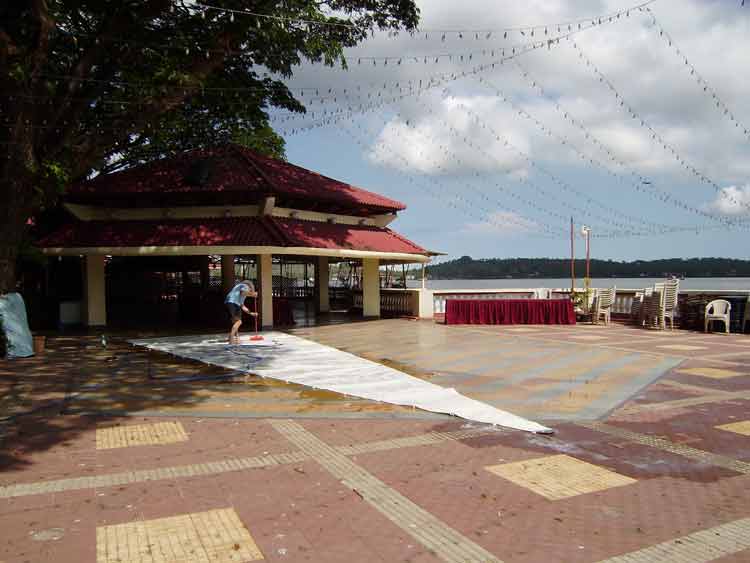 Washing



Drying

Just before we left we covered the boat with a tarpaulin, made to fit at a local tailors. We were hoping to instal an air-conditioner to leave running while away but the promised electricity supply didn't appear in time. Marine Solutions have now taken on responsibility for completing the link to the shore, and progress has been made since we returned.



Undercover Lynn Rival

So now the rally is really over and for those who are interested here are a few statistics:
Total mileage logged was 4497 at average 4.4 knots. We sailed 2466 nautical miles at average 4.4 knots, motor-sailed 538 at average 4.9 knots and motored 1490 at average 4.3 knots. We stayed at 43 ports/anchorages in 8 countries. 36 nights were spent at sea, including 11 on the Arabian sea crossing. That was the longest passage, 1171 miles, of which we sailed 832. The engine was run for 511 hours, burning 957 litres of diesel.


---