barren Bonaire

Mystic of Holyhead (successor to Lynn Rival)
Rachel and Paul Chandler
Fri 25 Nov 2016 20:44
November has proved to be a wet month in the southern Caribbean with frequent heavy showers and some long spells of drizzle.  On our 4-day passage from Carriacou we started in the rain with a following wind, not always strong enough to sail comfortably goose-winged.  The middle two days were better, sailing on a broad reach, erring to the north of our course - away from the Venezuelan islands.  The Islas Los Roques are supposed to be very attractive, but the crime reports are off-putting.  On passage we saw little shipping and just a few fishing boats.  Boobies and terns kept us company but, unlike them, we didn't manage to catch any fish.

The wind died on our last day so we motored the final 30 miles, arriving at 2am.  The whole coastline of Bonaire, from the high water mark to the 60 metre depth contour, is a marine park.  Anchoring is prohibited, even in emergency: yachts must pick up a visitor's mooring off the main town, Kralendijk (pronounced "crawlendike").  The moon was almost full so it was relatively easy to spot a spare mooring and tie up.  In the morning we went ashore to visit Customs and Immigration - a simple procedure carried out by friendly officials. 

Kralendijk is very small so we walked around to get our bearings and visit the tourist information centre.  Bonaire has a population of just 18,000, who speak a mixture of Dutch, Spanish and Portuguese.  The island is mostly low-lying and dry; not much grows here apart from cactus.  But it is surrounded by coral reefs and crystal-clear water, and since the 1960s tourism has become the mainstay of the local economy.  Apart from cruise ships, which visit almost daily, dive resorts and holiday homes make it a prosperous place with plentiful shops, cafes, restaurants, and well-stocked supermarkets.

Although our passage to Bonaire had been uneventful we did have one minor mishap.  When hoisting the gennaker the halyard shackle sprang open and ended up at the top of the mast.  It didn't matter because (for just this eventuality) we have a spare spinnaker halyard but, after looking around town and paying for our mooring, the early evening calm was an ideal time for climbing the mast.  In all the years of sailing on Lynn Rival, Rachel has never been to the very top, using the excuse that whatever needed fixing up there - usually something mechanical or electrical - was outside her competence.  This time there was no such excuse and she was able to find out just how hard work it is climbing up and down.


Bonaire - view from the masthead looking north towards the national park (them thar hills!)

and south towards the cruise ship piers and the town centre

Over the weekend - when there were no cruise ships about - we hired a car to see the sights.  The south is flat and mostly salt pans, home to a large flock of pink flamingoes.  Their sanctuary is a long way from the road and out of bounds to visitors (because they are supposed to be shy) but fortunately some venture near the road and seem happy to have their photo taken.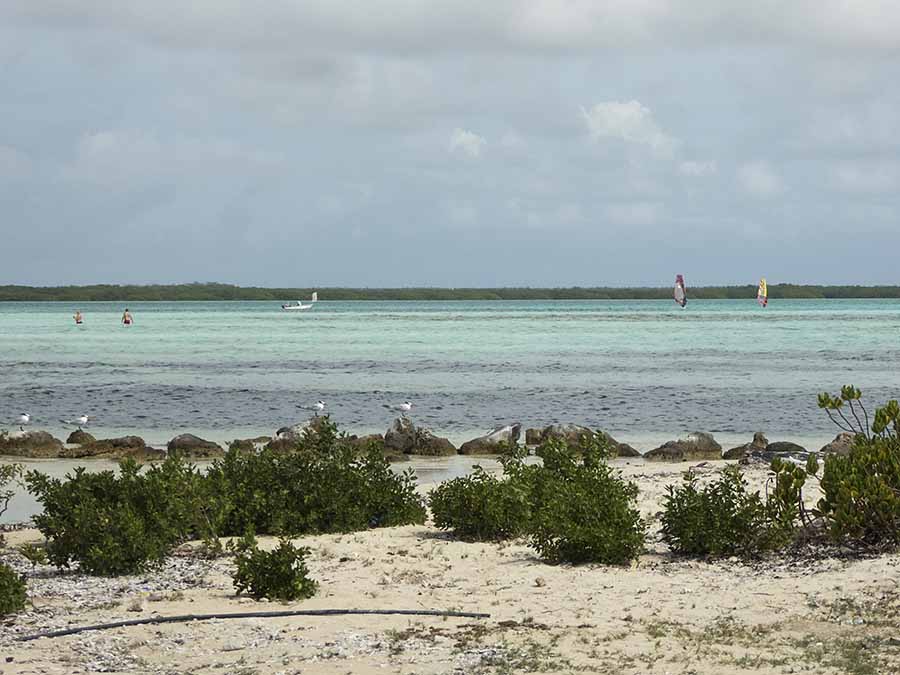 Lac bay, on the east coast, where a small lagoon provides a watersports base (but positively no yachts)
Acres of salt pans form the southern quarter of the island
No need for a caption

To the west lies Klein Bonaire - the uninhabited island has its own fringing reef - a daytime dive/snorkel destination

On Saturday evening we joined in a birdwatching tour at the sewage treatment ponds: home to stilts, snipe, duck - and even flamingoes, who presumably like a change from salty water.



Not actually part of the sewage works, but an adjoining freshwater pond; the only one on Bonaire

Also not to be missed is the Washington-Slagbaai National Park in the north of the island.  The hilly terrain is covered in cactus and scrub.  Here you can see rocky outcrops of coral reef that was pushed up by tectonic activity a million years ago as well as lizards, iguanas and plenty of birdlife.  The windward coastline is wild and rugged.  The leeward coast is good for snorkelling so we stopped at a small beach to swim among the colourful fish (though were not impressed by the coral).  During our dip it started to rain.  By the time we got going again, the rain was falling heavily and the dirt roads were turning into rivers.  At times it got a bit hairy but we made it back to the park entrance in one piece.



 . . . or else!  the meeter and greeter at the park entrance


A quiet (no cruise ships), pleasant (overcast, so not too hot) day for an expedition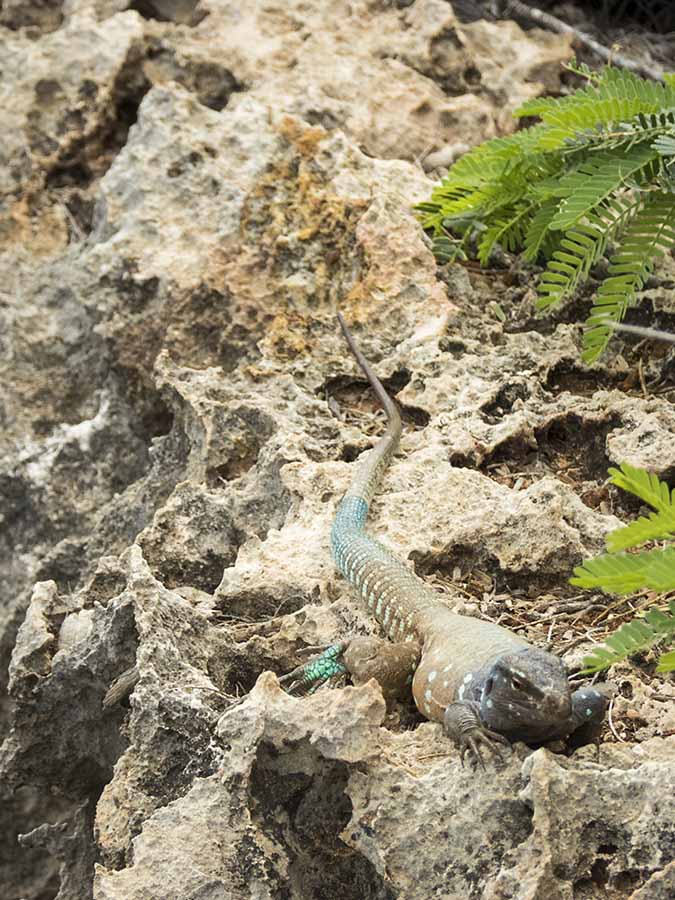 Lots of these little chappies around - presumably green toed lizards
Cactus country (A liquor is distilled from the cactus juice - maybe just for tourists?)
Friendly iguana

Cactus jungle

On Monday afternoon we discovered another leak in the dinghy - as before but on the other side.  We've used up most of our spare glue and patches (and spent three days boat-bound) fixing it.  When we get to Curacao we'll have to restock. 


Remember the rules?  Out of the sun, nowhere near water and low humidity.  One out of three and fingers crossed!
---