A change of state

Mystic of Holyhead (successor to Lynn Rival)
Rachel and Paul Chandler
Thu 9 May 2013 01:43
20:17.99S 040:17.35W

When the wind dropped the anchorage at Ilheus was quite rolly, but the setting is lovely. The commercial port, not far away, wasn't busy and the rest of the large bay is picturesque. No one spoke English in the yacht club but as usual we got along with a bit of help from Google translate. Everybody was very welcoming, if rather bemused by our efforts at speaking Portuguese. The town was a good ten minute walk away so we got some exercise, visiting the historic centre and general hub, where there are a few old buildings and plenty of shops selling chocolates. A major part of Brazilian cocoa production comes from the area around Ilheus.



Ileus - the cathedral

The yacht club restaurant was worth a visit. The paella, stuffed with local seafood including oysters, was excellent and a portion enough for four. Something we've now got used to is the Brazilian approach to serving food in double quantities. It means that when we eat in a restaurant we have to agree on what we're going to have - not always easy. Ordering two starters is one way round the problem, or lunchtime buffets - where the food is sold by the kilo - are always popular.

Another weather window appeared so we left Ilheus on Wednesday morning. By then two other (foreign) yachts had arrived; we'd seen both in Sapinho and exchanged brief greetings as we motored out of the bay. Our plan was to head south to Caravelas, about 185 miles away. Yet another spell of stormy weather was forecast for the weekend so we needed to be somewhere sheltered by then.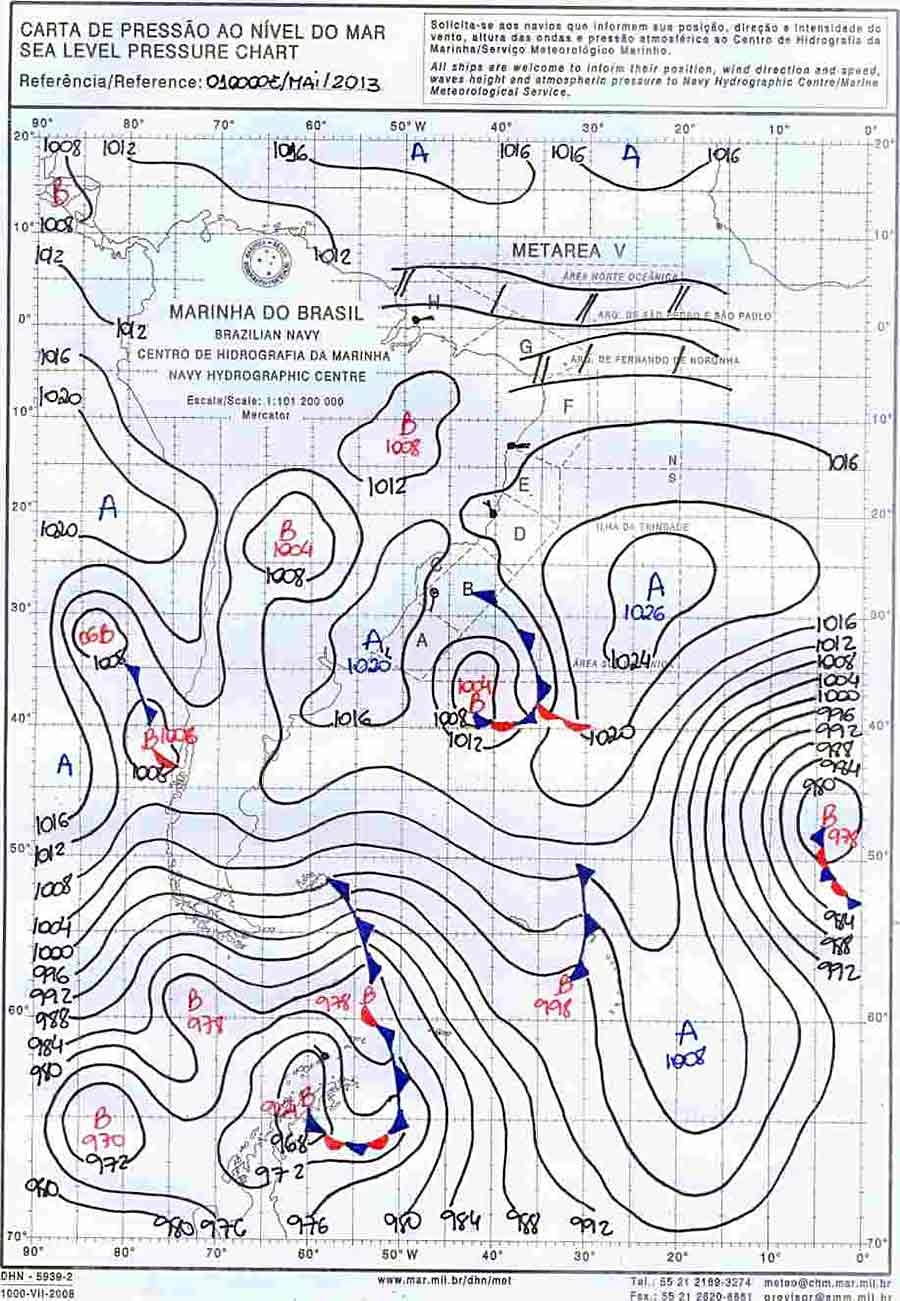 Believe it or not - this was the favourable synoptic, before we left Ilheus (between areas D and E on the chart)

The wind was light and in the south so we tacked out to sea. When 25 miles off the wind had backed towards the east allowing us to sail gently down the coast. At times we used the motor to keep on course, especially when crossing the Royal Charlotte banks where shallows extend far offshore and create awkward seas. But progress was slow. By Friday morning it was obvious we'd not reach Caravelas before nightfall. With the forecast still showing stormy weather coming on Sunday evening we decided to press on to Vitoria, another 175 miles, motoring as necessary to keep our speed up.

Passing the Abrolhos islands the wind dropped. It was tempting to stop and do some snorkelling but we'd risk being caught out in the stormy weather approaching. By Saturday night we were getting northerly winds and in flat seas made good speed as we approached Vitoria, passing a number of brightly lit oil installations on the way.

Vitoria is the capital of the state of Espirito Santo, so we've finally left Bahia. Although the town was established soon after the discovery of Brazil it's mostly modern - like the posh part of Salvador. There's a large port on the north side of the bay but the city and it's surroundings are very attractive. There are lovely beaches with coconut palms and trees everywhere. The modern city is broken up by small hills covered in forest and lumps of granite rock add to the varied scenery.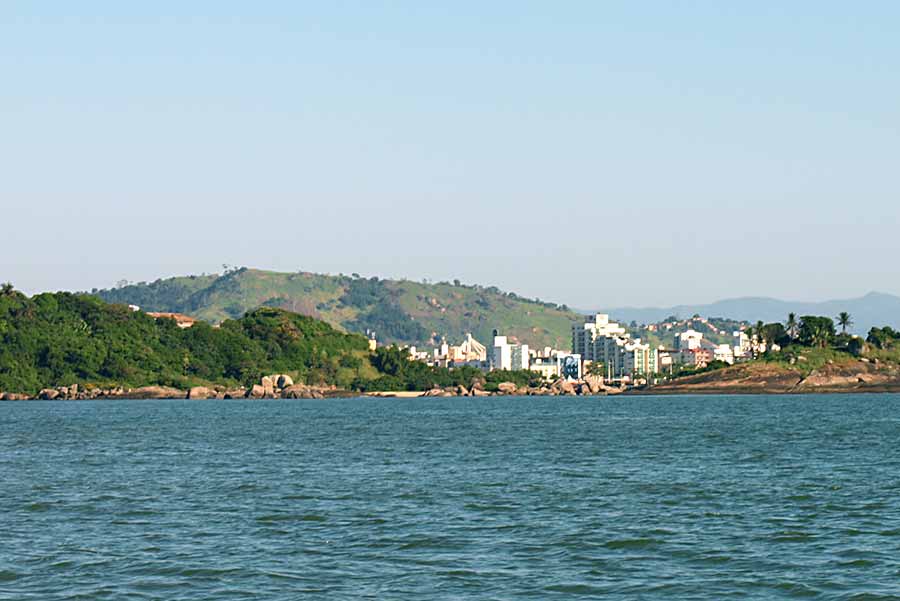 Approaching Vitoria - a change from mangroves and palms

. . . and there is the Iate Clube

We arrived on Sunday morning and dropped anchor off the yacht club marina. It was regatta day so the area was busy with dinghies racing from the club, around the bay and back. We had to wait until the evening before being allowed to enter the marina and take up their second visitors' space, next to Randivag, a Swedish yacht. We'd met Randivag's owners, Lisa and Sven, before in Itaparica and Sapinho. Sven had caught an 8kg kingfish on the way so we helped them eat it! With succulent white flesh and only one central bone it's a superb fish much prized by game fishermen.

Monday was "dealing with officialdom" day. Now that we have moved from one state to another we have to make sure our papers are in order. Lisa and Sven were in the same position so we joined forces. The marina staff, who speak very little English, gave us a piece of paper in (Google) English on the subject but we were still none the wiser. Eventually we established that we needed to go to the Capitania dos Portos, a pleasant if long walk towards the centre of Vitoria.


To get to the Capitania we walked along the sea front
. . .



. . . and passed a few skyscrapers . . .



. . . and wondered how long the electrical infrastructure would cope

Bemused - or perhaps worried - looks greeted us at the Capitania but we were invited to sit down and wait. The Capitania is part of the Navy and this is reflected in the sophistication of their offices and a general air of efficiency. The security guard was obviously concerned about these four foreigners in his care, nervously checking on us every few minutes. At first it seemed that nothing was happening as we sat there anxiously trying to keep cool. Had we been abandoned? Eventually a man speaking schoolboy English arrived and another came to collect our papers - though not looking at all sure of what he was doing. Do so few foreign yachts come here that they can't remember the procedure? Then another English speaker came to check we were OK. Clearly word had got out. Finally our man came back with the magic bit of paper: cleared in and (importantly, saving us another trip here) out, with all the necessary signatures. At last everybody was happy, the security guard could relax once more, and we were seen to the door with smiles and thumbs-up signs all round.



Back at the Iate Clube we enjoyed the surroundings

With another bout of stormy weather passing over we won't be able to move on for a few days. That's no problem as the Yacht Club is a really nice set-up and there's plenty to do, numerous bars, restaurants etc. within walking distance. Top of the sight-seeing list is a 'Choco Tour' at the chocolate factory in nearby Vila Velha, the biggest one in Latin America!













---