Wrinkly backbacking in Argentina - 9 - horns and towers

Mystic of Holyhead (successor to Lynn Rival)
Rachel and Paul Chandler
Sat 29 Mar 2014 16:46
Just south of the National Park of Glaciers is another scenic area, called Torres del Paine (Towers of Blue). To get there we hired a car and drove south from El Calafate, across the border into Chile, to enter another National Park. The roads are mostly good, passing through the undulating scrubby steppe with isolated cattle and sheep ranches in river valleys. Sometimes there are small lakes and wetlands hosting a range of birdlife, including flamingos.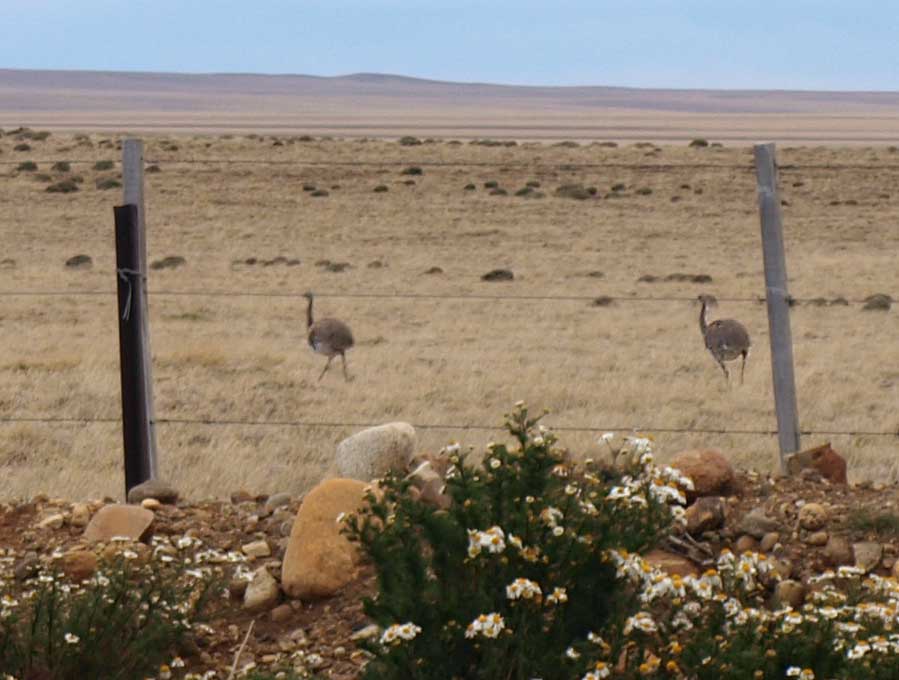 Darwin's rheas roaming on the steppe

Approaching the Chilean border you can see a cluster of stunning volcanic mountains - the Paine Massif. From then on it's gravel roads and we were not sure which road to take but got all the advice we needed at an enterprising restaurant/shop/money change establishment in the little town just over the border. Entering the National Park was expensive, compared to Argentinian parks, but we were given good maps and advice by the park rangers.


First view of the Paine massif, approaching from the east

The view (from our bedroom) just before sunset - Cuernos (horns) in the centre and Torres (towers) on the right

Despite being hard to get to Torres del Paine is a popular place for hiking and wildlife-watching. The main trail is an arduous 7-day hike around the central massif, staying in mountain refuges along the way. We opted to stay in a hotel and do day hikes, avoiding the crowds as much as possible. We were rewarded by sighting huemul, an endangered deer that lives in parts of the park but is rarely seen even by the park rangers.



Viewing the lake from the south west we found an ascending trail . . .



. . . and spotted two huemul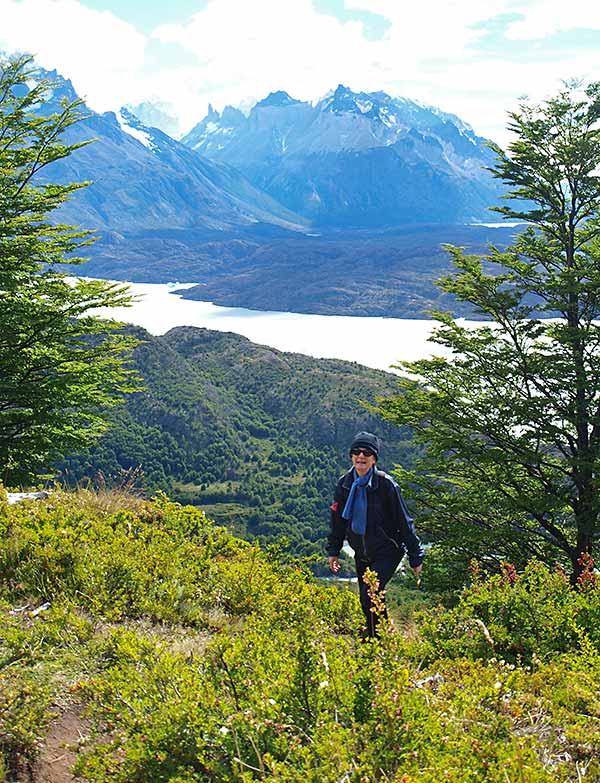 A chuffed wildlife spotter and photographer resumes the climb!


At the top it was so windy that we couldn't hold a camera steady! This view of the Grey Glacier is from half way down

We also saw enough guanacos, rheas and condors to no longer think them remarkable! We didn't see any pumas but plenty of evidence of their activity: freshly killed guanaco remains.


A herd of guanaco - a common site at the eastern side of the park


Some are enjoying a mud bath . . . but one got the short straw . . .


On guard!

The second unit cameraman takes a breather

The weather was mostly fine so we caught some lovely views of the mountains, but it's a stormy place and when the wind picks up everything changes. The wind funnels down the valleys and makes some of the walks dangerous. And the volcanic grit is horrible in the eyes.

The visitor centre contains explanations of the geology, unfortunately only in Spanish, but we learnt a little from examination of their models.


Formed beneath the sediment only 12 million years ago and exposed by erosion the towers are of three different colours of granite; the horns are baked magma
---