Dominca revisited

Mystic of Holyhead (successor to Lynn Rival)
Rachel and Paul Chandler
Thu 12 May 2016 21:34
15:17.22N 061:22.59W

Our unofficial anchorage on the SW coast of Guadeloupe was called Anse Petite Fontaine (Little Fountain Bight).  From there we managed to sail about half way to Prince Rupert Bay - on the NW coast of Dominica - before the wind deserted us.  Compared to when we visited at the end of March, the bay seemed almost empty. 

Soon after anchoring Martin (nickname Providence, who we had met before) came by in his launch to enrol us for a tour the next day.  Starting from Portsmouth we followed the coast road south for a while, visiting some fishing villages. 



One of the larger settlements on the west coast

Apart from the lovely scenery, Martin pointed out the remaining signs of tropical storm Erika - rusty heaps of scrap metal that were once vehicles, abandoned buildings and bridges that had been washed away when torrential rain flooded the valleys.



Erika visited last year - imitation 'Bailey' bridges are from Venezuela

Then we drove inland up the steep Layou valley and stopped at the Spanny waterfalls for a dip before moving on through the rainforest to the east coast of the island and lunch at the town of Marigot.  From there we continued along the north east coast visiting the Red Rocks.  It was a good day out, seeing parts of the island we'd not visited before.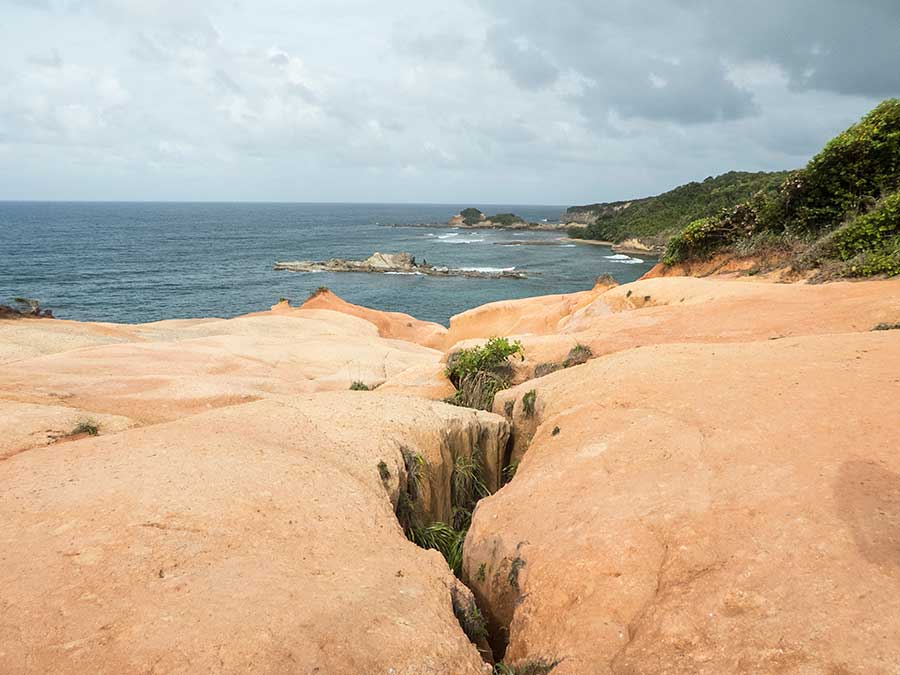 The 'Red rocks' on the north east coast

At the weekend we were looking forward to the famous PAYS (Portsmouth Association of Yachting Services) Sunday BBQ.  With fewer cruisers around it was threatened with cancellation.  Fortunately there were enough.  The music was horribly loud but we stuck it out until our throats were hoarse from shouting and top-ups from the bottomless rum punch cooler threatened our stability.



Pelicans on watch on Portsmouth beach

Another day we took a taxi up the coast to a little village called Capuchin.  From there we did segment 13 of the Waitukubuli trail, a relatively gentle 3 hour walk through dry forest and former coffee plantations.  Apart from the sounds of birds and sightings of lizards and landcrabs, it was very peaceful.  We only met one other pair of hikers.  Our taxi driver picked us up at the other end and brought us back to Portsmouth - along another spectacular drive through the mountains.


An unusually productive papaya tree, on the north coast trail

Another one of those!

The weather continues to be very unsettled, often stormy, hot and humid, hardly cooling at night.  On Wednesday night we attended another BBQ - made possible by an influx of charter boats (putting paid to Rachel's theory that chartering had wound down for the season). 

On Thursday we continued down the coast to Roseau and picked up a mooring again.  We had hoped to do some more exploring in the south of the island but Rachel has been feeling unwell so we're taking it easy.   

---