Baia da Ilha Grande - another holiday

Mystic of Holyhead (successor to Lynn Rival)
Rachel and Paul Chandler
Mon 5 Aug 2013 21:09
23:08.1S 044:17.1W

Some people are asking "where are you going next?" as if we must have ticked off Brazil by now and be ready to go somewhere else. But Brazil is a big place, almost as big as the USA. So far we've only covered one quarter of the 4000 mile coastline and we've hardly seen any of the sights. We like to travel slowly, and see a bit more than the tourist highlights, so we'll be staying in Brazil until the end of our current visa, in mid-October (and the end of winter here).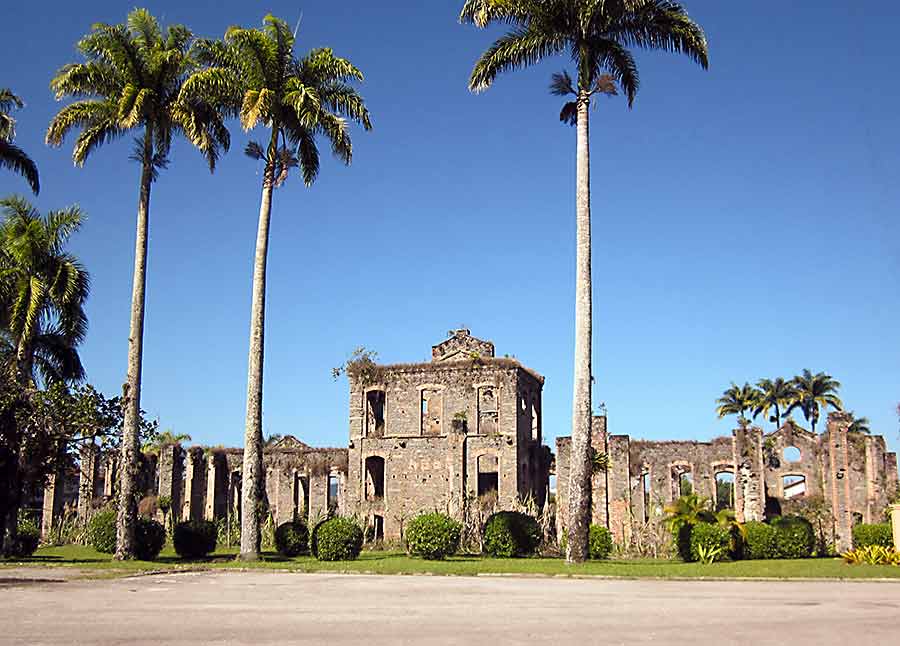 The ruins of a sugar cane processing building very near the marina at Bracuhy

We finally left our marina berth in Bracuhy last Thursday morning. In the days before we left we were desperately trying to track down our resident rat, searching all the lockers for any sign of where it might be. Then while Paul was putting away some stuff in a saloon locker out it popped! Both (the rat and Paul) were momentarily surprised, then it shot into the aft cabin and escaped into the bilge underneath the head. Where had it been hiding and what had it chewed? Further manic checking of the boat ensued and more severed wires were found and repaired. We laid all our traps, primed with salami (which we know it likes), only for it to take the salami from one trap without triggering it!

Desperate measures were called for so Ivan, one of our friends in Bracuhy, took us to Frade, a local town about 4 miles to the west. We needed to stock up on food, but also get a gas bottle refilled and, importantly, buy rat poison. After consulting various stockists we ended up with some pink pellets which we have great hopes for. The gas bottle refill was another story. It cost us 3 times what we paid in Vitoria. So the message is don't go to Frade for a gas refill.

After shopping Ivan took us for a drive along the coast west of Frade. This road, which runs from Rio de Janeiro to Santos, is very scenic, with lovely views of the coastline and islands. Not far from Frade is Brazil's only nuclear power station complex - interesting to see from a distance. The employees live in a purpose built village fringing a nearby bay and we had lunch in the sports club restaurant, run by an Argentinian couple who used to sail and now live in Bracuhy. As so often happens, they were asking us about a British sailor they had met 25 years ago. Did we know him?!



The mainland west of Frade - part of Brazil's 'Costa verde' - nuclear installation just beyond the hill on the right

Before leaving we also had to collect two of our saloon cushions from Bracuhy's excellent sailmaker-cum-canvas and cushion-making outfit called TLALOC. They did a great job repairing the rat damage as well as replacing some of the sacrificial strip on our genoa.

Finally we left, still with rat on board, to do a bit of island-hopping. The Ilha Grande area has hundreds of islands and anchorages to explore so we're spoilt for choice. The winds are generally light and the temperature is again in the 20s (after a rather cold spell 10 days ago). With little wind we've simply motored a few miles each day, checking out different anchorages on the way.



Not harvesting lunch - but starting a lengthy process of rehabilitating our mooring warps after 8 weeks in Bracuhy

Our first night was at Itanhanga, a little island with just a few houses and a bar/restaurant ashore. There were a couple of other yachts and motorboats at anchor. The water was clear for swimming and so it made a very pleasant spot apart from when one of the motorboats decided to turn up the music during the afternoon. Brazilians love music so who are we to complain? After a while he got bored and went away, creating a wash but soon leaving the rest of us in peace.


Ilha de Paqueta, typical of the many small islands in Baia de Ilha Grande, reminded us of the Seychelles



The calm anchorage at Ilha Itanhanga, with the mainland hills visible over the isthmus.

On Friday we visited Gipoia, a bigger island closer to Angra dos Reis which has many posh holiday homes. We found a nice shallow bay with clear water for easy anchoring. Being weekend we'd been warned that the area could be busy but it wasn't so bad. There were quite a few power boats coming and going, creating a wash and making the boat roll at times, also helicopters - presumably delivering wealthy owners to their beach huts - and just one other yacht at anchor. During the night the fish were nibbling at the weed on the hull. They must like the growth we accumulated at Bracuhy. The noise kept us awake, imagining a rat chewing at something!


Another well sheltered overnight anchorage - Enseada (bay) da Fazenda on the east side of Ilha da Gipoia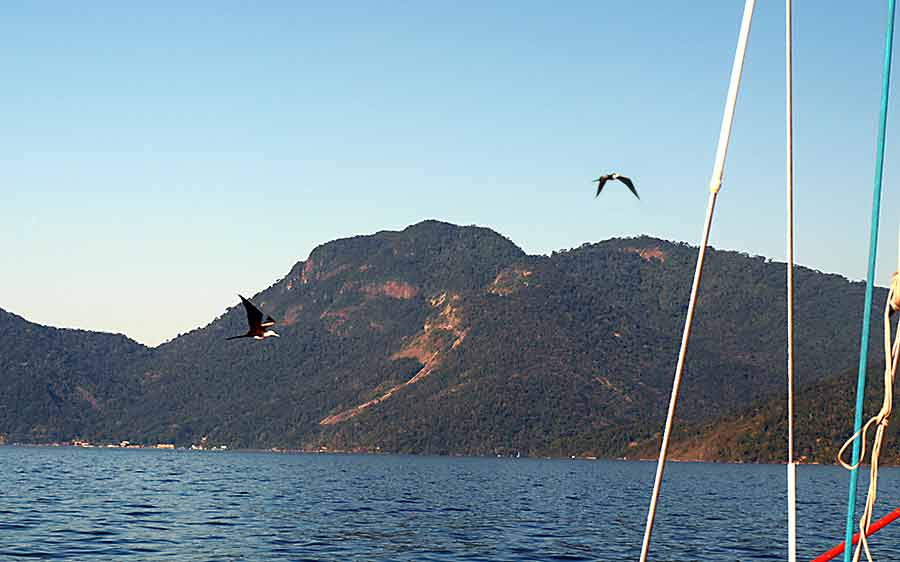 Ilha Grande provides the backdrop to these juvenile frigate birds

We're now on Ilha Grande itself, in a bay called Sitio Forte. There were quite a few sailing yachts and motor boats here when we arrived on Saturday afternoon but we managed to find a good spot to anchor not far from a floating bar. The motor boats are festooned with sunbathers, who presumably spend their weekdays working in dark offices and are desperate for the vitamin D. In the evening all the smaller motorboats left and we were alone in our little bay until the Sunday lunchtime crowd arrived with lots of children who crammed themselves into the floating bar for a party.



Busy Sunday lunchtime at the floating bar - off Sitio Forte beach at Saco (bay) de Tapera on Ilha Grande . . .

We blew up our dinghy in anticipation of a recce around the bay and to the bar, once the crowd had gone. Mid-afternoon the wind suddenly picked up, gusting 25 knots, and the motorboats were all dragging their anchors. In a panic the party was abandoned and they all took off. We let out a bit more scope on our anchor and we soon had the bay to ourselves again but with the gusting winds a recce in the dinghy, or even a swim, didn't seem so inviting.



. . . then tranquility returns at the anchorage - but we didn't find where to get a guardian egret!

It's now raining again. Drizzle, just like home. And we've now found signs of the rat on deck and in the anchor well. It's tried chewing the anchor warp so we've hauled it all out for inspection (thankfully no serious damage) and blocked off more rat-runs. How long must we wait for the nasty rodent to succumb to the lovely pink pellets we bought specially for it?




---