Christmas in La Gomera (again)

Mystic of Holyhead (successor to Lynn Rival)
Rachel and Paul Chandler
Tue 8 Jan 2019 20:59
Not much has changed from 6 years ago.  La Gomera is a bit more developed but the pleasant climate, dramatic scenery and gentle pace of life make it a great place to visit for Christmas.

Poor Lynda got caught up in the Gatwick drone fiasco but managed to get here a couple of days later.  Unfortunately the wind then turned southerly and we had a Calima - a sandstorm from the Sahara - so the skies were hazy for a few days.

This time we saw more of the north of the island, driving up to the Mirador de Abrante, a spectacular viewing platform designed by the Cesar Manrique.  The restaurant is very good too so we had a pleasant time despite the obscured views.  The waiter even gave us a demonstration of Silbo, the whistling language La Gomera is famous for.


On a clear day . . . the mirador designed by Cesar Manrique (another one)
Roque de Agando - a column of lava which never escaped, now exposed by erosion
In the northwest, the town of Villahermoso and it's surroundings are particularly green and beautiful.  And the national park of Garajonay in the centre of the island is very special, being untouched rainforest and vital for the supply of water on the island.
Villahermoso valley, falling towards the north coast
We also enjoyed the archaeological museum in San Sebastian which explains what is known about the original inhabitants of La Gomera, who arrived around 2,000 years ago from North Africa.  One fascinating aspect of their culture is the development of Silbo, which survives to this day as a means of communication across the steep valleys.  It was in the ethnographic museum we saw an excellent video explaining how it worked and showing examples of both men and women using it.  Silbo is now taught in La Gomera schools to ensure it won't die out.
Looking down, or rather peering through the murk, at San Sebastian
When the skies cleared we drove back to the centre of the island and walked up to the highest point, Alto de Garajonay.  From there you can see all the neighbouring islands: Tenerife, La Palma, El Hierro and even Gran Canaria on a good day.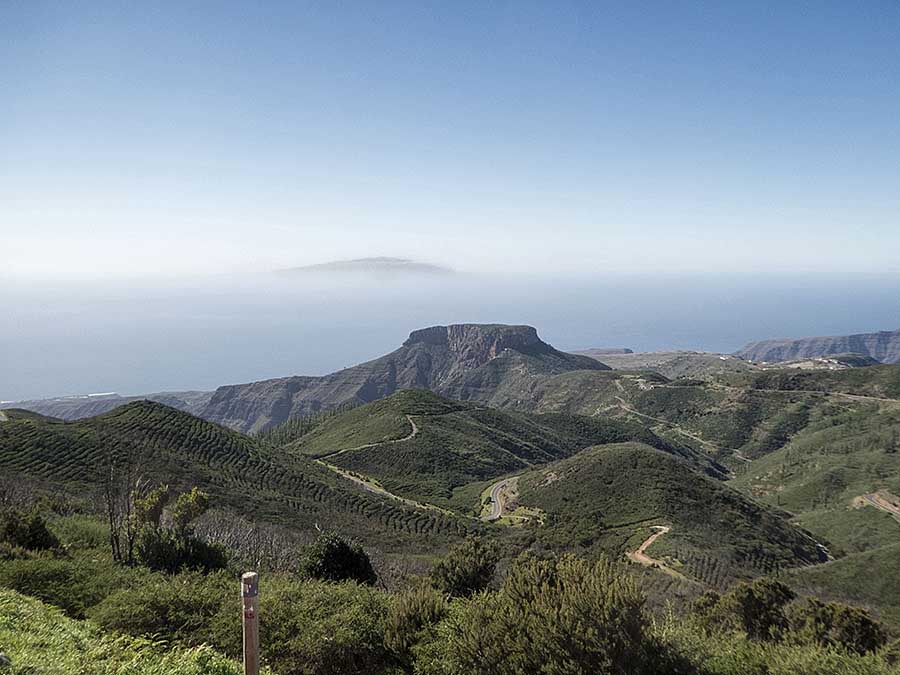 Almost clear; 2 days later we could see El Hierro from the highest point on La Gomera
and Tenerife
and Roque de Agando again, this time on a clear day
---