Goan again

Mystic of Holyhead (successor to Lynn Rival)
Rachel and Paul Chandler
Mon 13 Oct 2008 17:13
15:30.01N 73:49.58E

Summer in England was mostly cold and wet but we had some good times catching up with family and friends.



Scott and Sarah came across the pond to take the waters at Royal Tunbridge Wells

Birthdays were celebrated, our flat decorations were (almost) completed and Paul did some consultancy work to keep us solvent. Friends descended on us from far and wide, and we managed to venture as far overseas as the Isle of Wight on one occasion. Poohsticks was played at the Poohsticks bridge and we learned that they don't have sheep in the USA. (photographic eveidence removed by censor).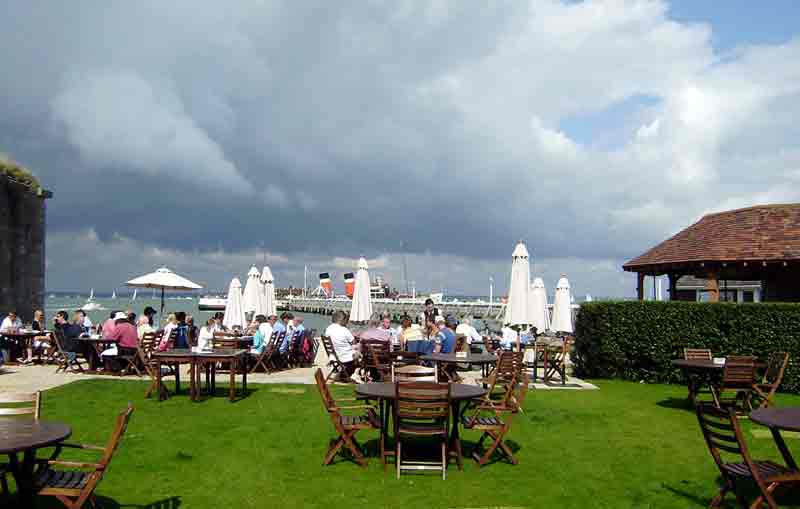 Paul's office 'Christmas' outing, Yarmouth, I o W, September 2008

We were also preoccupied with sorting out the long over-due external re-decorations of the block of flats we live in. Just before we left the building was scaffolded and painting began. We're hoping for a dry few weeks.



External decs under way at last at Mount Ephraim

Our flight back to Sri Lanka Colombo arrived in the middle of the afternoon and we then had to get up at 2.30 am for our onward flight to Goa. The customs men were ready to pounce on us tired travellers, demanding duty on our "boat bits". They eventually gave in to our insistence that the items were for a yacht in transit, for our own use, etc. They had a good look at everything but seemed to find it all very dull, perhaps hoping to see some expensive electronic goods which they could confiscate.

It was good to see Lynn Rival afloat if rather dirty and definitely mouldy inside. Only two of the 12 yachts berthed here for the monsoon had already left. Most of the owners are now aboard and planning to leave soon for Thailand and Malaysia.

Some of the initial news was not cheerful. There had been an accident soon after we left when one of the local music boats had drifted into the pontoon, damaging Lynn Rival and two other yachts. Initially it had seemed that the owner of the offending boat would pay compensation but nothing had come of it. On the upside, our favourite bar run by Ernesto and rumoured to be closing, was still open.



Spot the bent bit

We spent our first night in a B&B to recover, then spent the next day starting to get organised, getting rid of the mould and hooking up to shore power so we can run the fridge as well as fans to ventilate the boat. That evening the pontoon was alive with parties on various boats, we caught up with the gossip and drank enough to sleep on board not worrying about the smell of mushrooms.

Our visit to the Captain of Ports office to seek his help in getting compensation for our damage was not at all successful. In fact Paul got thrown out of the Deputy Captain of Ports office for being too demanding. The next day a meeting with the manager of the offending boat was also totally negative. We tried to get a local surveyor to come and assess the damage to our stemhead fitting (the bit that holds the forestay and where the anchor chain comes aboard) without success. In the end, Paul took it off himself, inspecting all the fixings, and decided that apart from being rather bent, the damage is not serious. We are now looking for someone reliable to unbend it (no small task in India).

At the moment the status of the pontoon is uncertain. Soniya and Shammi, the travel agents who organised it for us, are handing it over to Marine Solutions, who want to run it as part of their longer-term plans for yachting facilities in Goa. However, the Captain of Ports seems to have other ideas. We have asked the state's first minister for help, but Indian politicians are of the same ilk as British ones so we are not expecting miracles. Soniya and Shammi held a special Hindu ceremony at their office on Wednesday to bring out the "truth". We all got to drink some special sweet milk and eat some special sweetmeats.

The monsoon is not yet over. It is still very humid much of the time and warm southwesterly winds bring occasional rain. Sometimes we get a cooling northeasterly, a sign of the on-coming winter. The monsoon is good for the local laundry businesses. Even though we wrapped everything up before we left, any fabrics that are not spotlessly clean and dry become mouldy. Fortunately if you launder them before they dry out too much, they clean up well. Generally the boat fittings suffer in the monsoon, so we're keeping busy with maintenance. All the ropes tying up the boat, fenders, etc are black and take a lot of scrubbing to look good again.

Paul has been suffering from Delhi belly for the last two days but it's not all gloom and doom. The boat is looking better by the day, we've found a tailor who is making new cushion covers for the saloon berths, we're expecting a diver any time to clean the propellor,...


---