Gorgeous Grenada

Mystic of Holyhead (successor to Lynn Rival)
Rachel and Paul Chandler
Tue 14 Jun 2016 23:26
12:00.4N 61:44.0W

You might have noticed from the last few blogs that the weather has been decidedly mixed since the end of April.  And, so it continues.  Every 4 or 5 days we have a tropical wave pass over, which brings squally conditions with stronger winds and sometimes heavy rain.  Generally the winds are moderate but not very refreshing: the heat and humidity of the tropical summer are wearing us down.

At the end of May we left Carriacou and sailed the 37 miles south to Woburn bay (aka Clarkes Court Bay) on the southeast of Grenada in very good time, just 6 hours.  The wind was mostly F5 and the tide helpful at both ends of the trip (good passage planning again).  The south of Grenada has many inlets but we came straight here rather than visit any of the more remote bays to the east.  With the weather so unsettled we wanted to be in a comfortable spot close to amenities! 

In Woburn bay most of the shallow water is taken up by mooring buoys so we're anchored in 10 metres depth off Whisper Cove, a tiny inlet, home to a small marina run by a French couple, with all the usual services and a really good cafe/restaurant, plus a shop selling excellent meat products and other treats.  We've had to put out a second anchor to hold our bow into the swell that creeps into the bay. 



Whisper Cove marina (where the masts are) hiding behind mangroves and a well positioned sunken ferry

Grenada is a popular place for cruisers to spend the summer.  Although hit by hurricane Ivan in 2004, the risk is relatively low and many insurers, like ours, demand that boats are brought south to this latitude from June to November.  Some cruisers stay aboard and afloat, joining an established liveaboard community that provides entertainment and mutual help.  Others haul out and go somewhere else (maybe to a second boat kept on the Great Lakes or in the Mediterranean).  The island has plenty of boatyard space and suppliers of marine services, though not as much as in Trinidad.

Grenada - usually called 'Spice Island' or just 'Paradise' by travel writers -  is a very colourful and bountiful island, prosperous and developed in the south, more rugged and natural in the north.  In these eastern Caribbean islands few capitals can be described as very attractive but St George's is the nicest we've visited so far.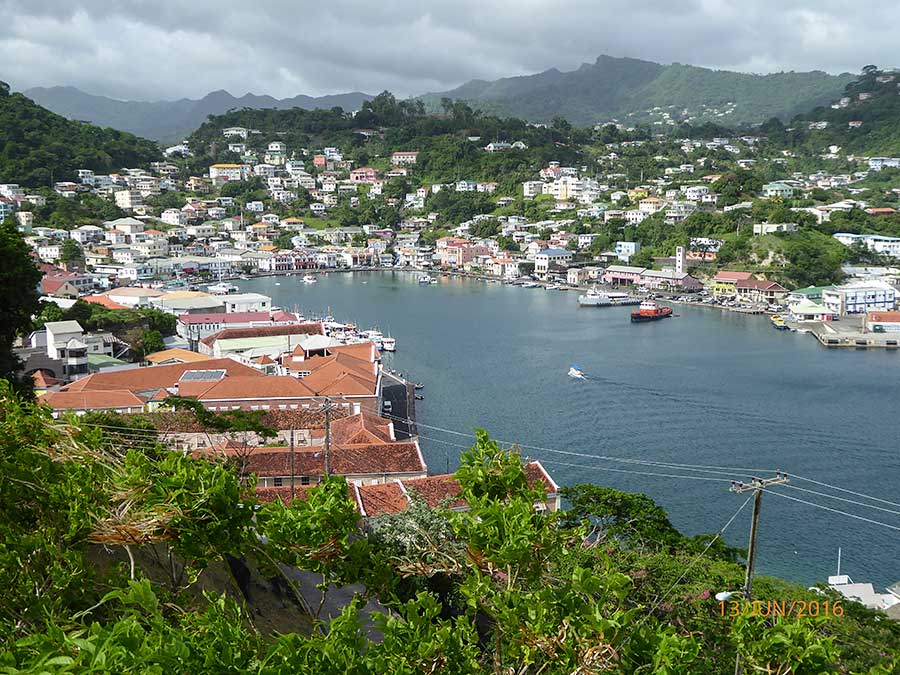 The Carenage (old harbour) of St George's

Elsewhere the scenery is not as dramatic as some other islands, but still very pleasant.  The rainforest is still recovering from hurricane Ivan but the island is decidedly green and blooming with flowering trees and shrubs.  Fields and gardens are being planted in anticipation of seasonal crops that need rain.  Fruit trees, especially mango and breadfruit, are abundant and laden with fruit.



Nutmeg fruit, by the roadside

With a group of other cruisers we took a bus to the northwest of the island to visit a small chocolate factory.  Unfortunately they had no recently harvested beans to show us the fermentation and we picked the wrong day to see the roasting, liquidising and processing stages but we saw the machinery and tasted the cacao nibs and samples of the delicious chocolate they produce. (The natural cacao becomes cocoa when roasted.)


A pristine chocolate factory - unfortunately the production runs occur only every two to three weeks



But we did find a cacao pod on a tree just outside the factory
. . .
and then we tried to find a lunch venue
. . .

. . . but it wasn't our lucky day - hopefully tomorrow does come from time to time,

Apart from getting to know Grenada, we are now preparing to have Lynn Rival hauled out at a local boatyard.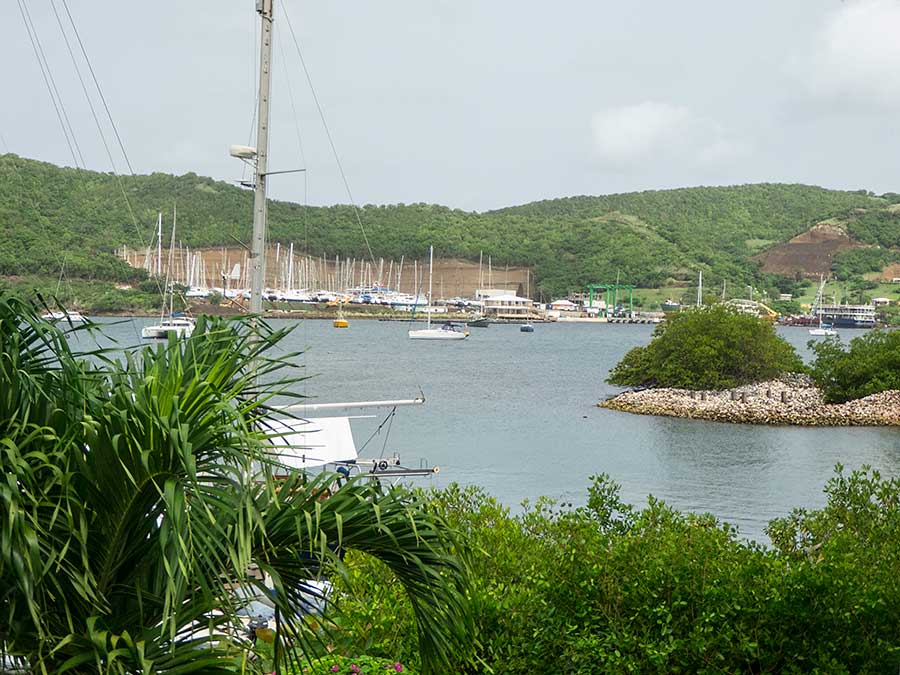 Clarkes Court Bay Boatyard (to be Lynn Rival's home for four months) from the bar at Whisper Cove
---