Babitonga Bay

Mystic of Holyhead (successor to Lynn Rival)
Rachel and Paul Chandler
Tue 28 Apr 2015 16:45
24:31.2S 048:28.77W
We are slowly making our way north (in the rain).  From Caixa D'Aco to Sao Francisco do Sul we had a good southerly wind and sailed all the way.  We passed East Croydon-on-sea (a high-rise resort called Camboriou) and the busy port of Itajai, after which the coastline is one long beach, with just a few off-lying islands to avoid.  Then a few big ships anchored off are a sign of the entrance to Sao Francisco do Sul.  Once inside the channel and into the Bay of Babitonga, the wind died and we had to motor the last two hours.  It was evening by the time we arrived - timed to catch the flood tide - so we had to make our way carefully to the anchorage off the town, avoiding unlit buoys and boats on moorings.  There's a lot of ambient light from the town and nearby port operations so it's not too difficult.  And although there are port operations on both sides of the bay, we saw no shipping movements.
Last time we visited Sao Francisco do Sul it rained and this time was no different.  We stayed aboard and the only highlight was the local tripper boat arriving to disgorge passengers for a wander around the historic town in the rain.  On the second day we caught the afternoon tide to go upstream towards the city of Joinville.  It's an 8 mile trip, requiring careful navigation towards the end because the deep channel gets very narrow.  We tied up at the end of the Joinville Iate Clube jetty in the rain and were greeted with a warm welcome from Gunther, a friend of Tio's (who we met in Ubatuba).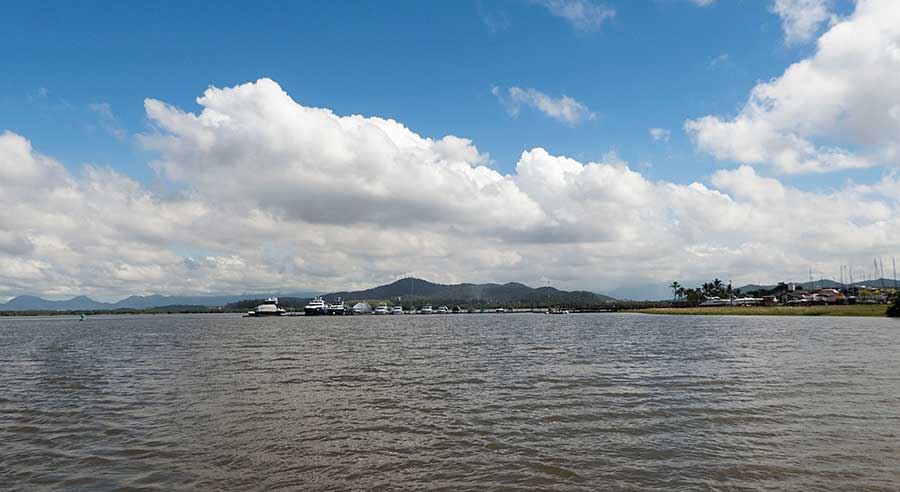 Joinville Iate Clube (as we left - we couldn't see a thing when we arrived in the murk!)
Well kept pontoons, with plenty of electricity and water (the larger gin palaces had 2 x 3 phase connections each!)
Joinville Yacht Club is on the outskirts of the city, with modern facilities in a lovely setting, looking out over low-lying islands and mangrove swamps.  They don't receive many visiting yachts and were very generous in allowing us to stay free of charge.  Gunther and others were interested in our story and arranged for one of the local sailing magazines to interview us so we earned our keep!  We also met Joao and Maria - also friends of Tio's - who took us to see the yacht they have been building all by themselves for the last 6 years.  Joao and Maria speak just a little bit more English than we speak Portuguese so we communicated in a mixture, using simple words.  It got a bit difficult when discussing the use of butyl tape for bedding deck fittings and such-like topics!
At the weekend the club was a hive of activity.  Most of the boats on the jetty were gin palaces.  Some of them are very large - the biggest 103.5 foot long.  (For some reason we've yet to discover, in Brazil they use feet for the measurement of boats.)  Sailing boats of all shapes and sizes - kept on the hard - were launched for a regatta in the bay.  The weather was glorious and the club restaurant - which is open to non-members - was also very busy.  
The trailers accumulate on saturday morning as the club's fleet of tractors (7 of them) launch the smaller craft
We took a bus to the centre of Joinville, about 15km away.  It's a prosperous and pleasant place but with few tourist attractions.  We decided to go up the hill - Morro da Boa Vista - that overlooks the town and bay. The sign at the bottom said "Mirante" so we walked up, only to find that a project to build a splendid viewing tower had been abandoned and there was no way to get high enough to see out over the trees.  We did see some monkeys and get bitten by sandflies but that was all.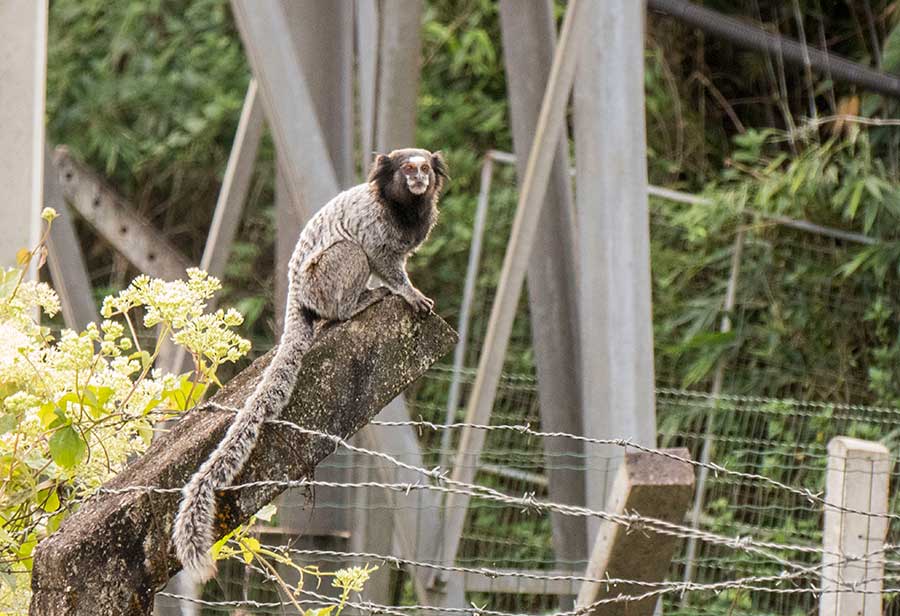 Monkeys but no view at the so-called 'mirante'
Back in the town centre all was quiet on a Saturday afternoon.  We tried to visit the Sambaqui museum but that was closed.  Sambaquis are shell mounds that were built along the southern coast of Brazil thousands of years ago.  Little is known about the people who built them so maybe we wouldn't have learned much.
Palm Street, Joinville (well, many towns here have Street 1, Street 2 etc etc, when they run out of important dates)
Not wanting to outstay our welcome - though the nice showers, electricity and wifi connection were very much appreciated - we left on Monday morning.  The sun was shining (is this a first for the area?) and at last we saw how beautiful the bay of Babitonga is, a large expanse of mostly shallow water with numerous small islands and little development.  There are just a few fishermen who use small boats and nets.  (While at the club one boat was fishing around the jetty and a large mullet jumped onto the deck at Paul's feet so we had fish for supper.)  A large colony of frigate birds fill the sky.
Undeveloped islands (and quite good buoyage) in Babitonga Bay
We arrived back at Sao Francisco do Sul in time for lunch in the quayside restaurant.  At last we could see the town in the sunshine.  We walked along the seafront afterwards but didn't go far as Rachel's foot was swollen from a nasty sandfly bite.  It was then time for a siesta before setting off at midnight.  We were heading to Paranagua, some 35 miles up the coast and needed to arrive there soon after dawn to catch the flood tide.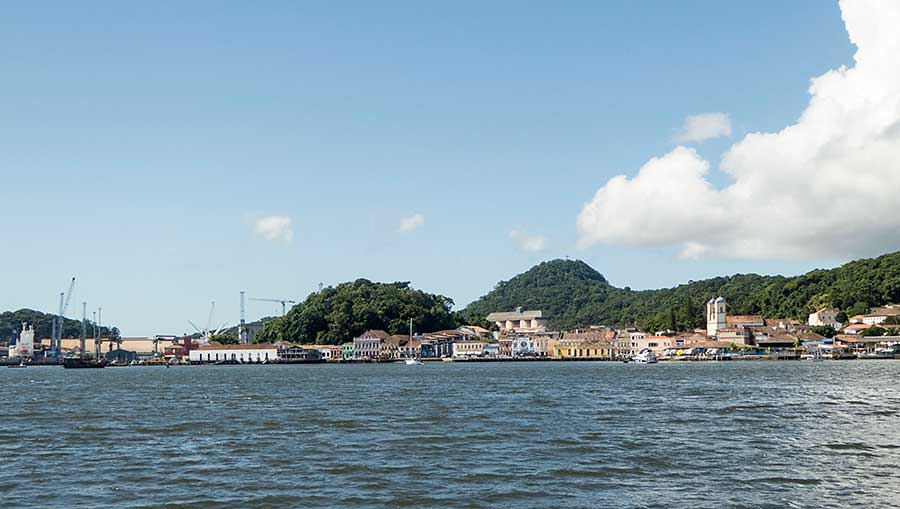 The seafront at Sao Francisco do Sul
Lynn Rival anchored within easy reach of everything - no need to fire up the egg whisk on the dinghy
Leaving Babitonga Bay in the early hours of Tuesday morning was very much like arriving, with no shipping to worry about.  A light headwind and seas meant that progress was slow until we got out beyond the shallows and then motored up the coast.  Again it's one long beach with just a few off-lying islands to worry about.  There was little wind to help us so we motor-sailed all the way, watching the lights of the numerous ships anchored off grow larger.
The entrance to Paranagua is a narrow dredged channel surrounded by shallows which kick up nasty seas when the winds are strong so it was best that we arrived with little wind.  And the out-going current can reach 4.5 knots so it was essential we arrive after low tide.  Paranagua is a busy port and we'd been warned to expect a lot of shipping but in fact we were lucky enough to meet only one large container ship before turning off for the quieter backwater that leads to the town, getting very shallow as you get closer.  On Ilha Cotinga, an island ome mile south of the town, there is an annex to the Iate Clube Paranagua where moorings are available so we approached and picked one up. 
Iate Clube de Paranagua Annexe (many Brasilian yacht clubs have these secure outposts called annexes)
---