Recife

Mystic of Holyhead (successor to Lynn Rival)
Rachel and Paul Chandler
Mon 17 Aug 2015 19:58
08:04.78S 034:53.4W

After 19 days based at Pier Salvador we were ready to move on, despite our attachment to the famous Sorveteria da Ribeira.  The weather forecast was showing more unsettled weather coming so we wanted to be ahead of it.  Although southeasterlies tend to be the norm at this time of year they are sometimes disturbed by the remains of cold fronts that have worked their way up from the south.



Decisions, decisions . . .

Once out to sea we had mostly good sailing - beam-reaching in Force 4.  At times the wind dropped to Force 3, and backed to the south making for slow, uncomfortable broad-reaching, even with the genaker flying.  Fortunately we didn't have any current working against us.  We are now in the area where the south equatorial current splits when it approaches the Brazilian coast, tending to set us inshore.

While anchored at Tamandare the wind and swell were too strong to go ashore.  We managed a swim but after a rolly night - the swell coming over the reef at high tide - we were keen to move on.  The wind had picked up and was gusting F5 so we sailed using only the genoa another 30 miles to Port Suape.

Suape - meaning shark - used to be a pretty area where, with careful pilotage, boats can enter behind the offlying reef and anchor near a small village.  A new port development now dominates the coastline.  With strong winds and a lot of swell we didn't attempt the difficult passage behind the reef but found a spot to anchor in calmer waters opposite the port.  At low tide we were drifting close to the shore so we put out our kedge anchor - the first time we'd used it since leaving Dartmouth in 2012 - to hold us off.

We didn't swim, not sure about the possibility of sharks - and being near a port is off-putting.  The port operations were actually not disturbing and we slept pretty well.  There was one ship being loaded but we didn't see any moving around.  Business must be slow these days.

From Suape to Recife was another day-sail in similar conditions.  Our sailing versus motoring statistics have been improving lately.

Recife, the capital of the state of Pernambuco, is protected by a long reef that has been reinforced to make a more substantial breakwater.  It was raining when we arrived and the seas were crashing over the breakwater so we decided not to visit the nearest yacht club, which is on the breakwater side and somewhat remote from the city, requiring a walk and ferry trip to get there.  We continued to the Cabanga yacht club, which is accessible only at high tide, and in a well-sheltered basin, though still some way from the city centre.



Monumental display best reached by tiny ferry halfway along Recife's 3 mile breakwater

At Cabanga we were made very welcome.  It was lunchtime by the time we got there so a member helped us tie up temporarily - next to the bar.  We went ashore for a beer and were soon greeted (in English) by the Commodore.  We then went to the Secretariat to check-in and were surprised to be dealt with by someone who also spoke English.  Having by then seen some of the club facilities we were wondering whether it we could afford to stay there but were pleasantly surprised to find the berthing rates very reasonable. 



The walled basin of Cabanga Iate Clube, to the south of Recife

Recife was founded by the Dutch, who in the 17th century destroyed much of the nearby Portuguese state capital of Olinda.  Until the 19th century it was a very wealthy sugar trading centre and many grand buildings were built during the colonial era.  Now it's a large sprawling city, with a lot of modern development: both skyscrapers for the rich and numerous favelas built by the poor.  It has a strong and diverse culture, proudly demonstrated in it's music, dance and carnaval traditions. 


No, I'm not an African dictator - just a carnaval character



An interlude in the Museum of Sertao - very interactive and celebrating famous local squeeze box artists

Part of the museum of carnaval giants - the older members of the cast, before the era of world cup soccer took over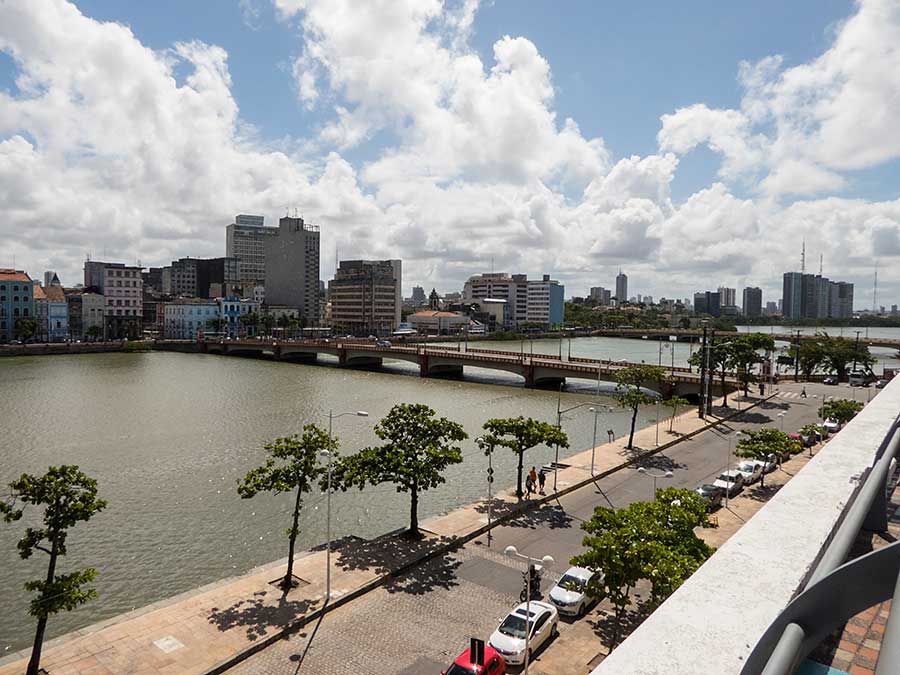 A river separates the two main islands of older Recife

The city centre stretches over a number of islands, linked by several bridges.  Not long ago the oldest part, Recife Antigo, was a no-go area for visitors but now it's been restored and is a pleasant place to wander, with pretty cobbled streets and leafy squares, grand colonial buildings, interesting museums, bars and restaurants.  The tourist information service is very good: including ubiquitous brown signs in Portuguese and English.  We especially liked the Museum of the Sertao - a modern interactive museum devoted to life in the dry backlands of Pernambuco and the singer Luiz Gonzaga.


Downtown Recife on a saturday morning

Old Recife, evidently tranquil at week-end mornings

Another highlight of Recife was a trip to see the work of the ceramic artist Francisco Brennand - born in 1927 and still at work.  He inherited a brick and tile factory, within the forest on the outskirts of the city, which he has restored and adorned, creating the most amazing and beautifully presented exhibition of his work.  The photos speak for themselves - at least they will do in a separate blog entry..

Another day we took the bus to Olinda, about 6 km north of Recife and now a suburb.  After the Dutch left it was restored but remained a backwater, full of colonial churches and charming colourful houses now lived in by artists and bohemian types.  Apart from being one of the best preserved colonial cities in Brazil, it's a very relaxing place to wander around.  If you like to buy souvenirs the choice of colourful knick-knacks, pottery, leather goods, wood carving and lace is endless - and you must take a truck to carry home some replica giant carnival dolls.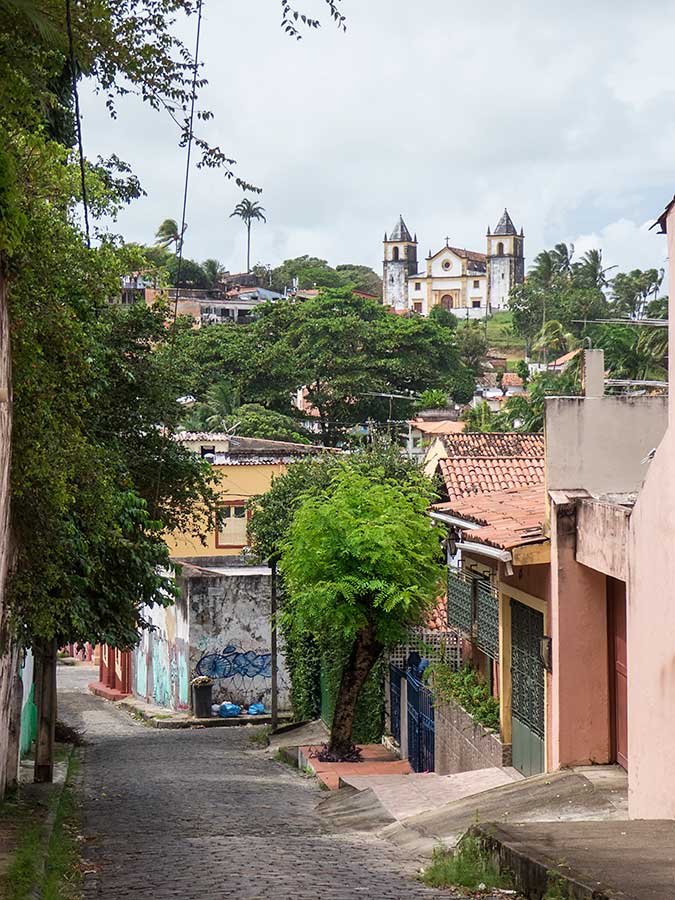 A very quiet sunday in Olinda, but . . .



 . . . the elevator to the highest viewpoint was working (view from the 1950s water tower!)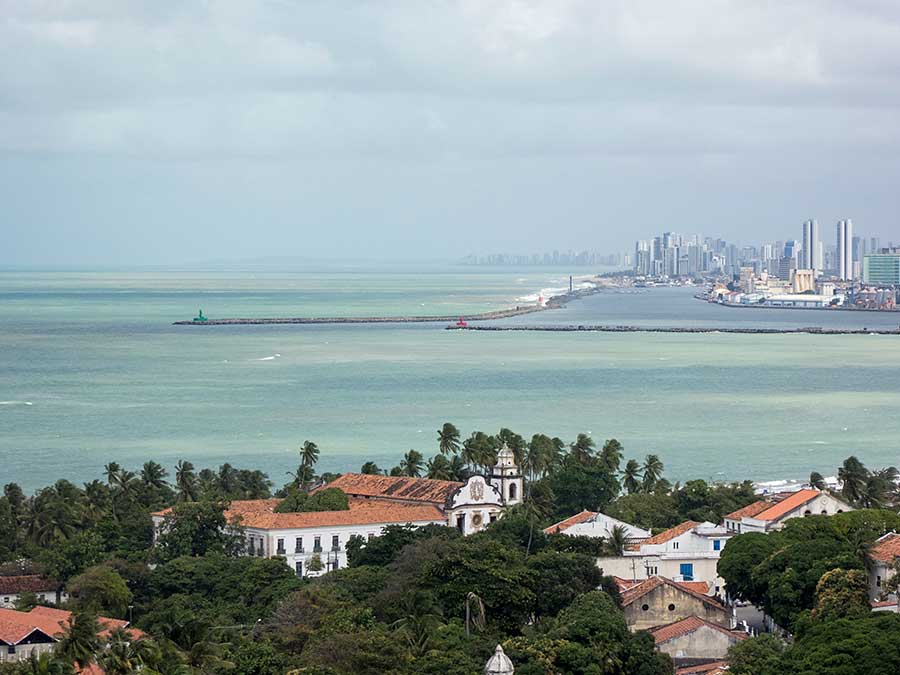 Looking south to a rather hazy Recife (Yes, the red and green marks are 'the wrong way round' to us Europeans!)

While in Recife we enjoyed staying at the yacht club, meeting both members and other visiting yacht crews.  (Some yachts are now arriving in anticipation of the annual Recife-Fernando de Noronha race, which starts at the end of September.)  However, the security situation is somewhat claustrophobic.  Although it's safe to travel by bus and taxi to the centre and wander around by day, we were warned not to stray off the beaten track.  The neighbourhood around the yacht club is not considered safe even by day so a stroll to local shops and restaurants isn't possible.  Of course, most visitors stay in the posh southern suburb of Boa Viagem, where security is better - though you can't go for a swim in the sea for fear of a shark attack!  

    



  


    





---