Les Anses d'Arlet

Mystic of Holyhead (successor to Lynn Rival)
Rachel and Paul Chandler
Tue 7 May 2019 02:36
14:29.39N 061:04.87W

From Saint Pierre we sailed south along the coast of Martinique, past the capital, Fort-de-France.  The large bay of Fort-de-France is notorious for strong winds and cross seas that make entering difficult so we were not going there.  As we crossed the bay in strong winds and bumpy seas we had to keep to windward in order to make our landfall just beyond the next headland.  In no time we were anchored off the pretty village of Les Anses d'Arlet, with a lovely beach and the promise of good snorkelling (for Rachel).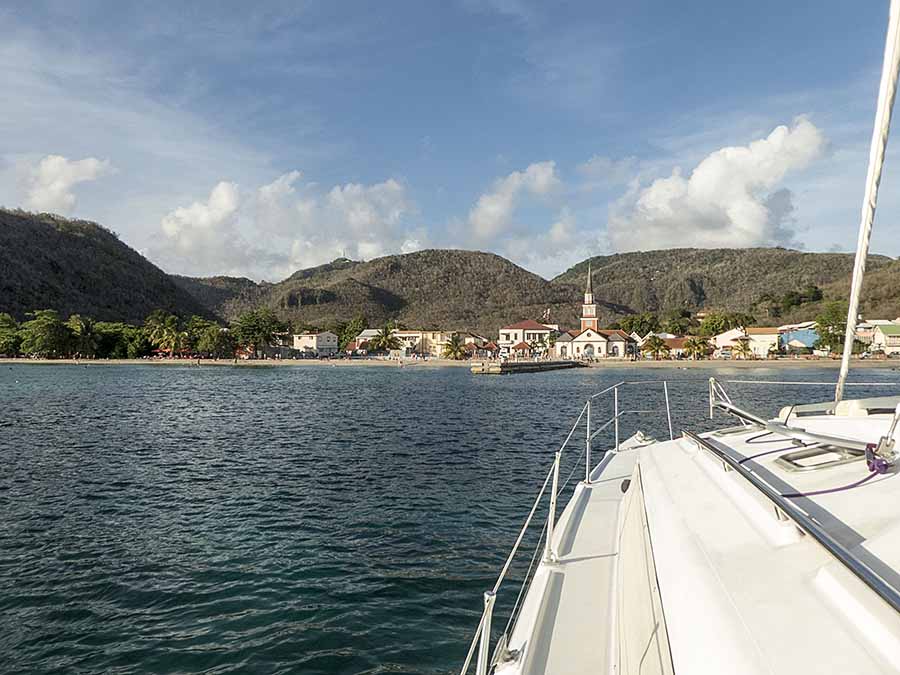 Anchored in pole position!

We planned to stay just a couple of nights but needed to get our clearance document before leaving.  On Saturday morning we went ashore and found the village preparing for a festival.  A sign on the door of the Cyberbase (the internet cafe wherein the customs/immigration computer for clearance is located) saying it was closed until Tuesday so we repaired to the bakery where the croissants were decidedly stodgy.  The latter disappointment and the temporary stage with preparations for music (the French equivalent of "testing, testing, testing" blaring out of loud speakers) caused us to up anchor and find a spot south of the town, in Anse Chaudiere.  Here we spent a pleasant couple of days drifting around in the currents and gusts off the hills.  And the snorkelling nearby was nice.



Overcast at Anse Chaudiere, but peaceful, especially after the day trippers left

On Monday we returned to anchor off the village and got our clearance on Tuesday morning.  We were in no hurry to leave and watched as four large tripper catamarans came to disgorge swimmers for their half-hour of snorkelling on the rocks just off the beach.  Fortunately the fish seem to enjoy the experience.


 


---