Back on track

Mystic of Holyhead (successor to Lynn Rival)
Rachel and Paul Chandler
Sun 15 Sep 2013 18:15
23:16.71S 044:37.895W

We back-tracked to visit Rio but are now heading west again.

First we made an overnight passage to Ilha Grande, and a very pleasant one. We left Charitas at dusk and motored out of the Bay of Guanabara then past the twinkling lights of Copacabana and Ipanema thinking "farewell Rio, we'll see you again soon". By 1am the wind had picked up enough for sailing and we arrived in Abraao, the one and only village on Ilha Grande, in time for breakfast.

While in Abraao we caught up with Tracy and Wayne on their sailing yacht, Margaret Ann. Silvio had put them in touch with us while we were in the UK; they were stuck in Rio with engine problems so we brought back the spare parts they needed. (Importing spare parts for yachts in transit is a slow process in Brazil if you can't find someone to bring them in as personal baggage.) They are now heading back east and then north to the Carribean. Such are the fleeting friendships of cruising sailors but no doubt we will meet them again somewhere.

The weather was unsettled and mostly overcast with little wind so we were in no hurry to move on. After a couple of nights in Abraao we motor-sailed to the famous Praia de Dentista bay on the southwest end of Gipoia island. In summer and at weekends this bay is extremely crowded. On a Thursday night in winter (almost Spring now) we had the beautiful anchorage all to ourselves.



Now that's what I call a jetski! In saco de Vila Velha, near Angra dos Reis

From there it was just a short hop to Angra dos Reis, where we needed to visit the Capitania. Back in May we "signed in" to Rio de Janeiro state there so we needed to get our "permission to leave" because we will soon be moving on to Sao Paulo state. We also needed to get a gas bottle refilled and managed to complete both of these challenges in an afternoon. The officer-in-charge at the Capitania was especially friendly, complimenting us on our Portuguese fluency and telling us about his visit to London on a ship.

We anchored between the harbour and the marinas, a convenient place and reasonably comfortable apart from the nighttime smell of sewage. After a morning stocking up with provisions in the upmarket (though off-puttingly named) Piratas shopping mall, we motored around the headland and dropped anchor off some luxury beach houses, where fortunately Saturday night was a quiet one (not too many helicopters coming and going).

Since leaving Rio the weather had been a bit mixed, with rain at times and temperatures only reaching the mid 20s but now the forecast was looking sunnier. On Sunday we headed 18 miles west to a little island called Ilha do Cedro (Cedar island), another popular spot but not too busy at this time of year. However, the water wasn't clear enough for our needs so we continued south on Monday past the historic town of Paraty and into one of the nearby deep inlets, settling on an anchorage at Ilha da Cotia.



Ilha da Cotia, on the port side

Surrounded by forested hills and mountains, the setting is exceptionally beautiful, the water was also clearer and the shelter excellent so we had no excuse to avoid tackling an urgent task: to scrape all the barnacles and weed off the hull. Out came the surface demand kit, with which we took turns. A soft velvety cover of deep green weed was easy enough to scrape off but some the barnacles were well attached to the Coppercoat and took some shifting. When we surfaced from our scraping sessions we found ourselves covered in very small shrimps. Were they on the hull too, making the little nibbling sounds we often hear? Other boats came and went, causing some distraction, but we stuck to our schedule and two days later sailed back into the Bay of Paraty feeling a lot lighter on the helm and going one and a half knots faster.



At Ilha da Cotia we anchored off the beach on the north-west side . . .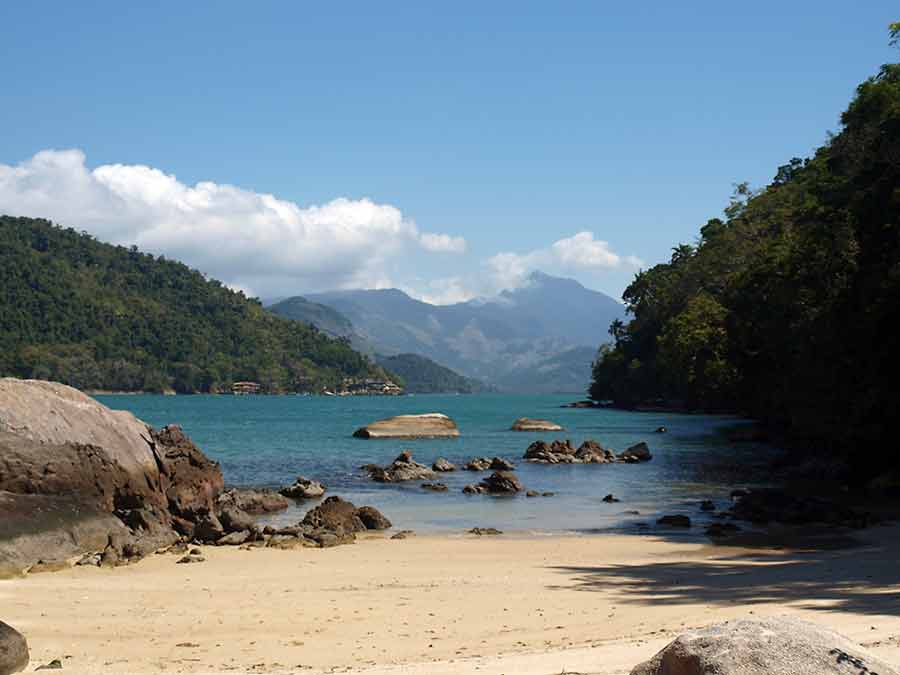 . . . and crossed the isthmus to explore the beach on the south-east side

It seems that spring is on the way; for the last few days we've had little cloud and the temperatures are now reaching the high 20s and early 30s. Sailing around this coast in the warm sunshine with a refreshing breeze and stunning scenery is heavenly. There are so many pretty and comfortable anchorages here we could easily linger for weeks, if the weather holds.



The waterfront of the old town of Paraty

We anchored off the historic town of Paraty (this seems to be the modern spelling, despite there being no letter Y in Portuguese - our charts show Parati ) and rowed ashore to see the sights. It is a national monument so can't be missed but it's hard work walking around because the streets are very rough stone. The horse and traps carrying tourists around looked even less comfortable.



Most tourists take schooner trips rather than explore the old town (toy town?) by horse-drawn cart

We enjoyed a walk up to the fort where there are good views over the bay. The town is geared up to maritime tourism - coming and going from the jetty where we left the dinghy we were constantly being offered outings on tripper boats - but nonetheless everyone is very friendly.


The wealth of Paraty is based on gold exports - the final inland leg of the journey was down this river
From the road to the fort we were able to look down on the rooftops

Exploring the grounds of the fort we were warned! (The translation is correct.)

With the weather being so lovely and a cold front forecast for a few days time we were soon ready to continue cruising but we needed to fill up with fresh water. Just across the bay is a delightful anchorage where spring water is available from a small building - the only one on the beach, carefully tended by two men - so we stopped there briefly to fill our tanks before moving on.



The water run - two trips topped us up

We made our way to a nearby inlet called Saco de Mamangua. This is the last sheltered anchorage before leaving the Ilha Grande area and probably the most spectacular. People liken it to a fjord, with mountains either side, though the water isn't deep (4 to 10m) so it's possible to anchor anywhere.



Looking seaward from our anchorage in Saco de Mamangua

There are no roads or mains electricity so just a few settlements line the shores, accessible only by sea. We rowed ashore and found a path taking us up through the forest following a stream.


A little way up we found a 'mirador' from where we could see Lynn Rival

and a few hundred metres further up, we were well into the Mata Atlantica

Our visa clock keeps ticking and we still have about 1000 miles - and more places to visit on the way - to get to Uruguay (or at least leave Brazil) before mid October so sadly we have to move on.


P.S. The world cup final will have to be played at low tide!
---