Mumbai to Goa

Mystic of Holyhead (successor to Lynn Rival)
Rachel and Paul Chandler
Sun 20 Apr 2008 13:54
15:30.37N 73:49.18E

4497 miles logged on the rally!

We enjoyed our stay in Mumbai but after a week we'd had enough of the big city lifestyle and busy anchorage. On the day we left we were treated to a pre-race brunch and the beer was free-flowing so we did ell to get to the start on time at 4pm. Being a Sunday afternoon there were other races going on and the start line was busy with small dinghies. We didn't see many other Forts of India competitors around and were first across the line, then tacking inshore to a windward mark before heading out to sea. Most of the rally yachts didn't bother to round the windward mark! There was a good breeze and we were all happy to be on our way: 11 rally yachts and 4 local sailing boats, including 2 Seabirds (22 ft
dinghies).

As on our approach to Mumbai the coast was full of small fishing boats so we were kept on our toes guessing which way they were going and how to avoid their gear. At midnight the wind dropped but we managed to keep going under sail reaching the finishing line at Jaigarh just before dark the following evening. Jaigarh is a pretty fishing village with a good anchorage. We were soon whisked ashore by Sumita of Marine Solutions (who had made the 8 hour journey there by road) to meet the local people and give interviews to the press.


The racing fleet at anchor at Jaigar



Jaigar village

While at Jaigarh we were treated to a day and night away at the nearby resort of Ganpatipule where we drank green coconut milk and rested in the shade overlooking a beautiful and almost deserted beach. In the evening we were treated to a show of traditional dancing and a delicious buffet supper. After a good night's rest and breakfast we were back on board Lynn Rival in time to set off for Goa soon after 11am on Wednesday.



R and R at Ganpatipule, courtesy of sponsors Marine Solutions Ltd

The start of the second leg was better organised and we had a good beat to windward for the first few miles doing our best to compete. Once again the coast was littered with fishing boats and their marker buoys (which may or may not have floating lines accompanying them!). We sailed until midnight when the wind dropped to almost nothing and we then had to motor in order to get to Goa before dark the following evening. It was a pity to drop out of the race but we couldn't risk arriving in the dark. As it was all the rally yachts used their motors and only the local boats managed to sail the whole way.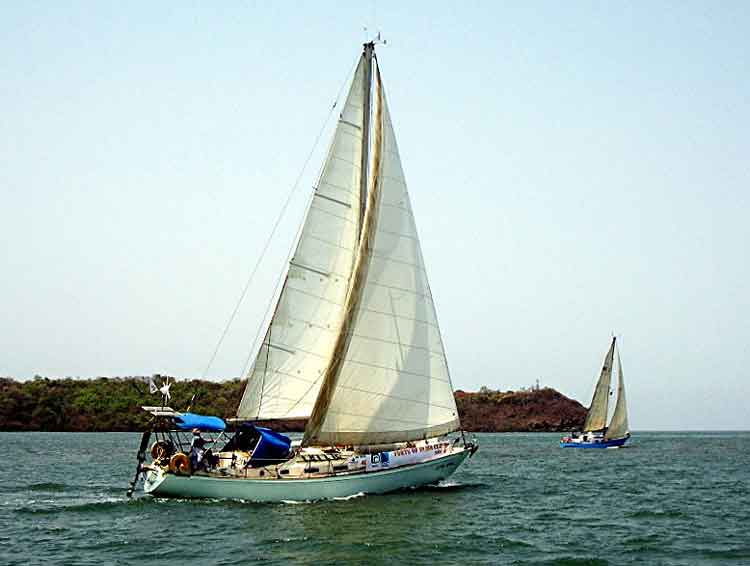 Just after the start of leg 2

Arriving in Goa we were reunited with Reckless of Hamble who had had to come straight from Oman to Goa to get here in time for visitors. At the end of the rally we are now 12 yachts together, over twice the normal annual number of visiting yachts to Goa. We are all anchored inside the Mandovi river to the north of Panaji (also known as Panjim) the state capital of Goa. As soon as we got here we were greeted by Howard, an Australian who runs a small yacht chartering business and provides help to visiting yachts. Our first impressions of Goa are very good. The anchorage is some way from the town but we're a short distance from the opposite shore where we can leave our dinghies and take a free ferry across the river to Panaji.



Small trawlers off Goa

Yesterday we were all invited to a lavish prize-giving ceremony for the Forts of India cup. The overall cup went to the 5-man crew of a local dinghy, a J24, and was a well-deserved win. The participants were divided into 3 groups by length, with prizes for each group and to our surprise we were runners up in the 35 to 40 foot group so we now have a trophy to find room for on Lynn Rival! Again the local press were in attendance seeking interviews with as many of the rally participants as possible. We took the opportunity to point out that we can't stay in Goa over the summer unless they provide secure berthing for the boats.



Another pot for the cabinet!

Our main priority now is to establish whether someone here can provide the rally yachts with berthing at reasonable cost. So far the only offer on the table was very expensive but we hadn't accounted for the local Mrs Fix-it, Sonia and her husband Sharmi. They were responsible for organising pontoons for 1st Vasco da Gama rally yachts two years ago and are determined that we should stay here. Sonia has now promised us that pontoons will be in place in a week and available at a reasonable cost. Although some of us had been considering Sri Lanka as an alternative we are all relieved to hear this news.



At anchor in the river Mandovi

We are now looking forward to getting organised and arranging our return to the UK for the summer. It's very hot and sticky now in the run up to the monsoon. Last night we had our first rain for a long time. It poured down while we were coming back across the ferry from Panaji and by the time we got back to the boat we were soaked. It was cooler for a while but when the rain stopped it was hot and sticky again. At least the boat got a much needed fresh water wash.






---