Making Mystic our own

Mystic of Holyhead (successor to Lynn Rival)
Rachel and Paul Chandler
Wed 7 Feb 2018 11:08
Some may be wondering if we will ever get to sea again.  The experienced will know that boat owners are notoriously bad at estimating how long it takes to do a re-fit.  We are no exception.  It's not helped by the fact that the south Lisbon area is a pleasant place to spend time in, so we're in no hurry to leave.  But soon the time will come to launch, once we've satisfied our need to change and replace things.
Another reason for delay is that Rachel's arm is still not working properly so we may have to curb our adventures for longer than expected.  Our current plan is to launch in May and spend this summer cruising the Atlantic coast of Spain and Portugal.  That's as far as it gets. 

Since September we've installed a new fridgebox and converted one cabin into a second head.  The fridge is situated in one of the aft cabins underneath the bunk - not an ideal location but at least it means we have a much larger fridge than on Lynn Rival.  The new box, complete with aerogel insulation of course, wouldn't go through the cabin doorframe so a bit of cutting out and trim extension was called for (as was thinking ahead on Paul's part!).  The door itself has been removed - as part of our plan to reduce weight.  (Mystic's waterline is noticeably higher than shown on the original plans so she needs it.)  

Another well insulated fridge box
As controversial a decision as Brexit - converting a cabin to the second head
The battery management and electrical system have been overhauled.  The diesel tank has been removed and checked.  The interior has been spruced up with new berth cushions, shaped to fit and covered.  Where the old headlining was tatty it's been stripped off and replaced.

Additional exercise for Rachel's titanium reinforced arm - new headlining in the head
Outside we've removed some (7 out of 10 so far) of the old windows, filled the screwholes and glued on new perspex.  The hulls have been coppercoated below the waterline.

Half the new windows in place - we found the goo called 'no more screw holes'
As much Coppercoat as we used on Lynn Rival, mainly because the waterline is about 10cm too high!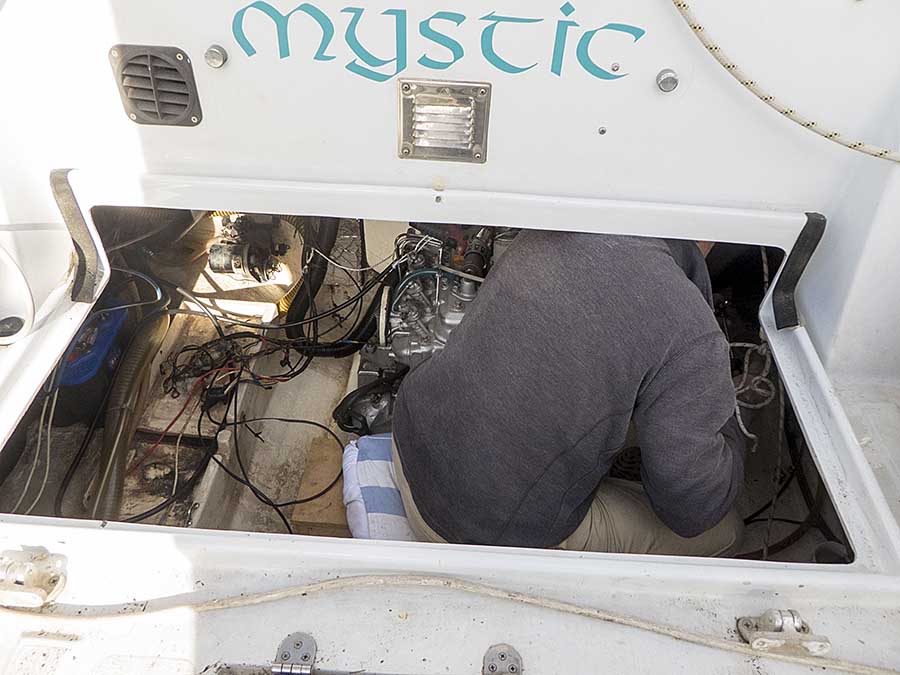 . . . and did we mention the engine room work?

At the same time Lynn Rival's new owner has started work and is busy adding and replacing things.  Of course, he's got different priorities and some of his changes leave us bemused but it's great that she's in good hands. 
---